Welch Allyn
Welch Allyn 97250-MS 3.5V Coaxial Diagnostic Set with Lithium-Ion Smart Handle
| | | |
| --- | --- | --- |
| Quantity | 1 | 2 |
| Unit Price | $681.98 | $679.49 |

Upgrade your diagnostics took kit with this top-of-the-line Welch Allyn 97250-MS 3.5V Coaxial Diagnostic Set, available in a portable hard case. This package comes with a 11720 3.5V Coaxial Ophthalmoscope, 23810 3.5V MacroView Otoscope, and 71900 3.5V Lithium Ion Rechargeable Handle.

11720 3.5V Coaxial Ophthalmoscope
Halogen HPX™ illumination for true tissue color
Polarizing filter virtually eliminates corneal reflection
18 unique aperture/filter combinations
28 focusing lenses with a range of -25 to +40 diopters
Detects corneal abrasions with cobalt blue filter
Traditional flat-top design
23810 3.5V MacroView Otoscope
Achieves nearly complete view of tympanic membrane
Tip grip for secure fastening and ejection of ear specula
30% greater magnification than traditional otoscopes
Improved clarity and definition of landmarks
Adjustable focus for variable ear canal length or farsighted eyes
Fiber-optics produce cool light with no reflections, no obstructions
Reusable ear specula
71900 3.5V Lithium Ion Rechargeable Handle
Half the weight of traditional 3.5V handles
120 minutes of on-time
Low-battery indicator
No "memory" effect
Made of sturdy CYCOLOY engineering resin
Removable AC charging module
Retractable AC prongs on charging module
Fits all Welch Allyn 3.5V instrument heads
IEC Plug Type-A
71960 Lithium-Ion Battery included
Set comes in a hard case
Description
Upgrade your diagnostics took kit with this top-of-the-line Welch Allyn 97250-MS 3.5V Coaxial Diagnostic Set, available in a portable hard case. This package comes with a 11720 3.5V Coaxial Ophthalmoscope, 23810 3.5V MacroView Otoscope, and 71900 3.5V Lithium Ion Rechargeable Handle.
11720 3.5V Coaxial Ophthalmoscope
Halogen HPX™ illumination for true tissue color
Polarizing filter virtually eliminates corneal reflection
18 unique aperture/filter combinations
28 focusing lenses with a range of -25 to +40 diopters
Detects corneal abrasions with cobalt blue filter
Traditional flat-top design
23810 3.5V MacroView Otoscope
Achieves nearly complete view of tympanic membrane
Tip grip for secure fastening and ejection of ear specula
30% greater magnification than traditional otoscopes
Improved clarity and definition of landmarks
Adjustable focus for variable ear canal length or farsighted eyes
Fiber-optics produce cool light with no reflections, no obstructions
Reusable ear specula
71900 3.5V Lithium Ion Rechargeable Handle
Half the weight of traditional 3.5V handles
120 minutes of on-time
Low-battery indicator
No "memory" effect
Made of sturdy CYCOLOY engineering resin
Removable AC charging module
Retractable AC prongs on charging module
Fits all Welch Allyn 3.5V instrument heads
IEC Plug Type-A
71960 Lithium-Ion Battery included
Set comes in a hard case
Reviews
Related Products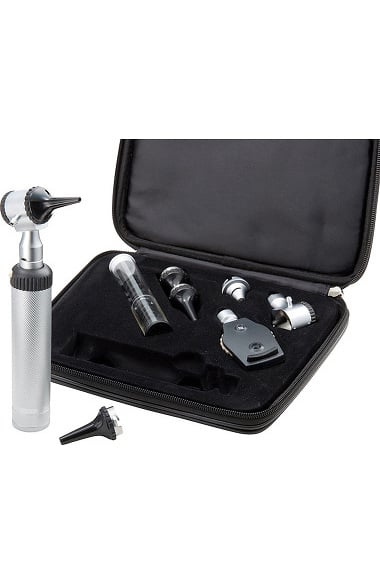 Expect ultimate performance and convenience from the ADC® ...
A durable carrying case adds convenience to the ...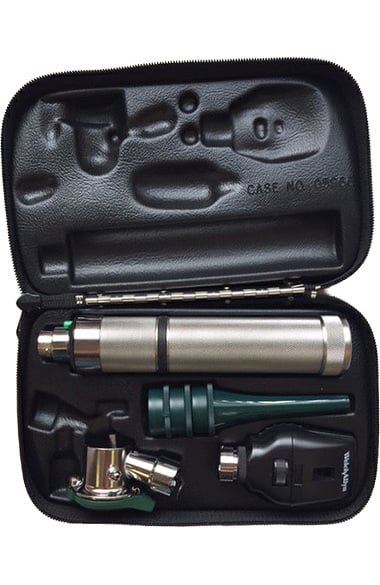 Rely on this convenient Welch Allyn 96120 3.5V ...