Welch Allyn
Welch Allyn 97110-MC 3.5V Standard Diagnostic Set with Throat & Nasal Illuminators & Convertible Handle
| | | |
| --- | --- | --- |
| Quantity | 1 | 2 |
| Unit Price | $657.98 | $655.49 |

This Welch Allyn 97110-MC 3.5V Standard Diagnostic Set features some of the finest diagnostic instruments, including a standard ophthalmoscope, MacroView otoscope, nasal illuminator, and rechargeable power handle. This set comes with a C-cell battery converter accessory, a handy feature if you're on call and have forgotten to charge the battery.

11710 3.5V Standard Ophthalmoscope
Halogen light for true tissue color and consistent, long-lasting illumination
28 focusing lenses with a range of -25 to +40 diopters
Apertures: micro, small, large, fixation target, slit, red-free filter
Rubber brow rest prevents scratching of eyeglasses
Traditional flat-top design
23820 MacroView Otoscope
Achieves nearly complete view of tympanic membrane
Tip grip for secure fastening and ejection of ear specula
30% greater magnification than traditional otoscopes
Improved clarity and definition of landmarks
Adjustable focus for variable ear canal length or farsighted eyes
Fiber-optics produce cool light with no reflections, no obstructions
26535 3.5V Nasal Illuminator
Halogen HPX™ illumination for true tissue color
Three-in-one device with detachable head to use as throat illuminator or penlight
Fiber-optics project cool distal light
71000-C universal rechargeable handle
Smooth, nonabrasive knurled finish for no-slip grip
Chrome-plated brass construction for durability
C-cell battery converter accessory included
72300 Nickel-Cadmium battery
IEC Plug Type-A
Set comes in hard case
Description
This Welch Allyn 97110-MC 3.5V Standard Diagnostic Set features some of the finest diagnostic instruments, including a standard ophthalmoscope, MacroView otoscope, nasal illuminator, and rechargeable power handle. This set comes with a C-cell battery converter accessory, a handy feature if you're on call and have forgotten to charge the battery.
11710 3.5V Standard Ophthalmoscope
Halogen light for true tissue color and consistent, long-lasting illumination
28 focusing lenses with a range of -25 to +40 diopters
Apertures: micro, small, large, fixation target, slit, red-free filter
Rubber brow rest prevents scratching of eyeglasses
Traditional flat-top design
23820 MacroView Otoscope
Achieves nearly complete view of tympanic membrane
Tip grip for secure fastening and ejection of ear specula
30% greater magnification than traditional otoscopes
Improved clarity and definition of landmarks
Adjustable focus for variable ear canal length or farsighted eyes
Fiber-optics produce cool light with no reflections, no obstructions
26535 3.5V Nasal Illuminator
Halogen HPX™ illumination for true tissue color
Three-in-one device with detachable head to use as throat illuminator or penlight
Fiber-optics project cool distal light
71000-C universal rechargeable handle
Smooth, nonabrasive knurled finish for no-slip grip
Chrome-plated brass construction for durability
C-cell battery converter accessory included
72300 Nickel-Cadmium battery
IEC Plug Type-A
Set comes in hard case
Reviews
Related Products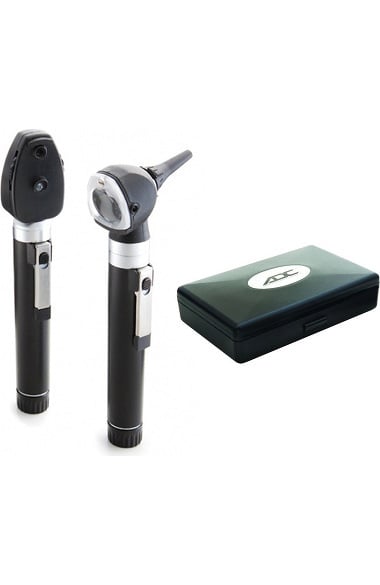 Advanced lighting updates the ADC® Diagnostix™ LED Pocket ...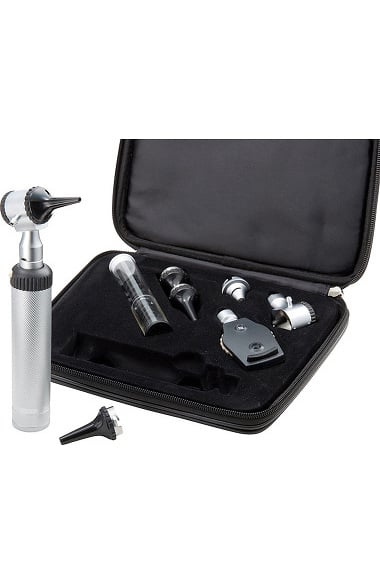 Expect ultimate performance and convenience from the ADC® ...
A durable carrying case adds convenience to the ...