Welch Allyn
Welch Allyn 97110-MPC PanOptic Plus Diagnostic Set
| | | |
| --- | --- | --- |
| Quantity | 1 | 2 |
| Unit Price | $944.98 | $942.49 |

The Welch Allyn 97110-MPC PanOptic Diagnostic Set comes with a 11810 PanOptic Ophthalmoscope, 23820 MacroView Otoscope with Throat Illuminator, and 26535 Nasal Illuminator. The 71000-C rechargeable power handle can be powered by C-cell batteries or plugged into a wall outlet, offering the adaptability that you need for your dynamic work environment.

11810 PanOptic Ophthalmoscope
Halogen HPX™ illumination
5x larger view of the fundus than standard
Dynamic focusing wheel allows continuous, smooth action and more control
Half-Moon aperture
Red-free filter
Digitally capture, store, and share fundus images in combination with iExaminer
23820 MacroView Otoscope with Throat Illuminator
Achieves nearly complete view of tympanic membrane
Tip grip for secure fastening and ejection of ear specula
30% greater magnification than traditional otoscopes
Improved clarity and definition of landmarks
Adjustable focus for variable ear canal length or farsighted eyes
Fiber-optics produce cool light with no reflections, no obstructions
26535 3.5V Nasal Illuminator
Halogen HPX™ illumination for true tissue color
Three-in-one device with detachable head to use as throat illuminator or penlight
Fiber-optics project cool distal light
71000-C universal rechargeable handle
Smooth, nonabrasive knurled finish for no-slip grip
Chrome-plated brass construction for durability
C-cell battery converter accessory included
72300 Nickel-Cadmium battery
IEC Plug Type-A
Set comes in hard case
Description
The Welch Allyn 97110-MPC PanOptic Diagnostic Set comes with a 11810 PanOptic Ophthalmoscope, 23820 MacroView Otoscope with Throat Illuminator, and 26535 Nasal Illuminator. The 71000-C rechargeable power handle can be powered by C-cell batteries or plugged into a wall outlet, offering the adaptability that you need for your dynamic work environment.
11810 PanOptic Ophthalmoscope
Halogen HPX™ illumination
5x larger view of the fundus than standard
Dynamic focusing wheel allows continuous, smooth action and more control
Half-Moon aperture
Red-free filter
Digitally capture, store, and share fundus images in combination with iExaminer
23820 MacroView Otoscope with Throat Illuminator
Achieves nearly complete view of tympanic membrane
Tip grip for secure fastening and ejection of ear specula
30% greater magnification than traditional otoscopes
Improved clarity and definition of landmarks
Adjustable focus for variable ear canal length or farsighted eyes
Fiber-optics produce cool light with no reflections, no obstructions
26535 3.5V Nasal Illuminator
Halogen HPX™ illumination for true tissue color
Three-in-one device with detachable head to use as throat illuminator or penlight
Fiber-optics project cool distal light
71000-C universal rechargeable handle
Smooth, nonabrasive knurled finish for no-slip grip
Chrome-plated brass construction for durability
C-cell battery converter accessory included
72300 Nickel-Cadmium battery
IEC Plug Type-A
Set comes in hard case
Reviews
Related Products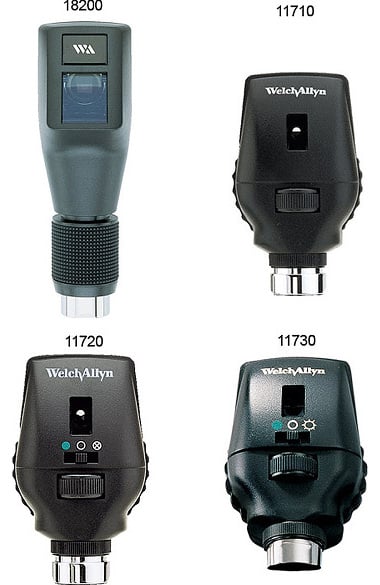 The Welch Allyn 18321 Diagnostic Set comes with ...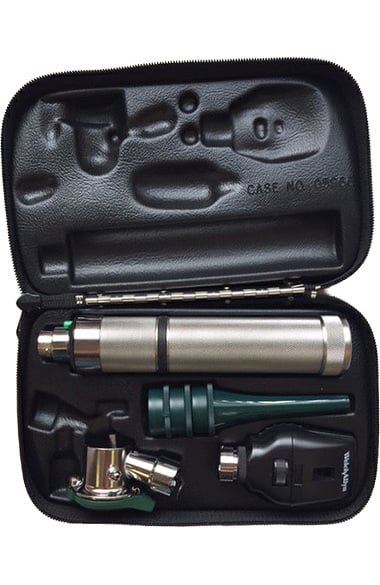 Rely on this convenient Welch Allyn 96120 3.5V ...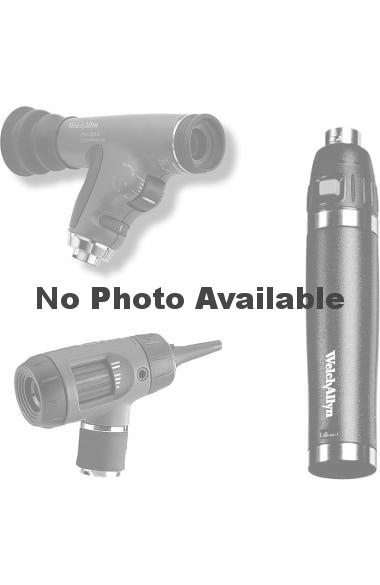 The Welch Allyn 97100-MPS PanOptic Diagnostic Set delivers ...