Welch Allyn
Welch Allyn 97170 3.5V Standard Diagnostic Set with Operating Otoscope
| | | |
| --- | --- | --- |
| Quantity | 1 | 2 |
| Unit Price | $634.98 | $632.49 |

This Welch Allyn 97170 3.5V Standard Diagnostic Set features a 11710 3.5v Standard Ophthalmoscope and a 21700 3.5V Operating Otoscope Head with Specula. A Halogen HPX™ lamp provides 30% more light output for true tissue color and consistent illumination, while fiber-optics produce cool light with no reflections.

11710 3.5V Standard Ophthalmoscope
Halogen light for true tissue color and consistent, long-lasting illumination
28 focusing lenses with a range of -25 to +40 diopters
Apertures: micro, small, large, fixation target, slit, red-free filter
Rubber brow rest prevents scratching of eyeglasses
Traditional flat-top design
21700 3.5V Operating Otoscope Head with Specula
Halogen HPX™ lamp for true tissue color and long-lasting performance
Rotatable lens and speculum for ease of use
Open system for convenience during procedures
Fiber-optic illumination produces cool light
5 reusable ear specula included
71000-A universal rechargeable handle with battery converter accessory
Accepts all Welch Allyn 3.5V instrument heads
Chrome-plated brass handle rests comfortably in hand
Adjustable rheostat control
Safety switch prevents accidental battery drainage
Rechargeable by plugging directly into wall outlet
3.5V Nickel-Cadmium Rechargeable Battery included
Set comes in hard case
Description
This Welch Allyn 97170 3.5V Standard Diagnostic Set features a 11710 3.5v Standard Ophthalmoscope and a 21700 3.5V Operating Otoscope Head with Specula. A Halogen HPX™ lamp provides 30% more light output for true tissue color and consistent illumination, while fiber-optics produce cool light with no reflections.
11710 3.5V Standard Ophthalmoscope
Halogen light for true tissue color and consistent, long-lasting illumination
28 focusing lenses with a range of -25 to +40 diopters
Apertures: micro, small, large, fixation target, slit, red-free filter
Rubber brow rest prevents scratching of eyeglasses
Traditional flat-top design
21700 3.5V Operating Otoscope Head with Specula
Halogen HPX™ lamp for true tissue color and long-lasting performance
Rotatable lens and speculum for ease of use
Open system for convenience during procedures
Fiber-optic illumination produces cool light
5 reusable ear specula included
71000-A universal rechargeable handle with battery converter accessory
Accepts all Welch Allyn 3.5V instrument heads
Chrome-plated brass handle rests comfortably in hand
Adjustable rheostat control
Safety switch prevents accidental battery drainage
Rechargeable by plugging directly into wall outlet
3.5V Nickel-Cadmium Rechargeable Battery included
Set comes in hard case
Reviews
Related Products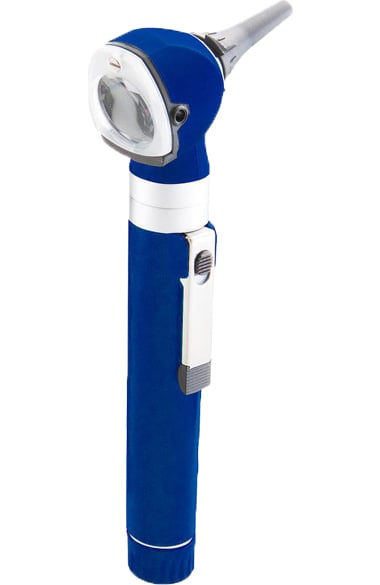 Choose your choice of carrying case to easily ...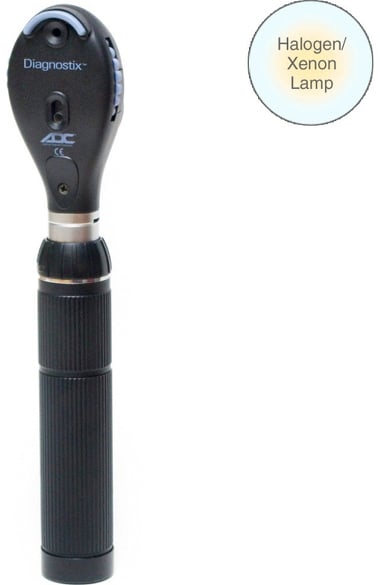 You'll appreciate the convenience of this ADC® 3.5V ...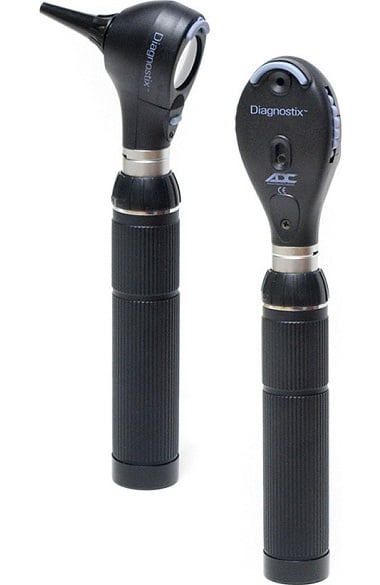 Portability adds convenience to this ADC® 3.5V Diagnostix™ ...