Welch Allyn
Welch Allyn 97100-MPS PanOptic Diagnostic Set with Half-Moon Aperture & Lithium-Ion Smart Handle
| | | |
| --- | --- | --- |
| Quantity | 1 | 2 |
| Unit Price | $946.98 | $944.49 |

The Welch Allyn 97100-MPS PanOptic Diagnostic Set delivers the latest in diagnostics technology, complete with a 11810 3.5V PanOptic Ophthalmoscope, a 23820 MacroView Otoscope, and a 71900 Lithium Ion Rechargeable Handle. The handle averages 120 minutes of on-time between charging, twice the standard, and comes with a low-battery indicator and no "memory" effect.

11810 3.5V PanOptic Ophthalmoscope
5x larger view of the fundus vs. standard ophthalmoscopes in an undilated eye
Greater working distance
Halogen HPX® lamp provides bright, white light
Slit aperture, half-moon aperture, and red-free filter
Dynamic focusing wheel allows more control
Digitally capture, store, and share fundus images by combining with iExaminer
23820 3.5V MacroView Otoscope
Achieves nearly complete view of tympanic membrane
Tip grip for secure fastening and ejection of ear specula
30% greater magnification than traditional otoscopes
Improved clarity and definition of landmarks
Adjustable focus for variable ear canal length or farsighted eyes
Fiber-optics produce cool light with no reflections, no obstructions
Built-in throat illuminator/penlight
Reusable ear specula
71900 3.5V Lithium Ion Rechargeable Handle
Half the weight of traditional 3.5V handles
120 minutes of on-time
Low-battery indicator
No "memory" effect
Made of sturdy CYCOLOY engineering resin
Removable AC charging module
Retractable AC prongs on charging module
Fits all Welch Allyn 3.5V instrument heads
IEC Plug Type-A
71960 Lithium-Ion Battery included
Set comes in a hard case
Description
The Welch Allyn 97100-MPS PanOptic Diagnostic Set delivers the latest in diagnostics technology, complete with a 11810 3.5V PanOptic Ophthalmoscope, a 23820 MacroView Otoscope, and a 71900 Lithium Ion Rechargeable Handle. The handle averages 120 minutes of on-time between charging, twice the standard, and comes with a low-battery indicator and no "memory" effect.
11810 3.5V PanOptic Ophthalmoscope
5x larger view of the fundus vs. standard ophthalmoscopes in an undilated eye
Greater working distance
Halogen HPX® lamp provides bright, white light
Slit aperture, half-moon aperture, and red-free filter
Dynamic focusing wheel allows more control
Digitally capture, store, and share fundus images by combining with iExaminer
23820 3.5V MacroView Otoscope
Achieves nearly complete view of tympanic membrane
Tip grip for secure fastening and ejection of ear specula
30% greater magnification than traditional otoscopes
Improved clarity and definition of landmarks
Adjustable focus for variable ear canal length or farsighted eyes
Fiber-optics produce cool light with no reflections, no obstructions
Built-in throat illuminator/penlight
Reusable ear specula
71900 3.5V Lithium Ion Rechargeable Handle
Half the weight of traditional 3.5V handles
120 minutes of on-time
Low-battery indicator
No "memory" effect
Made of sturdy CYCOLOY engineering resin
Removable AC charging module
Retractable AC prongs on charging module
Fits all Welch Allyn 3.5V instrument heads
IEC Plug Type-A
71960 Lithium-Ion Battery included
Set comes in a hard case
Reviews
Related Products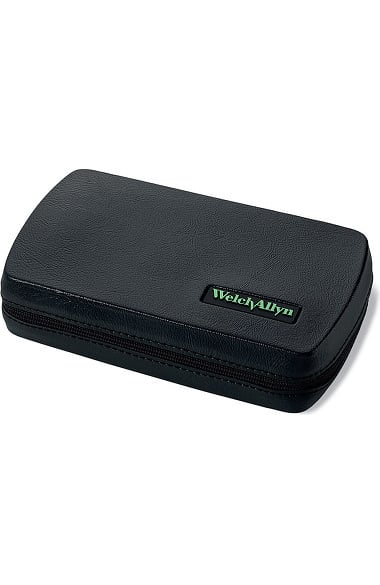 This sleek Welch Allyn 05259 Rigid Case features ...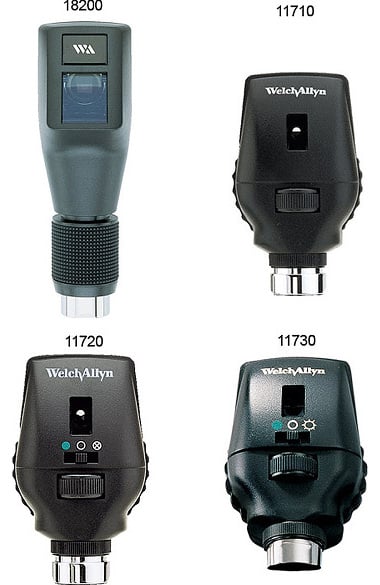 The Welch Allyn 18321 Diagnostic Set comes with ...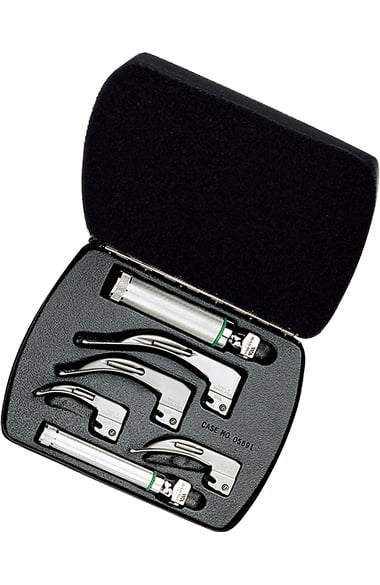 This high-quality Welch Allyn 69696 MacIntosh Fiber Optic ...