Description
allheart Basics are your best scrub value: essential, traditional pieces made of a high-quality 65% polyester/35% cotton blend and double-stitch construction to last wear after wear. These premium unisex scrub pants have a gentle straight-leg cut and easy-pull drawstring waist for comfort. One back right pocket.
Unisex fit
Easy-pull drawstring waist
Drawstring sewn to back to prevent slipping
Back right pocket
Straight leg
65% polyester/35% cotton
Approx. Inseam: 32"
Reviews
Bought a small pants and fit me well. I'm about 5'10 and 155 lbs with a runners physique. The price is on point and so is the color. No complaints here
This was the worst uniform I ever purchased. I bought a bunch for my boyfriend and was mortified when he sent me a picture of him at work with a huge rip in the butt area!!! The material is cheap and sizes don't fit at all! I would advise anyone who considers making a purchase to run in the other direction.
Worse uniform I ever bought. The size was ridiculously to big and the material felt horrible and the shirt arrive three weeks after the pants !!!
Buy women's if you have any shape at all
First time buying unisex pants. Will also be the last. I should have figured out from the sizing chart when there was no hip size listed that this wouldn't work for my daughter. She is a girl in every sense and doesn't have big hips, but she does have hips. Stick with women's pants unless you absolutely have no shape. They were well made, so I still gave them four stars.
Good pants. Good length for tall. Could use a little more fabric in the waist.
I love these pants. I ordered multiple pair and recieved them in a timely manner (only a couple days). They are super comfortable and durable! The price is well worth it!!
These scrubs were cheap so i knew the material would be thin and not the best quality. The material was almost see through and the seams were so poorly sewn that one wash and the pants fell apart. Don't waste your time or your money on these scrubs.
Uncomfortable. Still very stiff after several washes!
Very cheap quality. Runs extremely large. I returned them.
5/2018 - just bought 2 pr of these. Material is of a medium wght and the sizing was normal. I usually take a large and the large fit. They are a very boxy/wide cut on the lower legs and on the long side. I had to hem them even though i ordered petite length. Otherwise, a good basic scrub
Great product for the price
Excellent price and comfortable fit
Basic scrubs, exactly as expected
Nothing fancy, love the price, they do the job!
My husband love the pants.
My husband love the pants.
To long had to hem them about 3 in but other wise they r great
These bottoms seemed to fit awkwardly. I ordered a size medium and the waist is larger than I expected. They were pretty long too, so I had to pull them up much higher than normal to make them work (I'm 5'7"). These pants also seemed to fit much tighter in the thigh area and then were baggy and wide below the knee. Also, be cautious when purchasing tops and bottoms, I ordered both my top and bottoms in the color "wine" and the colors are completely different. I guess you get what you pay for.
Just your basic scrub bottoms good value however if you are short and need petite go with a woman's style if you are 5'5 or shorter. I'm 5'1 and the petite are way too long.
I've bought the expensive scrubs before but have found that the cheap, simple ones are the best for me. The fit is spot on and of course they're comfortable. Buy them on sale and they are even better.
I was pleased with the service no complaints
I wish I would have found your company sooner! Comfortable and such easy care. Great for the price too. Shipping was fast and at my door before I knew it
After one walk down the hall, you'll probably wish you had chosen scrubs that had some elastic hold around the waist along with your tie string.
Scrubs fit great, they are comfortable
Usually unisex pants fit too big, these were too tight at the thigh area. I got the largest size they come in and they still did not fit right. I will not purchase them in the future.
The pants are working out great, I've worn both pair. Thanks
I bought scubs at different stores that didn't fit mainly because of the length. I took a chance and ordered 3pr online @allheart. It's said (32in length) and they were perf3ct.I'm finally satisfied. Ordering another pair*
Great pants for the price
I love everything that I order
There is no give to them. They have no width to the hips; They are big at the waist and taper down and do not allow for the curve of the hips. They are not unisex they are for males (with no hips). I will not buy the Basic unisex scrubs again. I needed them badly and bought 6 pairs and they are all alike. Buy on line and learn 8(
Fit my husband perfectly, he was very pleased!
I have never purchase this brand for my daughter before. She didn't like the way the pants fit and they were a bit short for her. The quality of the pant seemed to be good though. I will be returning them for a refund today though.
I have never purchase this brand for my daughter before. She didn't like the way the pants fit and they were a bit short for her. The quality of the pant seemed to be good though. I will be returning them for a refund today though.
product is fine, size chart has major problems.
I ordered these pants for costumes for a musical. The size chart is way off. I have never met a size small person with 28-30" waist and only a 20" hip measurement. I called customer service to see if they could give me any insight to their sizing and they were very friendly, but they had no more information than the size chart suggested. I ordered according to waist measurements and for my plus size cast member, the pants were way too big. This was very frustrating since I didn't have the time or money to ship back and reorder a better fitting size. I took 7' out of the width of each leg
White Allheart scrub basics
I bought two of these scrub pants in white fir school. I am 5'6" and 120 pounds so I bought a size small. For my height they fit great, however they are way too big around the waist. I am able to pull the strings tight enough for them to fit. I was scared of the white but they not as bad as I thought they would be. During the winter I plan on wearing white leggings underneath.
These run bigger than regular ladies sizes (guess I should have assumed they would). Wish I ordered a size smaller.
I bought ten pain of scrub pants. The were on sale for $7! Great price but I was afraid the quality was going to be not so great! They are pretty good quality. They are great for the price. I will continue to purchase these scrubs! They are very plain with one pocket on the back, but that's okay with me. I like to wear scrubs with a t-shirt. These pant work just fine. Follow the size guide, it's pretty accurate. But If you're like me and have a bigger derrière and thicker thighs you may want to go a size up. Keep in mind they are drawstring and the waist is pretty wide. These scrubs fit a tad bit more snug than I wanted but they aren't tacky or anything. I usually were a 10/12 pants and I purchased a medium.
Allheart Basic Scrub pant
These pants were spot on fit was fine a little long but I'm only 5'4 so after a hem good to go !
I have been buying scrubs here for a few years now. I love them! Great quality for the price, as you know most scrub sizes are always bigger then your normal sizes, check the size chart for sure, its pretty accurate. I am 6ft thin and about a 33-34 waist, I went with the med size bottom, a little baggy but better than being those chick tight skinny jeans. I got stuck with a pair like that before. Use the size chart!
A little shorrt in the seat area.
They were wonderful as far as the color very good and quality very good however the size was not right. I looked at the chart and it said large for me regarding measurements. But when I got them they were way too large and I had to return them. Need medium size instead so sizing was not so easy it seems your clothes run large.
I'm happy with the scrub pants. Arrived quickly, and so far have worked out well. Shipped overseas with no issues.
Good quality for the price. Fit is a little awkward, as the waist is HUGE and sits very low. Not bad for the price but not very comfortable due to the style and fit. Guess it really depends on your body type.
Love the feel, but the fit is a little uncomfortable for a man. The waist is huge, but there is no seat room......or other parts. And it needs more pockets!
If you are a female and normally wear large, I suggest you order a medium. (Most unisex items are like that) Great size,color and price! I got a deal!
Great price for good quality scrub pants.
I really like the scrub pants fit and color. Would've like side pockets, but it is all good.
A bit larger and longer than expected....... Shipping took a 1 1/2 weeks
Although nice with the draw string, they run exceptionally large. They come down to my heels and I have to tie them so tight to keep from falling. If you are an extra large normally, I recommend getting these particular pants in a large. They run big!!
I am happy with my choice and the price was very reasonable.
I love the quality of the scrubs from allheart.com. Im a plus size woman and alot of times clothing aren't true to size but allheart is the exception. Everything fits so nice. I have told two other friends about the site and actually purchased scrubs for a friend.
good service, Great pants out of sight price
They arrived as informed. I always know that anything I order will be of excellent quality. This is my only work needs company
VERY SATISFIED WITH PURCHASE THE SCRUB PANTS MATCHED THE SCRUB TOP PREVIOUSLY ORDERED SO THAT WAS PERFECT FOR ME.
I ordered almost every color in this style. I'm a petite person and XS fit me perfectly . I will be ordering again. The price was great also.
Burn Administrative Assistant
great fit and feel comfortable
Great simple doctor pants!
Bought these for my husband who is an Internal Medicine resident. I myself am also a resident doctor and have found it hard to buy simple doctor scrubs - none of the fitted, extra pockets or other extras! My husband wanted some black scrub pants and so I bought these for him as a small Xmas gift. He loves them! Just what we were looking for!
They are nice quality but the fit for a curvy woman like myself is very strange in the erm crotch and butt areas. The legs are wider than pictured and the waist is very high. Oveall, for the price they are excellent quality.
Nicely priced and good quality
Scrub basics Unisex pants
Size Chart
allheart Unisex Scrub Pants Size Chart:
| | | | | | | | | | | | |
| --- | --- | --- | --- | --- | --- | --- | --- | --- | --- | --- | --- |
| | XXS | XSM | SML | MED | LGE | XLG | 2XL | 3XL | 4XL | 5XL | 6XL |
| Waist | 26-28 | 30-32 | 34-36 | 38-40 | 42-44 | 46-48 | 50-52 | 54-56 | 58-60 | 62-64 | 66-68 |
| Inseam | 29 | 29 | 29 | 30 | 30 | 30 | 31 | 32 | 32 | 32.25 | 33.75 |
Unisex Inseam Measurements:
Short Inseam is approximately 26"-29"
Regular Inseam is approximately 29"-32"
Tall Inseam is approximately 32"-35"
Bust
Measures the fullest part of your chest.
Waist
Bend to one side to the natural crease of your waist and measure across this point.
Hip
Standing with feet together, measure around the fullest part of your hips and rear.
Inseam
Measure from the bottom of the crotch seam to the bottom of the hem along the inside seam.
Unisex Fit Chart:
The top feels like: This silhouette is classic and roomy with room to breathe at the sides, and a longer sleeve length to accommodate both men's and women's arm sizes. These scrub tops always have a longer length.
The pant feels like: Both drawstring and elastic waistbands on a unisex fit pant have a higher rise, and sit closer to your natural waistline. The legline is typically straight and offers plenty of room around the leg as well as at the seat.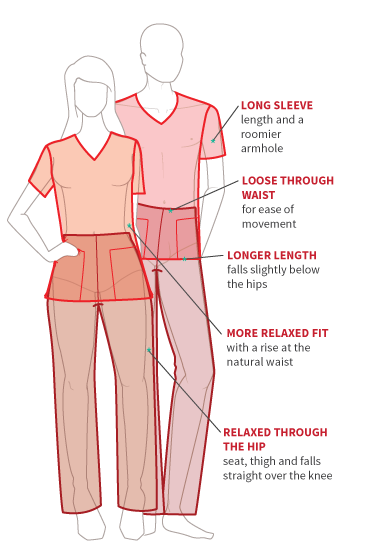 Size Tip
If you're a guy ordering unisex fit scrubs, they should ideally be true to size. For the ladies, consider ordering one size smaller than you would in a women's fit scrub top or pant.