Description
allheart Basics are your best scrub value: essential, traditional pieces made of a high-quality 65% polyester/35% cotton blend and double-stitch construction to last wear after wear. This premium V-neck scrub top features three pockets for all your gear: one left chest and two front patch. With easy-fit, set-in sleeves and a fuller body length.
Missy fit
V-neck scrub top
Left chest pocket with pen slot, two patch pockets
Set-in sleeves
Fuller body length of 28"
Reinforced vents on both sides
65% polyester/35% cotton
Reviews
I didn't like the three pockets, they shirt feels stiff, and the color is off.
Ive purchased several tops and this one has the best fit and most breathable fabric. I like it so much Ive bought 5 more.
Liked the shirt. Fit great
Love the scrubs, fit perfectly, length is good after couple of washing still good.Definately will purchase again.
If you want ill fitting scrubs...
They don't fit well, especially the sleeves. The seams are down to my elbows. Waste of money. Lesson learned, you get what you pay for!
Quality is good, especially for the price. Fit is true to size. My only con is that the colors don't match. I ordered pewter, navy and black tops and bottoms and the shades are different. Drives my OCD crazy !!!
I purchased 4 tops in a 5x and they fix well. I love the 3 pockets. I also love that they are long enough. They are stiff, even after washing. Color has lasted after 4 washes. Would definitely buy again.
The top was huge in the chest and shoulders area but would not slide down over my hips. The matching pants were too tight in the thighs. I think it is a unisex cut not a women's cut.
Sizing is poor. Ordered a large and couldn't get over my head
Pants and top fit true to size. Comfortable to wear and the shirt is long enough to cover my stomach. Will order again. Wish shipping time was a little faster but it was doable. Petite is what I ordered and it was the perfect length.
I love the scrubs. The petite pants need to be shorter and the shipping needs to be faster
This top gets the job done. Not too fancy, but also holds up.
great fit bought 2 love the feel
I ordered 5 scrub tops and then came in the colours and sizes I ordered and they all fit perfectly
Work work work great great great
Love these shirts ordered me 2 to see how they fit large and a xxl large fit perfect so I gave the xlarge to my coworker she love them now I have to order a 4 2x for another coworker I'm loving it and so are they
love the color will order another scrub top at a later time .I bought it for the purpose of wearing it to church I am on the nurses board and that is the color for the summer
The scrub fits okay but the pockets are too shallow and narrow. They don't hold very much.
These scrub tops were very uncomfortable itchy and caused a rash on me. I would not recommend.
LOVE it I will be ordering more
I first ordered 3 uniform tops. When i received them , I noticed the quality. Also I have to wear the color purple. So , Allheart , had my size, color, and was in stock. Because of this, I ordered 3 more uniform tops. Also the price is right. Thanks Allheart.
Nice looking, practical scrub top for the price!
Very nice.. Would order again
Love the tops by all heart
I like three pockets with a pen division in the top one. This top has that, but the pattern has changed from a few years ago. The fit is a bit tighter and the pockets just enough smaller to make it hard to get my phone in my recent tops that fit without problem in the older style. I guess one quarter inch of fabric over thousands of garments can save the manufacturer money.
Items was on time and fit very will
I ordered 6X as that is my current size in other brands, I would encourage other shoppers to triple the sizing and fit. I compared the tops to my other 6X tops and they are the same however they are really much baggier then the other brand and the sleeves are much longer. Next time I buy I think I will get a smaller size.
PERFECT COLOR. UNFORUNATELY IT FITS LIKE A DRESS RATHER THAN A TOP. VERY ODD FITTING.
All medical assistants at our hospital have been asked to switch to solid dark gray scrubs. I ordered 5 sets (pants and tops), the color and size were spot on and I did not have to return anything. I paid a total of $77 including shipping. Local uniform store price for the same 5 sets was $300!!! Quality is excellent! Thank you Allheart!
My order came in less than a week. Scrub tops are nice. Perfect fit. Ordered 5 different colors. All size xl. Love them. First time buyer too. Thanks all heart.
This scrub top is "roomy", long for the size I ordered. It has washed fine and is comfortable
These tops are exactly as were advertised. They are comfortable roomy, and the color is just right. After washing them, they didn't shrink or fade and came out with minimal wrinkles. I would but these again. They are worth the price I paid. I have one suggestion, as they are womens scrub tops you should think about darts or figure flattery in some way.
Love the quality price and prompt ness of delivery
Love but is a little short.
this brand runs a bit smaller then Charokee. I got a large and thought that it would be big enough in the length as this is the size I get from charokee. However after putting them on, I felt that they were somewhat short. Other then that I loved them. Seems to be made with good material. Will purchase again only a bigger size. The price was just right too considering scrubs usually cost double of what one of these did.
Sizes run bigger than normal. We order a size smaller than what we would normally wear
The material is great so far no problem and comfortable
Great product my wife love them
good quality and sizing. a little stiff but overall great value.
I have a 34 bust and a 28 waist so naturally based on the size chart, I ordered smalls. The scrubs arrived and they're huge. Size chart claims that the small bust measurement is 32-33, well I measured the top at the bust and its 41". How does that make any sense? With that logic I'd need an XXXXXS. So here I am sitting In a pile of giant scrubs with no options because I start work in less than a week. I don't know how these other reviewers think that their scrubs are too small. However the material is soft and thick and good. You have the numbers now so make your choice wisely.
Great price. Vibrant color. Fits great.
My daughter got this for her mom as a Christmas present. It was the perfect gift! My daughter added the additional name writing (which turned out perfect).
Fits large. Boxy cut. I am drowning in it. Material very stiff. Hopefully washing it will soften it up. Its under $8 though, so I am not complaining.
allheart basics women 3 pocket top
Color as described. Fit is correct.Material is a little stiff,but otherwise great product
All heart scrub tops ran longer than expected. Pockets are set more to the side of my body. But that's ok, just takes some getting use to at work.
I bought this scrub to wear at my vendor events and I like the way it is made, with sturdy seams and lots of pockets. I highly recommend this scrub top.
Fits Big, Quality Product
This is a great basic scrub top but it runs large. I'm reordering a size smaller.
It fit me perfectly ,I really love it.
I purchased the scrubs for my daughter. The size I purchased was the same size she has worn in a different brand in the past. However, she couldn't even get this top over her head. I will be returning it in the mail today for a refund. The quality of the merchandise was good though.
Good fit,washes nicely, great price! Happy!
I really like the shirt. I especially like the length.Hopefully with a few more washings it will soften up.
Allheart Scrubs Basics -3 pocket solid scrubtop
These are a nice product. The value is good at this price.
I love that the scrub tops have the 3-pocket, that was one of the deciding factors of purchasing these particular scrub tops BUT the sizes are not true to fit. I ordered large and they fit like a medium.
A great base for my personalized scrubs!
I love these scrub tops, and I use them for my customer's personalized scrubs, where I applique movie stars pics and quotes onto the pockets. The customers tell me that they really cheer up the patients and take their minds off of their reasons for being in the hospital. I trust the scrubs to be of good quality materials and craftsmanship, so I have no qualms adding my name and reputation to them.
Yes indeed what a great buy! Although I had to return this item for a larger size, I am thrilled. Just waiting for my exchange.
The color was a little dark then I expected but I love the fit , the material & the length.
Service great, top not so much.
Service through AllHeart has always been great, fast delivery. However I was not too crazy about this particular top. It's a bit stiff and doesn't fit right, seems like a lot of extra material in the back. Just not the right top for me.
quick delivery nice serives
Scrub Basics Women's 3-Pocket Solid Scrub Top
Good, standard scrub top. Roomy pockets. Ordered in wine, although color does not match the wine of the pants I bought here at the same time, from the Scrub Classics collection.
These scrubs are true to size and they have a nice feel to them.Wash and wear with no ironing is a plus
I recently purchased these scrub tops for my staff since they are of good quality and at a very good price. I personally wear these tops and receive many compliments on them, especially with our organization's logo. We are all so pleased with this product, especially the various colors, and the stitched in pen pocket! We will not order from anyone else other than Allheart.
Plus sizes, Great price, Excellent customer service
I ordered these scrub tops for my daughter who is a big girl. They fit great and the customer service when I had to exchange one was awesome. I will definitely buy from them again!
I'm 81 yrs old and love them for just "hanging out" in the /Sr. apt. where I live.. cool, comfortable. amd great colors.
Really good quality! The sizes are a little bit on the larger size, but still fits well.
I bought, hoping these would be ok, since so well priced. They aren't my favorites, but for the price, they are well worth it. Not as comfy, but getting softer with more washes. But I love having 3 pockets. True to size, and I like that this shirt is longer than most, so it covers everything. I am shorter (5'4") and it fits like a tunic, past my hips and upper thighs.
Great scrub top. Great price! Washes well and well constructed!
Very happy with the scrubs. They are cheap and arrived quickly. No issues and it was shipped to me in Australia.
Rated one star because if would not let me rate anything less. Poor quality, poorly made. Fabric stiff and does not soften even after multiple washings. Shoulders too large and bottom of scrub too tight for a medium. Returned unopened ones
Love that the pockets are low and off to the side a little. Very natural place for my hands to go.
great quality at a great price
The uniforms were great the fit was spot on. I will continue to purchase uniforms in the future from All Heart
Very Comfortable! I like the three pockets and the pen slots, I am always carrying many different kinds of pen in my pocket this helps me find the one I use most!
Can't beat the price on Allheart brand scrubs, and they fit/wash well too! Side note, my job is going to navy scrubs only, and these tops match the Cherokee navy pants perfectly so you can mix and match brands...always a plus :)
I love these scrubs I wear them everyday in the ER hold up great and true to size I am 145lbs 5'5 and wear a medium
Comfortable and professional
Good scrubs for the price. Like the 3rd pocket on the chest!
All arrived quickly. Quality was very good. I would order again.
nice product true to size washes well
Overall the top is larger than most medium scrub tops and collects more hair/fur than normal. We bought about 10 of these and we work at a veterinary clinic and dog/cat fur sticks all over these tops:(
I ordered two of these scrub tops. Very nice quality and very good price.
I had trouble finding any red scrub tops in my area. These fit very well and are exactly what I wanted. The price was right too.
This is a VERY nice shirt too. I also told some other people about you too. Plus I have still received the green shirt yet I think its October when it gets off back order..
I received my order fits great. Great quality in material and workmanship. I've decided to order pants to match. I'm sure the quality will match the tops.
These tops are great - although I ordered two in the Ceil color and two in the navy and only have the ceil to date. The Navy are on indefinite back order. I really like the feel and the pockets in them. Highly recommend!
great price, love the pockets
Great deal for an extra scrub top!!
I bought three different colors: Caribbean, Royal and Green, size XSM. In fact, I need SSX size. I made mistake when I ordered XSM. The XSM is large with 40" of circumference. It is too much for me, but returning always is a little complicated and we lose the shipping, then I decided to keep all of them. Another small problem with with the Green Scrub.. the V-Neck is too small,and it is a little difficult to wear it. Anyway, the colors are wonderful, very nice three pockets (with special pen pocket!:o About shipping: ok! I am happy with!
I did order slightly large, yet it was still comfortable enough to wear. I plan on ordering more in the future and will be able to order a smaller size that will fit better.
I love the fit and the pockets are nice and deep, just like I like them.
I have bought these in the past, and they are comfortable and reliable. I only had to purchase new ones because our company decided to change our colors!
Great top-can't beat prices
Really like top, only problem was had to send back smaller size tops because the color was shades different than the separate pants of same brand. Customer service was great when it came to that. The medium & large tops, no problem, but small & extra small never could get a match
My staff love your product. I have been ordering them as part of an incentive reward program for 22 caregivers. The quality is excellent,great colors, and even with embroidery, they are reasonably priced. This is a great value for me, because I buy them from my personal funds. I love that I can get just a few at a time. Thanks very much for being a company that still offers a good value.
Exactly what I was looking for. So hard for big girls like me to find something that fits comfortably. It's even a bit big on me! The sleeves come down a little too far but that is MUCH better than having sleeves that are too short or that bind. I have to have a wide range of movement in my job. So glad it has front patch pockets! In my opinion scrub tops are not much use without them. Color is great and true to the sample. I will definitely order this item again and maybe try a size smaller.
I loved all of my purchases. They were exactly as I had envisioned. The only exception was, the prices were even better than any other place I have ever shopped. Thanks! I will be back soon for another order!
I love them perfect color and size. Way to go!
Great value....good quality.....will definitely purchase again.
Top runs true to size, length is great. I am a plus size and all the tops in other brands are only 27"" long. These are about 30-31"". I like the extra coverage. Plus they wash well! I'm going to buy every color in this top!
Very comfortable while working; fits well, not too blocky.
Nicely made and longer in trunk for those who need it and very comfortable and wash up nice
nice loose fit, extra pocket, easy care material and great buy
Very nice construction and thickness of fabric. Runs a tad bit small. Washes well:)
i really like the scrub length... covers my ample derriere without perpetually riding up and making my butt look bigger than it really is.... i'd rather wear print tops, but current company dress specs require white tops... and finding them on sale is a DEFINITE plus! They are true to size, wash well & are soil resistant... but I carry a Tide pen or similar generic product because I have yet to eat lunch without blessing my top with some trace evidence of same since i work home health and lunch is most often a drive through... these scrubs are good & i will probably be buying more!
i really like the scrub length... covers my ample derriere without perpetually riding up and making my butt look bigger than it really is.... i'd rather wear print tops, but current company dress specs require white tops... and finding them on sale is a DEFINITE plus! They are true to size, wash well & are soil resistant... but I carry a Tide pen or similar generic product because I have yet to eat lunch without blessing my top with some trace evidence of same since i work home health and lunch is most often a drive through... these scrubs are good & i will probably be buying more!
Weight of material is light and comfortable, but the fit is slightly boxy.
Nothing fancy but it does the job.
it feels so good not to hot when your working
Size Chart
allheart Women's 3-Pocket Solid Scrub Top Size Chart:
| | | | | | | | | | | | |
| --- | --- | --- | --- | --- | --- | --- | --- | --- | --- | --- | --- |
| | XXS | XSM | SML | MED | LGE | XLG | 2XL | 3XL | 4XL | 5XL | 6XL |
| Bust | 31-32 | 33-34 | 35-36 | 37-39 | 40-43 | 44-47 | 48-51 | 52-55 | 56-59 | 60-63 | 64-67 |
| Waist | 31-32 | 33-34 | 35-36 | 37-39 | 40-43 | 44-47 | 48-51 | 52-55 | 56-59 | 60-63 | 64-67 |
| Hip | 31-32 | 33-34 | 35-36 | 37-39 | 40-43 | 44-47 | 48-51 | 52-55 | 56-59 | 60-63 | 64-67 |
| Center Back Length | 26.5 | 27 | 27.5 | 28 | 29 | 30 | 31 | 32 | 32.5 | 33.5 | 34.5 |
Bust
Measures the fullest part of your chest.
Waist
Bend to one side to the natural crease of your waist and measure across this point.
Hip
Standing with feet together, measure around the fullest part of your hips and rear.
Inseam
Measure from the bottom of the crotch seam to the bottom of the hem along the inside seam.
Missy Fit Chart:
The top feels like: Enjoy a longer sleeve length than junior or athletic fit tops, but a silhouette that still flatters. The hemline should fall at the hip or below for added coverage when bending or reaching.
The pant feels like: Get a higher rise from the missy fit pant, usually just below the natural waist. This easy fit gives you more coverage at the top and a leg line that sits a couple inches away from the body.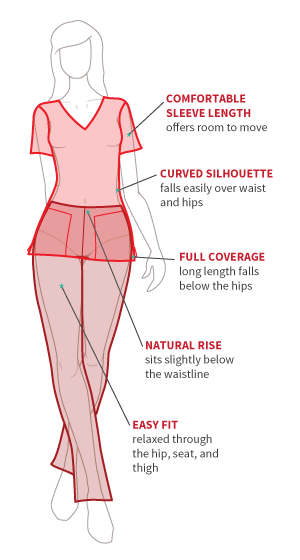 Size Tip
Missy fit is meant to be true to size. If you're on the petite side, try ordering a size smaller than you normally would if you prefer more fitted scrubs.