Description
This unisex lab coat from allheart Basics matches your need for comfort and durability with your desire for style. It has a classic cut, with a four-button closure and side slits for convenient pant-pocket access. Three pockets for all your gear: two front patch pockets, one left chest pocket.
Unisex fit
Four-button closure
Side slits for pant-pocket access
Two front patch pockets, one left chest pocket
Use the size chart below to find your best fit
41 1/4" long
65% polyester/35% cotton with soil release
Reviews
WAY TOO SMALL...NOT EVEN CLOSE! I purchased another brand that fits as described and measurements are spot on. This one barely fits my 5' 4" wife at 140 pounds. Now, I ordered a 5x... It is actually comical. I have to laugh or I would cry. .aterial is poor quality and e ery stitch can be seen.
Way too small - and of course you order with embroidery so you can't return . Problem its it's false advertisement - Size listed is not accurate. Order at least two sizes up - minimum . Quality of jacket is very poor .
Way too small and did embroidery. So waste if money
Looks great ! I look great in it
Way to small. I ordered an xl and could not even wear it. Basically wasted my money. The sleeves where way to short and tight and shoulders not wide enough. If you order get about 2 sizes bigger, but then you get charged for larger sizes which shouldn't happen. Dont order.
Just what I was looking for
I needed a lab coat for a Halloween costume and your company was very reasonable. The lab coat I bought was a cheaper one and fit just right and work out great for my costume.
I had read the reviews, so knew they ran small and ordered accordingly. The quality is good, and the embroidery is very nice and clear. The only problem I had was that two of the sixteen lab coats ordered were not embroidered at all. You might need to check all of the shipment as soon as you get them instead of waiting a week or two like I did before my students were issued their lab coats...
Lab coat looked great and the embroidery was sharp but the stitching in the sleeve let go after just two uses. Customer service was very helpful and we are being shipped a replacement.
What a great product!! I got 2 of the lab coats - one for me and one for my male assistant. Both fit perfectly and the quality is the best. I had logo and name embroidered - it was true to color, and very professionally done. Allheart is my go-to for these needs.
Sleeves were way too small
I'm 5'10'' about 155lbs and medium body type built, the sleeves on the M we're comically too small! Rest of the coat decent but I'd be careful if you don't like the sleeves riding up cause they came down to the middle of my forarm!
I have ordered before and the jackets fit perfect. These ones ran really small. A XXL is really a L. So I have to send back all my L's and XL's. A bit disappointed
I received my lab coat and it looked great except for they forgot to do one of the sides of embroidery. I was pleasantly surprised when they promptly responded by sending me a new lab coat that was complete! Fantastic service! Sometimes when mistakes are made you truly find out how great a company is! Also there is no service like this cheaper out there!
We ordered a bunch of these for our department, and none of them fit. They are made for very small people. It says unisex, but do not fit men. The arms are very short, and the shoulders are very narrow. We ordered a variety of sizes. The people that ordered the L, barley fit into the 3XL, but the arms were still to short. I would not recommend these.
Great coat. Everything was as described. Perfect.
Great coat. Everything was as described. Perfect.
lab coat is neat and comfortable. pockets are generous. true to size. priced right. sorry I didn't order two right away, but I wanted to see the coat and the quality of the fabric. Its perfect and I will be ordering another shortly.
Perfect Addition to my Halloween Costume
I purchased this lab coat and had it engraved with "Grey-Sloan Memorial Hospital" and "my name, M.D." This coat was longer than I'd like, but overall a great addition to my Grey's Anatomy surgeon outfit! It was definitely a crowd pleaser at work, paired with my navy blue scrubs and ekg scrub cap. Overall this was a great buy!
sizes run way to small, ordered an XL should have gone up two sizes for a proper fit. It feels like I'm wearing a 3/4 sleeve.
good quality but runs very small. I bought a XL (for a guy) and the arms are so tight I can barely move... Guys....buy a size larger than you are ... these must be for women
Purchased this lab coat for my daughter in law for Christmas. It didn't come in time, but that was because I didn't order it soon enough (and the website was right upfront when I ordered that I wouldn't have it). It arrived last night, and I was VERY pleased. It was exactly what was described, the embroidery was perfect, and, best of all, she LOVED it! Fit as expected, terrific price.
Bought 7 embroidered lab coats. 2 sm, 3 md and 2 lg. The smalls fit our lady decently. The mediums were for our men and none of them fit. The chest area is broad and wide but the sleeves were short and tight. So size medium chest but size small in the sleeves. Because they're embroidered, they can't be returned.
Nice to have a personalized coat and scrubs for my daughter for Halloween. She loves it!
Great service and product
The product arrived quickly and was exactly what I ordered. Thank you!
Basic Unisex White Lab Coat
These lab coats are VERY lightweight so I wouldn't recommend them for heavy lab work. I am used to conventional lab coats which are studier material so am disappointed at how thin the material is, but I guess that explains the price. Perhaps the weave will tighten in the dryer. The embroidery is nice and clear, and the coats have handy splits in the side so you can access your own pockets underneath. I bought four of these lab coats but am still waiting for a Medium that has been on back order for several weeks now.
lab coats are comfortable, but they run smaller than the usual sizes. may want to consider ordering larger size than your normal size.
The size is XXL & runs very small. The wrists on the sleeves barely fit over my hands & I'm not that big a person! Not too happy with the quality.
I ordered this lab coat as a gift and the person absolutely loves it. The embroidery is really pretty. As others have said, the sizes do seem much smaller than normal. The person normally would wear a small but a medium was perfect, very happy I had read the previous reviews. The material is a bit thin, but then again it isn't an extremely expensive lab coat. All in all though, very happy with the purchase and I'd buy it again.
I find it hard to believe that no one is mentioning that the sleeves are extremely tight by far the tightest I have felt despite trying about a dozen of white coat brands.. The sleeves are comfortable as long as you are wearing scrubs but if you wear a button up shirt it can be uncomfortable and don't even think about wearing a sweater. The pictures of the white coats in the model description do not reflect how tight of a fit the sleeves are, FYI. Otherwise the white coats are good (maybe a little thin) but again the sleeves are almost a dealbreaker.
I was very pleased with the item! It arrived very promptly, and when they said it would!!
Inexpensive Multi-purpose lab coat
The great price on this coat caught my attention and the ability to monogram convinced me to buy. The lab coat is of reasonable quality but runs very small. In general, our lab members found they had to wear at least one size larger than normal with this coat. Women love the sleeve length; men do not. Monograms are beautifully done.
Great quality. Beautiful embroidery. Thank you.
Thin material might work for you
Material is too thin and flimsy
Excellent quality. Wonderful Embroidery. Extremely satisfied.
lab coat for radiology class clinicals 2013
I recently purchased a lab coat and it is perfect. Exactly what I was looking for. My classes haven't started yet, but am looking forward to putting this lab coat to good use. It is lightweight and the fit is perfect. Love that I was able to get it on clearance too!
Perfect for women, but sleeves may be too short for men
I ordered these for 6 female and 1 male coworkers. The embroidery was great. Everything fit for the women, except that the sleeves were kind of short for the male. Overall it was fine, since it was only for a one time presentation. But if you're planning to wear it everyday, I'd recommend ordering the specific female or male coats. For the price, it was worth it.
allheart Unisex 41" Lab Coat
allheart is awesome with embroidery!
I ordered this lab coat with personalization and it is beautiful!!!! WAY better than what I expected!!! I've been buying from allheart.com for over 5 years now and have YET to be less than delighted with my purchases!!!! THANK YOU!!!!
Size Chart
allheart Unisex Lab Coat Size Chart:
| | | | | | | | | | |
| --- | --- | --- | --- | --- | --- | --- | --- | --- | --- |
| | XSM | SML | MED | LGE | XLG | 2XL | 3XL | 4XL | 5XL |
| Chest | 30-32 | 33-34 | 35-36 | 37-39 | 40-42 | 43-45 | 46-48 | 49-51 | 52-54 |
| Waist | 30-32 | 33-34 | 35-36 | 37-39 | 40-42 | 43-45 | 46-48 | 49-51 | 52-54 |
| Hip | 31-33 | 34-35 | 36-37 | 38-40 | 41-43 | 44-46 | 47-49 | 50-52 | 53-55 |
| Center Back Length | 37 | 38 | 39 | 39 | 40 | 40 | 41 | 42 | 42 |
Length of Lab Coat for Regular sizes ranges from (37"-42 ")
Chest
Measures the fullest part of your chest.
Waist
Bend to one side to the natural crease of your waist and measure across this point.
Hip
Standing with feet together, measure around the fullest part of your hips and rear.
Inseam
Measure from the bottom of the crotch seam to the bottom of the hem along the inside seam.
Unisex Fit Chart:
The top feels like: This silhouette is classic and roomy with room to breathe at the sides, and a longer sleeve length to accommodate both men's and women's arm sizes. These scrub tops always have a longer length.
The pant feels like: Both drawstring and elastic waistbands on a unisex fit pant have a higher rise, and sit closer to your natural waistline. The legline is typically straight and offers plenty of room around the leg as well as at the seat.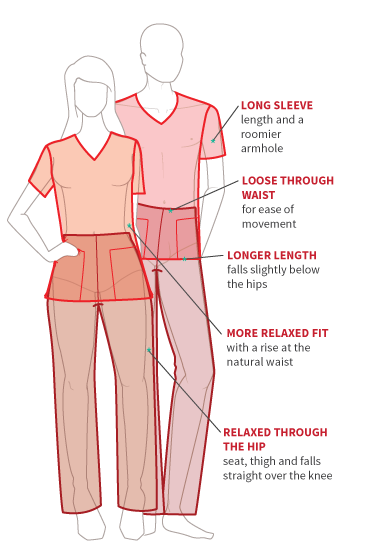 Size Tip
If you're a guy ordering unisex fit scrubs, they should ideally be true to size. For the ladies, consider ordering one size smaller than you would in a women's fit scrub top or pant.