Most nurses wear their scrubs for a minimum of 12 hours (often longer) so comfort is of paramount importance. If you're on a quest to find the most comfortable scrubs, you may not know where to start given the plethora of options on the market. To help you out, we've rounded up nine of our favorite comfortable scrub brands below.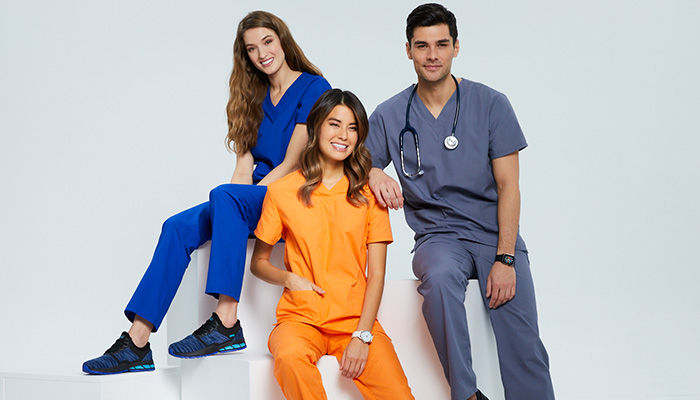 Scrub Collection
Fabric Blend
Features
Cherokee Workwear Originals
65% polyester, 35% cotton poplin blend with soil release
Cell phone pockets
scissor pocket on pants
Dickies EDS Signature
55% cotton, 45% polyester
Interior knit pockets, side vents on top
Grey's Anatomy Classic
77% polyester, 23% rayon
arclux™ fabric technology for a comfortable and flattering drape
Healing Hands Purple Label
77% polyester, 20% rayon, 3% spandex
Grommet and trim details, darts for added shaping
Heartsoul Break On Through
95% polyester, 5% spandex fine dobby weave
Rounded patch pockets, interior passage on top for threading headphones through
Jockey Classic Fit Collection
72% polyester, 21% rayon, 7% spandex
Hem vents, invisible nylon zipper on angled cell phone pocket
Koi Lite
100% polyester stretch
Badge loop and rib-knit side stretch panels on tops
Landau ProFlex
73% polyester, 25% rayon, 2% spandex 2-way stretch twill
Patch pockets, side vents, stretch elastic flat yoga waistband on pants
WonderWink Origins
65% polyester, 35% cotton
ID bungee loops, half-elastic waist on pants

Cherokee
For more than 45 years, Cherokee Uniforms has been making ready-to-wear work apparel, including scrubs. They offer many different lines of all colors, patterns, sizes and cuts, including the super-popular Tooniforms collection. All Cherokee designs are made in collaboration with a nationwide panel of nurses who offer feedback on new products and industry trends, so you know you can trust them to fulfill your needs. Cherokee sets the standard in scrubs for comfort, durability and quality.

Dickies
Williamson-Dickie Mfg. Co. had humble beginnings as an overalls manufacturer in 1922, but it's now the largest workwear manufacturer in the world. Dickies offers a wide range of scrub collections, including EDS (Every Day Scrubs) Signature, EDS Essentials, Essence, Gen Flex, Xtreme Stretch, Dynamix and Advance. Each line of Dickies Scrubs features different touches and fabric blends, but one thing they all have in common is comfort. After all, you don't manufacture workwear for almost 100 years and not figure out how to make it feel good.

Grey's Anatomy
Even though Grey's Anatomy scrubs are inspired by the popular soapy TV show, they are made by Barco, a nearly 100-year-old medical uniform manufacturer that unites fashion and function in all of its scrubs lines. Since 2007, Barco has been making the Grey's Anatomy scrubs, which feature four-way stretch fabrics for the ultimate in comfort.

Healing Hands
If you're looking for a new take on comfortable scrubs, we recommend Healing Hands, which was created by a 35-year-old sportswear company. Run out of the heart of the Garment District in New York City, Healing Hands incorporates unique fabrics into its athletic-inspired scrubs for a truly unusual look and feel. It offers several different collections, including HH Works, Purple Label, Premiere and HH360°.

heartsoul
Owned by the same parent company as Cherokee Uniforms and Dickies, heartsoul brings a lot of quality and experience to all of its scrub designs. We won't say it's exactly like wearing pajamas to work, but we won't deny it either. Not only are their scrubs very comfortable, they also feature thoughtful touches such as flared sleeves and tapered pant legs.

Jockey
Yes, Jockey makes very comfortable and affordable underwear (in fact, you probably have a few pairs in your drawer right now). But they also make work uniforms, including scrubs, which are just as comfortable as their undergarments. Jockey scrubs are made for all-day wear and will move with you throughout the day. They're so comfortable you might forget that you're wearing them, just like the best kinds of underwear.

koi
Koi makes several of their collections from a super soft stretch fabric, which offers all-day comfort as well as a flattering fit for those long nursing shifts. The fabric is also wrinkle-resistant–all you need to do is wash and wear. The independently-run and women-owned company also does a lot of good beyond making super comfortable scrubs: It gives back to the community via a nursing scholarship and supports multiple charitable causes with proceeds from sales.

Landau
Landau makes fashion-forward medical uniforms that are easy to wear all day. The brand offers multiple collections and sub-brands, including Smitten, Urbane, Lynx, ScrubZone, All Day, Smart Stretch and Pre-Washed, ensuring that you'll find something that fits your needs and price point. The brand brings its nearly 50 years of expertise to each one of these lines, so you know you're getting high-quality workwear.

WonderWink
If you're looking for comfortable scrubs in fun, vibrant colors, you should definitely check out WonderWink. Their scrubs are made from premium fabrics and come with innovative features such as bungee loops. Their designs keep things professional while bringing a touch of fun to work uniforms, making them a popular choice among younger nurses (or at least the young at heart).
If you're looking for the most comfortable scrubs, you can't go wrong with any of these brands. And if you have a question about your order, our customer service team is always happy to help.