Description
Comfortable and durable, the Cherokee Workwear Originals Scrubs collection for men and women is designed to last. This unisex V-neck tunic-style scrub top has dolman sleeves, and one chest pocket with a pencil slot. Made of soil-release poly/cotton poplin. This top runs quite large with approximately 8-10? of ease at the chest. If you want a closer fit we suggest ordering one size down.
Unisex fit
V-neckline
Dolman sleeves
One chest pocket with pencil slot
27 1/2" long (Medium)
Soil-release 65% poly/35% cotton poplin
This product can be shipped anywhere in the 50 United States, Puerto Rico, The US Virgin Islands and APO and FPO addresses. Sorry, we cannot ship this product to any other address.
Reviews
good quality and affordable price
Great scrubs. Never can go wrong with Cherokee. Had an issue with the "free shipping" but Allheart took care of it very quickly and efficiently. Very satisfied.
This product was and is surprisingly easy to care for, comfortable, fits well and was reasonably priced. I will reorder this product again as I need it.
Perfect color and material. Size running larger than cheap scrubs so I am returning the 2X top for an XL. Will order more scrubs now that I know the correct size. Thank you
Very nice scrub top - fits well and the embroidery was done perfectly
perfect,excellent quality and fit
Size is very suitable and the delivery is fast. I like the color. Thanks.
Nothing fancy, just a good, durable, top. Has the necessary breast pocket for pens, etc., but not a lot of extraneous detail. The sort of top that you forget about while wearing, and just take for granted. The cotton/poly blend is a bit stiff at first, but softens up after a couple washings. Good service from allheart.
The quality and fit are excellent. However, I would recommend spending the few extra dollars for premium shipping, the basic shipping (Smartpost) is TERRIBLE.
I have a large chest and wide shoulders. These tops fit me the best and last a long time
I just absolutely love the Cherokee Workwear brand. Being a male nurse it is sometimes hard to find good fitting scrubs that dont look "girly". The shirt is very comfy and fits well. I had worn my previous 4 sets out over 8 years which is a lot of wash & wear. They are a great buy from allheart.com and a great product from Cherokee.
Cherokee makes the best scrubs
I have been buying this brand for the past couple of years. I have found them to be very comfortable, easy to clean, colorfast and the sizes run true. I travel and work in an OR, sometimes they don't have scrubs for me. So they allow me to wear these.. Best value for the dollar. highly recommended.
Ordered 3 scrub tops with monogramming - arrived within that week and scrubs look great. Got a comment at work that the gold lettering on blue scrubs "really pops"
Excellent price and quality.
I purchased this top for a Christmas gift, along with the Pants. he recipient is very satisfied. The color is true to what was described, and matches the pants perfectly. The fit and quality are great. I will be ordering more. Sincerely Sue Daly
Great quality, for the price.
easily maintained, professional appearance
I ordered several of these tops. I prefer the Cherokee brand because they hold up to heavy duty washings, but they're not so thick as to burn me up at work. I appreciate their length so I don't worry about showing skin when I stretch & bend or lift my arms.
cool , roomy and wears great
cool , roomy and wears great
it is just what it is my husband will only wear cherokee
I love the Cherokee line of scrubs. They fit well and last! I did notice that my newest purchases seemed to fit a little bigger than the previously purchased...so not sure if it's just a timing thing or different patterns/styles
The perfect basic scrub top
No-nonsense scrub top, sturdy fabric, washes well, very affordable, and available in every color of the rainbow. Hard to go wrong.
I wont buy any thing else but Cherokee
Greta colors that do fade.
The top for a 2xl needs to be a bit longer. The cargo bottoms are awesome but pricey.
true to size , cut for large shoulders , nice fit
true to size , cut for large shoulders , nice fit
Ive owned these Cherokee tops before and enjoy their durability, fit, and comfort. Buying them here for roughly the same cost as in a local store without having to drive there and waste gas was a no-brainer.
One of the best scrub tops that one can acquire at a reasonable price
I have been wearing these scrubs for about 4 years now. I don't purchase any other kind of scrub and have at least 15-20 sets of all colors. They are comfortable, launder well, and they last a very long time. Price is great as is the quality. There is a large selection of colors to choose from.
Ordered with scrub pants, colors match perfect.
The Cherokee Workwear line of scrubs are great and they do not fade like other scrubs. I love them.
bought this for my brother in law, he loves them!
The scrub top is comfortable enough and looks good, but I really miss pockets on the front. I guess I was paying more attention to the color I needed than the fact that it only had a chest pocket. Nice quality though and a good price.
We saw these scrubs in a store, wrote down the style number, came home and ordered it online. What we received was exactly what we saw in the store. The colors do not fade after washing, and the fabric is of great quality.
Great Clothes, will buy again!
The clothes are comfortable, and I love the fit, and the PRICE!
The only thing I don't like about it is the seem that runs down the middle of the back
Finding a scrub top to fit my 6'3"" husband is not an easy task without the shirt being too large in the shoulders. This shirt is a few inches longer than many and looks great on him. No problems washing it yet, but just received it.
very comfortable easy to care for
they fit well and they wash up nice
Great tops....I've ordered 4 so far. Will order more in the future.
Fast delivery. Great price. Great tops.
I am stocky and like the slightly shorter lengths.
Been wearing this item for years, and like the cut and like the fact that bottoms come in a short.
I've been getting Cherokee Work Wear for the last 5 years and still have the ones that are 5 years old. They hold up and still look and feel great!!!!
The scrub tops that I ordered were for my adult son who is a 2x. The tops are roomy, and well made. They wash nicely, don't fade, and have easy care. The colors are true to the pictures. These tops are quite a deal.
great value and great look
I bought 2 different colors and different embroidering styles on each and get compliments each time I wear them. Very little color loss with washing and fabric has not looked worn out after frequent use. Would recommend to any health professional who needs daily work scrubs and still look professional and non hospital issued.
This is a scrub top of character
I like it. I gives me a sense of individuality and I stand out from the rest of the Monitor techs.
i could not find this color anywhere, but you had it! Very happy with the product!! Thanks.
Seguire comprando con ustedes
light weight, study material. Looks great and works hard. low priced, shipped well.
I bought them for clinicals they fit ok but I have since learned I prefer men's scrubs to ""unisex"".
The embroidery was well done. I found that these scrubs ran a little bigger than I expected.When I order again, and I will, I will go a size smaller.The color choice was excellent.
Fits good. Love the pocket.
This top was so large in the sleeve area while fitting everywhere else. That is the only problem I had with this item.
I bought this top to go with my mens' zipfly scrubs. The top is oddly shaped and not quite cut for men.
Cherokee Scrubs are Great!
good fit & is really wash and ware! I sometimes iron the sleves for a crisp sharp side but the entire top always looks great ironed or not. This is true even if you do not put it on a hangerright out of the dryer. The monagram on the pocket really dresses it up! This is my 3rd Cherokeetop. I have three other brands and they are not as nice.
good fit & is really wash and ware! I sometimes iron the sleves for a crisp sharp side but the entire top always looks great ironed or not. This is true even if you do not put it on a hangerright out of the dryer. The monagram on the pocket really dresses it up! This is my 3rd Cherokeetop. I have three other brands and they are not as nice.
Great scrub top and even better customer service
I work at a hospital as a nurses aid and cherokee workwear is all i own. I wear them pretty hard and they have always lasted very long for me and are very comfortable. the fit is great! i love how they come in so many different colors too. my most recent purchase one of my tops was defective the fabric near a seam started to tear after only a day of wearing. i emailed customer service and they were very quick to send me a replacement top, and i got to keep the old one too. (if only i could sew!) haha. very pleased with their customer service and great prices.
I've been wearing these scrubs for years and they can't be beat for comfort and durability!
I ordered these for my staff and was very happy with the product. Not only are they comfortable and durable but they were very cost effective.
It came on time and I love the fit of the shirt
Nice cloth. Good fit and finish.Shipping to Canada was to costly
These scrub tops just don't wear out or fade out. Great quality, especially for the price.
Size Chart
Cherokee Workwear Men and Unisex Size Chart:
| | | | | | | | | | | |
| --- | --- | --- | --- | --- | --- | --- | --- | --- | --- | --- |
| | XXS | XSM | SML | MED | LGE | XLG | 2XL | 3XL | 4XL | 5XL |
| Chest | 29-31 | 32-34 | 35-37 | 38-40 | 41-44 | 45-48 | 49-52 | 53-56 | 57-60 | 61-64 |
| Waist | 22-24 | 25-27 | 28-30 | 31-33 | 34-37 | 38-41 | 42-45 | 46-49 | 50-53 | 54-57 |
| Hip | 29-31 | 32-34 | 35-37 | 38-40 | 41-44 | 45-48 | 49-52 | 53-56 | 57-60 | 61-64 |
Cherokee Workwear Unisex and Men's Inseam Measurements:
Short Inseam is approximately 29"-30"
Regular Inseam is approximately 31" - 32"
Tall Inseam is approximately 34" - 35"
Ultra Tall Inseam (unhemmed) is 36"
Use this chart to determine your size. If one of your measurements is between two sizes, order the smaller size for a tighter fit or the larger size for a looser fit. If your measurements for hips and waist correspond to two different suggested sizes, order the one indicated by your hip measurement.
Chest
Measures the fullest part of your chest.
Waist
Bend to one side to the natural crease of your waist and measure across this point.
Hip
Standing with feet together, measure around the fullest part of your hips and rear.
Inseam
Measure from the bottom of the crotch seam to the bottom of the hem along the inside seam.
Unisex Fit Chart:
The top feels like: This silhouette is classic and roomy with room to breathe at the sides, and a longer sleeve length to accommodate both men's and women's arm sizes. These scrub tops always have a longer length.
The pant feels like: Both drawstring and elastic waistbands on a unisex fit pant have a higher rise, and sit closer to your natural waistline. The legline is typically straight and offers plenty of room around the leg as well as at the seat.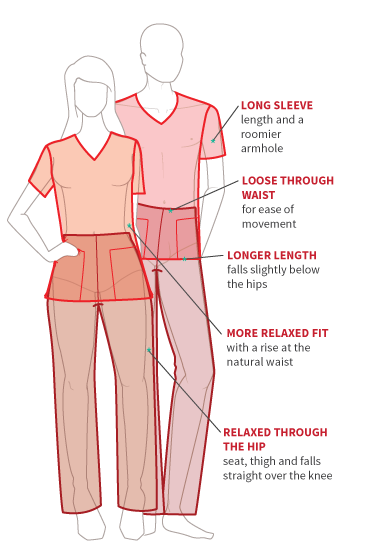 Size Tip
If you're a guy ordering unisex fit scrubs, they should ideally be true to size. For the ladies, consider ordering one size smaller than you would in a women's fit scrub top or pant.