Description
This unisex V-neck scrub top from Cherokee Workwear Originals is designed to look great through lots of washings. It comes in many solid colors that make it great for uniform wear. It has one chest pocket, two patch pockets and side vents. It's 29" long and is made of soil-release poly/cotton poplin.
Unisex fit
V-neckline
One chest pocket, two patch pockets
Side vents
29" long in size medium
Soil-release poly/cotton poplin (65% poly/35% cotton)
This product can be shipped anywhere in the 50 United States, Puerto Rico, The US Virgin Islands and APO and FPO addresses. Sorry, we cannot ship this product to any other address.
Reviews
Health Services Coordinator
If you're looking for comfort and breathability, as well as sturdy, then this is the top for you. As a new nurse, I have tried many other brands and this is by far the best. Very comfortable, soft, and lots of pockets for carrying things with you. I recommend buying 1 size larger than what you wear normally if you want to wear an undershirt with it.
Health Services Coordinator
We order this as our basic scrub top. Plenty of pockets and they hold-up beautifully.
these scrubs fit very well and seem to be of quality tho I have only worn them a couple of times, the service you provided was very fast, efficient and a breeze to order from, Thank you
good value, and has lots of pockets
Excellent product. Shipped in a timely manner. Thanks
Very pleased with shipping and product.
Fits well, I like the length
Received items before expected delivery date and seem to be well made time will tell. The fit was good. My husband is happy with them and "are very comfortable" he says.
Great shopping experience!
I have purchased my husband's scrubs from Allheart.com for years. They have many great brands, sizes, styles and colors. My husband only wants good, sturdy with lots of pockets.Shipping is no problem and we get the order quickly.
I was extremely pleased with these scrubs tops! They are very good quality and wash and dry well. I am especially pleased with the roomy pockets and yes, I would definitely recommend this top to others!!
Yes I love these scrub tops!! The front pockets are roomy which is very good when you have to carry different things in your pockets at work. The material is durable and washes up well.....and yes, I would definitely recommend this scrub to others!!
Good quality, fast shipment, very beautiful emblem. Looking forward for a new order
We no longer shop local. Allheart has quality and choice for the money.
I love these tops. They are long, slend, and plenty of pockets. I just wish there were more colors!
Love these tops. Very comfortable with some pockets to carry what I need at work.
Perfect. Great price, reliable workwear and even with 3 pockets to boot!!!
Never bought scrubs online before, this item was just as described, fit was great, could not ask for anything better, Will be back again
Great fit, long enouth to cover and comfortable
Very satisfied overall with quality and customer service. However international shipping very pricey-it cost twice the value of items.
Bought this scrub top to try out Cherokee. I love it! great quality, good fit and comfortable. Will buy again.
Nice top for a reasonable price.
I have bought all my uniforms from All Heart. However, this last purchase has made me question that decision. I bought the hunter green scrub and after one wash there is a faded spot on it. I tried sending it back for a replacement and was informed I couldn't recieve a replacement because it was laundered. Well, yeah. I wash clothes before I wear them. But this is just annoying, I haven't even been able to wear the hunter green scrubs yet. I'm waiting for another paycheck to decided if I want to buy another top from All Heart.
Cherokee Makes a good product
Good durable top. Wears like iron.
Excellent quality, good fit, washes well
Wear good Wash real good and wrinke free and even stain free .
The best and most comfortable scrubbs.
I have always preferred Cherokee work wear. These prices are the best!
sadly i ordered too large of a size
Satisfied with the product and the service
I have tried several brands of tops and I have settled on the Cherokee's.
This scrub top is great. It fits great and it's longer than other tops and has a ton of functional pockets. Shipping was also pretty quick. I'm very pleased with my purchase and the experience with allheart.com.
Cherokee has been a personal favorite for me, and I must say, I originally was a huge fan of the 3-pocket design. The problem is, that depending on how many pockets you choose, Cherokee changes the entire tunic's size. The three pocket is the largest and I wind up swimming in a medium. On the other hand, the two pocket medium is a very good fit. If you're going to go with this tunic, consider trying a size smaller than normal.
Cherokee Workwear Unisex V-Neck 3-pocket Scrub Top
I purchased this item for my husband. This is the only style and brand he will wears. Just likes the way they fit and feel. I like to catch them when they are on sell because in the shops they are so high and Allheart has really good sale prices.
GREAT PRICE, GREAT QUALITY
I would buy from here. It's convenient and it's easy and the uniforms are top quality at a great bargain.
Purchased uniform for school, really like and trust brand
My son in law loves his new scrubs. He asked for the website etc so he can order more!
Needs a stitch down the front breast pocketto separate your pens and keep them neatly in place. Otherwise, nice fir the price!
Unisex V-Neck 3-pocket scrub top
Great product!! Wears well and is durable!
Quick delivery and Great Fit
I've bought 3 of the Cherokee 3-pocket scrub Tops through Allheart for my husband. The fit is great and washes great. Shipment is very quick from time of purchase. The quality, convenience and service makes purchase from Allheart worthwhile.
the scrub top that can carry the load
nice size pockets that can hold notebooks, supplies, stethoscope, and so much more. great way to keep your gear handy!
excellent purchase. very happy with these scrub tops.
Cherokee workwear unisex V-Neck 3 pocket scrub top
Fantastic value with all the pockets I need.
Fast delivery and good quality
The order was delivered on time. The material is high quality and good comfort.
I have purchased this line of products in the past,present, and will in the future
It is like wearing a smock with side vents.
very satisfied, quick shipment, good price, good quaility
Fits great, fabric is durable
Have been ordering this item for a couple of years now. I really like the 3-pockets. The garment is well-made and I will continue to order in the future.
3 pockets are great. great deal from allheart. hope it will last more than 5 yrs.
Great price, and great product
I loved ordering on-line. It was as described. Shipping was fast, am actually ordering from here again soon!
I love the comfort, roominess and all the pocket space of these tops.
Big Cherokee patch is unprofessional
Great, comfortable scrubs, and I really needed the extra pockets. Fabric weight is just right and doesn't show wrinkles much. Have used this brand for years, but I detest the huge rectangular ""Cherokee"" patch on the sleeve. Patients sometimes wonder what it means, and it's almost as big as the embroidered name I get above the pocket. How about dialing it down a notch, guys, or change your name to ""Levis"". Patients would recognize that name.
No Better Scrub Out There
I have had 4 navy blue scrubs which I have worn for over two years and they have not faded in the least. This is an excellent product and at $13.98 you cannot go wrong!
Size Chart
Cherokee Workwear Men and Unisex Size Chart:
| | | | | | | | | | | |
| --- | --- | --- | --- | --- | --- | --- | --- | --- | --- | --- |
| | XXS | XSM | SML | MED | LGE | XLG | 2XL | 3XL | 4XL | 5XL |
| Chest | 29-31 | 32-34 | 35-37 | 38-40 | 41-44 | 45-48 | 49-52 | 53-56 | 57-60 | 61-64 |
| Waist | 22-24 | 25-27 | 28-30 | 31-33 | 34-37 | 38-41 | 42-45 | 46-49 | 50-53 | 54-57 |
| Hip | 29-31 | 32-34 | 35-37 | 38-40 | 41-44 | 45-48 | 49-52 | 53-56 | 57-60 | 61-64 |
Cherokee Workwear Unisex and Men's Inseam Measurements:
Short Inseam is approximately 29"-30"
Regular Inseam is approximately 31" - 32"
Tall Inseam is approximately 34" - 35"
Ultra Tall Inseam (unhemmed) is 36"
Use this chart to determine your size. If one of your measurements is between two sizes, order the smaller size for a tighter fit or the larger size for a looser fit. If your measurements for hips and waist correspond to two different suggested sizes, order the one indicated by your hip measurement.
Chest
Measures the fullest part of your chest.
Waist
Bend to one side to the natural crease of your waist and measure across this point.
Hip
Standing with feet together, measure around the fullest part of your hips and rear.
Inseam
Measure from the bottom of the crotch seam to the bottom of the hem along the inside seam.
Unisex Fit Chart:
The top feels like: This silhouette is classic and roomy with room to breathe at the sides, and a longer sleeve length to accommodate both men's and women's arm sizes. These scrub tops always have a longer length.
The pant feels like: Both drawstring and elastic waistbands on a unisex fit pant have a higher rise, and sit closer to your natural waistline. The legline is typically straight and offers plenty of room around the leg as well as at the seat.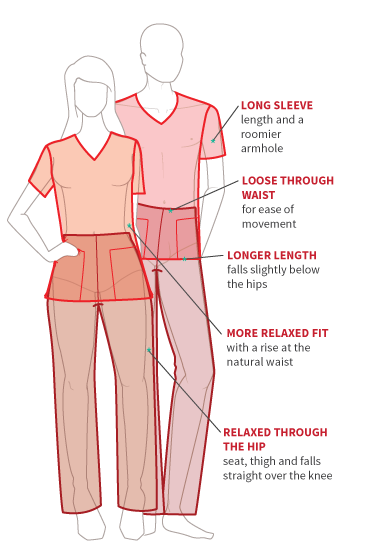 Size Tip
If you're a guy ordering unisex fit scrubs, they should ideally be true to size. For the ladies, consider ordering one size smaller than you would in a women's fit scrub top or pant.