Clearance ULTIMATE THERAPY Women's Total Support Maternity Pantyhose - 21 mmHg Compression Hosiery
Description
Featuring a plush waistband and expandable front panel, the Global Health Women's 15-20 mmHg Total Support Maternity Stockings will grow with you and your baby. Total Support compression relieves aching and swelling, providing the comfort that you need for a healthy pregnancy.
Medically correct graduated compression
15-20 mmHg compression
Plush waistband with expandable front panel
Reduces mild to moderate swelling
Alleviates tired, aching legs and mild leg pain
Helpful for mild edema, varicosity during pregnancy and spider veins
Great for less severe post-operative procedures
Helps to reduce the risk of circulatory problems such as Deep Vein Thrombosis
Latex free
80% nylon, 20% spandex
Size Chart
GHC Pantyhose Size Chart:
Missy Fit Chart:
The top feels like: Enjoy a longer sleeve length than junior or athletic fit tops, but a silhouette that still flatters. The hemline should fall at the hip or below for added coverage when bending or reaching.
The pant feels like: Get a higher rise from the missy fit pant, usually just below the natural waist. This easy fit gives you more coverage at the top and a leg line that sits a couple inches away from the body.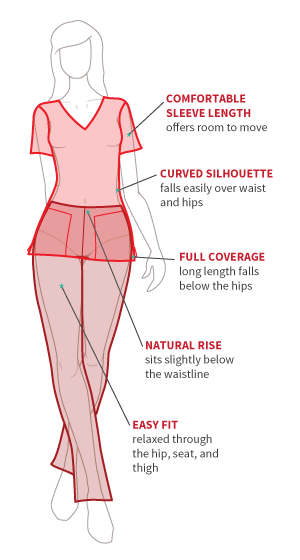 Size Tip
Missy fit is meant to be true to size. If you're on the petite side, try ordering a size smaller than you normally would if you prefer more fitted scrubs.