Description
This Flexibles maternity scrub top will keep you comfortable and let you work efficiently throughout your pregnancy. It features an adjustable drawstring so you can adjust the size as you grow. It also has an empire waist and soft stretchy knit side panels. There is contrast top stitching on the front and back princess seams. This top has an easy-to-reach front patch pocket with stitched in pen holder and interior pager pocket. It also has a hidden pocket with opening along the left front seam. The fabric is a polyester/cotton blend. The side panels are made of a polyester/spandex blend. Center back length is 27".
Missy modern classic fit
Maternity scrub top
Adjustable drawstring at empire waist
Stretchy knit side panels of 88% poly, 12* spandex
Patch pocket with interior pager pocket
Hidden seam pocket
27" center back length
65% Poly / 35% cotton blend, panels are 88% polyester / 12% spandex
This product can be shipped anywhere in the 50 United States, Puerto Rico, The US Virgin Islands and APO and FPO addresses. Sorry, we cannot ship this product to any other address.
Reviews
Not for those extra gifted in the breast region
I'm a busty person I guess. 38DD-E depending on the bra store. Got a large through I typically am able to wear M scrub tops. The line that is supposed to go underneath them doesn't quite make it and anytime I put my hands up in any fashion, the top is halfway up my body. Not my favorite top but I'm wearing it anyway. I am 28 weeks. It does fit my belly nicely though and will continue to stretch without discomfort as I grow.
Nice top ... size up for busty people.
This is a comfortable top. It is also very flattering. This is the best maternity top I have found so far. If you are bigger busted you may want to size up.. not a lot of room for bigger breasts. Overall Love this top... wish The pants were as comfy. 👍
Nice top ... size up for busty people.
This is a comfortable top. It is also very flattering. This is the best maternity top I have found so far. If you are bigger busted you may want to size up.. not a lot of room for bigger breasts. Overall Love this top... wish The pants were as comfy. 👍
I was super nervous about buying a maternity top (I'm very small and things don't usually fit right) but this fits awesome. Would definitely recommend. :)
Beautiful. I had this personalized and my daughter absolutely loved it!
Royal Blue Flexibles Maternity Top
Top is nice, but had to return as I originally ordered a medium to be sure I had room for growth with baby, but was way too big. Small is much better. Best to just go with the size you are before getting pregnant. I was a medium on the size chart, but could even wear x-smalls before getting pregnant. Top is not very flattering without much of a baby bump.
Decent fit. In 5'1 so it's kind of long. Otherwise, no complaints. Definitely will accommodate my growing bump for the full 9 months as well as my growing breasts (currently a C cup). My biggest complaints are: 1) it collects every speck of lint/dust/fur, etc. I'm lint rolling this shirt at least 2x per shift. And 2) the material is kinda paper-like and scratchy. I'd buy it again.
Fits very true to size and very comfortable! I ordered my pre-pregnancy size and was a little nervous it would be small entering my 3rd trimester but it fits perfect with enough room to grow!
While I wish this came in an XS for my frame, I was very pleased with this top. The stretchy side panels mean it will work for the whole pregnancy, and the cut is actually pretty flattering. The drawstring just goes across the chest' it doesn't wrap around to the back, so there's only a certain extent to which you can cinch it in. Overall, I am pleased.
soft, comfortable, but way too big for size
Not just for the woman having a baby.
I am very hard to fit because I have little shoulders, medium chest area and a large stomach. I can never by off the rack without some alterations. I started looking at maternity tops this year with great success. This top is perfect for the petite plus size woman with a large stomach.It covered my stomach but didn't make me look pregnant. I am 5'2" and the only alteration I'm going to make to this top is with the shoulder area. A straight across the top from sleeve to sleeve hem. If you are larger boned through the shoulder area and taller than 5'2" this will fit without any alterations. I love the detailing looks and feels very well made. I plan on ordering more next pay day.
Great Overall, Tight Armpits
Overall, this top is great, primarily because of the elastic panels on the sides. My only complaint is that the panels do not run through the sleeves, thus the arms/armpits feel a bit restrictive. Also, this top runs very small. I usually wear a medium t-shirt and am large in the chest area (34DD), yet I fit into an extra small. Had I known about the tight arms (my arms are very averagely sized), I would have gone with a small.
This is the cutest pregnancy scrub top. The side panels allow for ample stretch and the tie makes it look very cute, almost baby doll-ish!
Not pregnant, but top is flattering!
I hope this review helps someone. . . This top is great for women with curvy figures -- even if not pregnant! I'm in my late-30's, 5'1" tall, and about 135 pounds -- I have a curvy figure, with a small waist, modest bust, but what I would call large hips/bottom. I went in person to a medical supply store nearby to try on scrubs -- I tried on a LOT of varieties -- but any top that fit around my hips/bottom was HUGE (huge, and with tons of extra fabric, on my short frame) on top. Really, not just "not flattering" -- these just plain did not fit. I couldn't wear any of them into work. So, reluctantly, I pulled this maternity top off the hanger. To my surprise, the size small small fits my non-pregnant, but curvy body, very well! It's actually even somewhat flattering! Unfortunately, the local store only carries the top in navy blue, so I came here to order another color.
I am very happy with this top, I'm only three months pregnant and already started using it not because of my belly, but because my bust doesn't fit comfortably in my regular tops. The adjustable tie feature makes this top not look like a "maternity top" while I'm not showing yet, but will allow for an expanding tummy for sure! I've already received many compliments on this top! I am 5'4" 200lbs with a bust of 40H, size XL works great for me! I bought the same size I use in regular scrubs XL
These are great scrubs! My only complaints are that in the description, it is said that the drawstrings are adjustable. This is not true, it seems like it's there more so for looks. I also ordered the wine colored scrubs. In the picture, it shows the black stretch panel on the side, but when I got them they are solid. Which is fine, they still look nice and fit great! I just wish the description would be a little more accurate! I definitely plan on ordering at least one more set!
it's really soft, comfortable, and it looks cute too.
Quality product, would order again
i love cherokee brand and this one was no exception. i love it.
Comfortable Just Expensive
Fits true to size, if you wear a small in regular scrubs, just get the same size in maternity scrubs.
I am 30 weeks pregnant and have been uncomfortable in my scrubs for weeks. My old size is way too tight and the next size up is huge, sloppy, and everything falls out of the pocket. I have gotten a lot of compliments on this top, and since I'm in the hospital all the time, it's worth the investment - it's really soft, comfortable, and it looks cute too.
Overall works for what I need right now
Cute top, comfy with elastic material for sides gives stretch room and room to move and grow.with drawstring to adjust,
these are hands down the most flattering and comfortable scrubs I've ever worn. The fit is wonderful. I love the feel of the waist pad. They run large. I would normally wear a medium but the small is roomy and the pant legs are perfect in length. I am 5'5"". I am not pregnant. I don't think anyone would expect these are maternity. Not sure they would stretch to 8 months but they would be a ton better than wearing an oversized regular scrub where you'd be swimming in the shoulders. I've gotten many compliments. I wish they came in more colors.
Ordered 2 items and they arrived just a few days later.. was thrilled with the service and the tops are great... fit well, nice material and room to grow.
Would recommend to any pregnant woman to look good and feel good in. Glad to get at such a good deal.
Great scrub top!! Fits so nice. Perfect size through chest and arms, with plently of room for my belly (7mo now). I don't feel frumpy in it at all. Just wish the scrubs would get here faster, took a while between ordering and receiving them. And when NONE of your other scrubs fit you want them ASAP! But the scrub top itself was SUCH a great purchase.
I purchase two sets of these scrubs and I really like them. One of the tops armpit seam tore the first time I took it off. I haven't had any problem with the other top though.
This is a very comfortable top for pregnancy. The side panels make it much better than just buying big scrub tops. And they're cute. Buy your normal size though; I went one size bigger and they're too big.
My daughter-in-law loved the maternity scrub top!
My daughter-in-law loved the maternity scrub top! She was so suprised when she opened her x-mas gift!
I'm 6 months and I ordered a small top. The small is too large for me. If you have worn Cherokee before stick with your pre-pregnancy size. I should have ordered an XS. Otherwise the top is great. It is cute, comfortable, and flexible.
I thought i was just going to wear large scrubs while i was pregnant, but they looked so terrible that i thought i would try one set of maternity scrubs. a week after they arrived, i ordered 2 more sets. i only have about 2 months to go, but i wouldn't do it without these scrubs. the comfort is unbelieveable. i am hoping i can still fit them after my pregnancy!
Great maternity scrubs top
The top fit great in my last trimester, plenty of stretch without being too baggy. I like the material too. I ordered it in my normal (pre-pregnancy) size.
Item received quickly and as described
This top is nice but a little bigger than I expected, I am 5 months pregnant and it is too big for me to wear now
I am on my 27th week now. I first purchased these on my 25th week. They are very comfy! I get a lot of complements.. They say the scrub top is very flattering to my ""mommy"" figure.
Flexibles Maternity Tops are SO comfortable and have the perfect fit.
This is one of the most comfortable scrub tops I have ever bought. I like it so much, that I will probably continue to wear it when I am not pregnant anymore! I love the ""Flexibles"" line from Cherokee. The non-maternity tops are great too! The maternity top is super stylish and fits great, even with my large bust! The material is very relaxed and soft, and the adjustable front tie helps this top fit any figure throughout the pregnancy. I also really love the pocket designs. There is an extra little pocket for my phone or iPod. I have two of these tops and they are so easy to clean and take care of. I wish there were more colors to choose from, but I love the navy and black.
Great maternity scrub top!
Fits great, washes well (I don't have to iron it!).
I am 5 month (23 weeks) pregnant and am really enjoying my new scrub tops. I got 2 of these because they are so comfy. These tops are really going to work well for me as they have the stretch sides, they will grow with my baby as she grows!!!
Looks exactly as pictured. Great fit, highly recommend
Very comfortable top, very roomy, has great stretch and can be worn in 2nd and 3rd trimesters of pregnancy!
Size Chart
Cherokee Women's Size Chart
| | | | | | | | | | | |
| --- | --- | --- | --- | --- | --- | --- | --- | --- | --- | --- |
| | XXS | XSM | SML | MED | LGE | XLG | 2XL | 3XL | 4XL | 5XL |
| Numeric | 0 | 2-4 | 6-8 | 10-12 | 14-16 | 18-20 | 22-24 | 26-28 | 30-32 | 34-36 |
| Bust | 31-32 | 33-34 | 35-36 | 37-39 | 40-43 | 44-47 | 48-51 | 52-55 | 56-59 | 60-63 |
| Waist | 23-24 | 25-26 | 27-28 | 29-31 | 32-35 | 36-39 | 40-43 | 44-47 | 48-51 | 52-55 |
| Hip | 33-34 | 35-36 | 37-38 | 39-41 | 42-45 | 46-49 | 50-53 | 54-57 | 58-61 | 62-65 |
Cherokee Women's Inseam Measurements:
Petite Inseam is approximately 27½-28½"
Regular Inseam is approximately 30-31"
Tall Inseam is approximately 33-34"
Use this chart to determine your size. If one of your measurements is between two sizes, order the smaller size for a tighter fit or the larger size for a looser fit.
Bust
Measures the fullest part of your chest.
Waist
Bend to one side to the natural crease of your waist and measure across this point.
Hip
Standing with feet together, measure around the fullest part of your hips and rear.
Inseam
Measure from the bottom of the crotch seam to the bottom of the hem along the inside seam.
Missy Fit Chart:
The top feels like: Enjoy a longer sleeve length than junior or athletic fit tops, but a silhouette that still flatters. The hemline should fall at the hip or below for added coverage when bending or reaching.
The pant feels like: Get a higher rise from the missy fit pant, usually just below the natural waist. This easy fit gives you more coverage at the top and a leg line that sits a couple inches away from the body.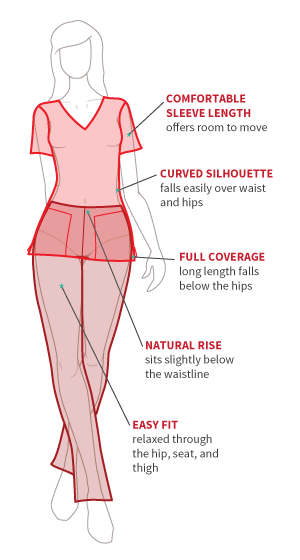 Size Tip
Missy fit is meant to be true to size. If you're on the petite side, try ordering a size smaller than you normally would if you prefer more fitted scrubs.