Description
This comfortable, classic scrub set from Natural Uniforms comes in a a wide range of rich colors, making it a great choice for groups. The top has a V-neck, set-in sleeves and front patch pockets. The straight leg pants have back elastic and a front drawstring which allows them to be adjusted for the perfect fit.
Unisex fit
65% polyester / 35% cotton poplin
Runs large, see size chart
V-neck scrub top
Two patch pockets
Center back length is 29" in M
Set-in sleeves
Patch pockets
Side vents
Straight leg scrub pant
Back elastic, front drawstring waist
2 front pockets, 2 back pockets
Inseam is 29.5" in medium
Reviews
Over sized tight In thigh area
I'VE ORDERED SCRUBS OFTEN. I LOVE THE WAY THEY FIT AND THE QUALITY OF MATERIAL. I WILL CONTINUE TO BE A CUSTOMER AND REFER MY CO-WORKERS TO ORDER FROM ALLHEARTS.
I am 5'2 145 and ordered xs - perfect fit. Washes well- does need ironing after drying. I will definitely order again!!!!
Absolutley love these scrubs! They fit just right and they are very comfortable. Will buy again
Pants came with a bleach spot on the front crotch area. I contacted AllHeart and they partially refunded the price of the set so I could reorder pants, and told me which bottoms to purchase to match. Just received the replacement bottoms, and the royal blue color is nowhere near the same shade as the top. Disappointed, I had to go out and purchase a set locally for my son to wear to school, as required. Now I'm stuck with a mismatched scrub set.
This are awesome/comfortable scrubs I like and recommend them.
I ordered two sets. the yellow set fit fine (XL) the seafoam set did not fit. Pants to small and top to large, tags said XL on both items. A defect possibly? I did not save the packaging as I thought they would fit same. Stuck with a scrub set!
I purchased 7 pairs at a great price. Tried them all on and had a few pairs that were tighter than others and irregularly sewn. Some pants even had parts sewn very tight mid thigh....unwearable. The shirts are very long so it's good for tall people. The pants are also long. I gave them away to people with smaller thighs than I have. Good for a tall man I think. I'm 5' 8" so I'm not a short woman and the pants are about 3 inches too long.
not made for any real body
I just got these and the miteral is the worst, not soft all but scratchy, rough, cheap. at the price I got them it was expected but this was worse. also unless you have a huge belly that is hanging around your waist and down you legs the pants aren't cut for you.
works like intended in a medical environment
will purchase again if price points are acceptable
Unisex 6 pocket scrub set
Wicked awesome/comfortable scrubs. I needed white scrubs for nursing school (refresher) and did not want to spend an arm and a leg on scrubs that I may only use during school. These are perfect!
Absolutely love these scrubs, wash well, don't over dry though. Long lasting. I buy them when they go on sale in bulk for the year. So affordable I get them personalized and my patients love it.
Great fit in thigh area. Same uniform ordered from another site horrible fit. But there delivery was much faster
They're kinda stiff when you first get them but after the first wash they're fine.
Great buy! My coworkers got together for a joint purchase of same colored scrubs for uniform this style fits great, true to size.
The only thing that was good about this product was the price. I needed an xxs so that's the size that I ordered because scrubs tend to run big. I received the product just to be disappointed. The scrubs were way too big and too long.
Once again, I went by the size chart for this set. It said that I would fit a LG . WRONG . I need a xl LG but, according to your size chart I should have been able to fit a LG . Now, I have a smock set that's too tight in the legs and the shirt is too tight in the shoulders. I'd LOVE to send them back but cannot. My husband threw out the return slip.I'm VERY disappointed in my order!!!!!
Comfortable, classy and look professional
Fit good I love them very soft.now I need one in every color.
Love these scrubs for two reasons. Number one the pants run long and I am 5'8". Number two I can get them monogram with cute designs and my Name which patients all remark on. In fact, I have had multiple staff ask me where I got them. Durable and don't shrink & Iron easily if you so desire.
I purchased the regular 6 pocket unisex scrub (natural Uniform Brand), I know your probably thinking there is nothing special about this...but I found the fit to be true to size and the top isn't boxy like some of the units I'd purchased years prior and the material is quite comfortable not so stiff. My main reason for the purchase was that the color I chose was/is a requirement for the Medical Course I am taking. I could not Find the real true "HUNTER GREEN" anywhere but through Allheart. Thanks, you saved me and I will be purchasing more soon.
happy with all purchases, but would love shorter length option
i love the wide selection of colors ,and the price. i just wish they came in shorter lengths for the height challenged people like myself :)
I love the fabric and the sizing of the scrubs. I have to wear the same color scrubs and I saw a coworker with a pair of these on. Immediately I asked what the brand was they looked that good. It is rare that you see uniforms that stand out.
Pretty scrubs but size wasn't
The color of the teal is pretty but when I tried them on, the legs were super long and too high waisted for me. Also the pants were a tad tight around the hips.. the top fit well but since this came as a set I will be exchanging it out for the all heart scrub basics. I like those the best so far
I saw a coworker wearing these scrubs and I was impressed with the darkness of the navy. It is hard to find uniforms in stores these days and frankly I don't like driving from store to store looking. The uniform is super comfortable! And I love the dark, dark navy color. I will be buying more since we are required to wear the same color scrub .
A little to long, a small tear on pant leg... Like the seam was missed or tore... About an inch.
Excellent looking Schrubs
These were a gift and I had them monogrammed. The color almost matched the stethoscope I purchased as well. The girl loved them and just what she needed for her summer job at the local clinic.
I love the product i order..
Ordered this set more than once to update my work scrubs in navy blue. No ironing needed if hung up out of the dryer or shortly after. I am 5'6"-5'7" and had to cut about 3" off and hem pants. Comfortable.
Awesome!Love them! FYI measure before buying😘
This was my first time buying scrubs. I work in an OccMed clinic and don't need anything fancy. These are very comfortable, easy to care for and seem very well made. They come out of the dryer ready to wear. I'm very pleased with my purchase.
As a volunteer interpreter for a medical mission to Central America, I only need scrubs for a few weeks each year, so these were a good choice for me, economical but good quality and appearance. The embroidered name looks really good, too.
I received them within a few weeks which was great. I think the material is a bit uncomfortable. I ordered a size xs which ran a bit too big and the pants were too long. I'm petite and weigh around 117 lbs and the size xs was a bit too big. But overall I am a bit satisfied.
Just reordered another set
The product was fine but the sizing was inaccurate. According to your chart my wife required a large but it's extremely big on her.
This unisex scrub set runs OVER-SIZED. Rather than unisex, the set is more suited for men only. The material is a bit stiff, and the navy color is near black in shade. I prefer the individual allheart brand scrubs. They fit much better and the material quality is heavier.
We recently purchased these scrubs and are very pleased with the quality, fit and feel of the material. The color does not seem to be fading after several washings as with scrubs we have purchased through other sites at a similar price. We especially like the fit of the pants with the elastic in the back waistband and the ties that stay in place. We will definitely consider purchasing more scrubs from Allheart in the future and recommend them to others.
Made well enough, good color. Poor fit. Tried two sizes. Returned both.
I'm medium in most scrubs. When i ordered this scrubs, it is equivalent to the size of large.
Overall I like them. The price was right and the are comfortable. When i got them I tried them on and one pant leg was sewed to the inseam, and there was a hole in one of the pockets. I originally had ordered 2 sets of scrubs, in November, I was told one set was in back order until January. A few weeks later I was emailed and informed that they were now back ordered until The middle if Febtuary. I was able to cancel that order and then ordered a different color. I am awaiting the delivery of the second set.
Sizing is off but otherwise they are great!
These are great heavy duty scrubs however the size is off. I ordered a small but should have got an extra small.
I bought these to wear one time for graduation but they fit nice and looked good. They were also a great deal.
Good quality scrubs but beware of the sizes. We took measurements and compared to the size chart and we still were WAY off. Pants are HUGE and plenty long enough.
These scrub sets are the best value. Great fabric, great fit. Beautiful color. I have several older sets in addition to the new ones and they have stood the tes of time. I absolutely love them!
I wear scrubs to work everyday. It is easy to clean even with stains, no ironing required. The price is unbeatable
For the money, these scrubs are worth it. They are leighter weight which I like and definitely hold true to their "runs large" sizing.
Comfortable, has pockets. Plenty of room for a Medium with a 40,36,40 figure. Good for the money for work.
They arrived a day before they were suppose to, I tried them on and they fit just like I wanted them too, a little bit bigger so I can move around comfortably, I'm 5'8" so the length was perfect. I love the name on the l chest, I have already recommended these to my cousin.
I ordered about 8 different colors in this scrub set while they were one sale. You cannot beat the price and the quality of the scrubs really surprised me for the price. They remind me of my Cherokee's. Much better then what you would get at your local Walmart and cheaper. The only thing I had a problem with was that they are made bigger. I am 5'2'' and 155 pounds. I normally wear a medium in both tops and bottoms so that's what I ordered. The pants fit me perfect - they are a little loose but I do not like mine skin tight and I am shapely on my bottom half. The shirt was too big but workable because I dont like tight clothing. I was happy with them! I will be ordering again and I did tell all my co-workers about the great deals off the website! (:
Just got them in the mail nice scrubs for the price the fit nicely and the quality seems good. I will definitely buy more of these.
Good price and lighter color. I don't think I can wear long.. but I'm gonna purchage again.
This particular one was great, good color and nice fit
This particular one was great, good color and nice fit
The colors and price are nice. material wrinkles, even on perm cycle, need to iron.. but nice for the price
Run big/ length in question / color issue
I wear a large normally in shirts. Decided to get XL just to be safe and because I know I'll be wearing a long sleeved shirt underneath. The XL was way too big. I also ordered a Large for a friend of mine and I tried it on and its still a bit baggy. Both sizes were orange but not the same orange.. one was almost Coral. Also both are suppose to be 30" in length. the Large was longer than the XL by 2". But other wise they feel nice and seem well made.
Sent me the wrong size but i kept them anyways.
size was right but the colors were all wrong, navy blue came black, and surgical green came lime green.
The quality of the scrubs were very good. Though they are kind of see through, they are comfortable. The designs they put on the chest look good. I would order from here again.
Good scrubs, but sizing is off!
These scrubs are a good, durable material and I like the pockets. A breast pocket would have been nice. According to the sizing chart I should have been in a 2X. I sometimes order a size up, but so many reviews said these run large so I thought I was ok. Nope! They were too snug, so I returned for a 3X. The 3X fit me like a 2X in other brands. It seems like if you are short or thin, the sizing runs big, but if you are a plus size the sizing runs small! I am 5' 10" and they were a perfect length.
The product arrived in good condition. I like that the material is nice and tough, and I am a big fan of pockets, which this set has. I would like the pockets to be a bit deeper though. Because there aren't any breast pockets, its hard to carry pens and sharpies without them falling out all the time. Otherwise, a very worthwhile purchase
Good quality uniform. Would be nice if cargo pockets were added to the pants for a different twist. Good value product.
I loved these scrubs, the material and price are excellent. The only issue is that they do run a little big, so I would recommend getting them a size smaller than usual.
Recently purchased 4 sets in different colors giving me lots of mix and match options. Love the material - very comfortable and well made.
Scrubs are nice, but big. Large pants are slightly too big for my 38" waist, even with elastic and drawstring; and legs had to be hemmed about 3". Large shirt fits pretty good.
I will say they run big. By the chart, I was borderline Sm/Med but still medium. I had to return the medium because they were entirely too huge! The small was MUCH better. I hated I had to spend $8 to have them exchanged but it was worth it. So if you're on the border of a size, go smaller. They were very soft, not scratchy. I love the pockets and seem decent quality. So far, I'm pretty happy with them!
Unisex Scrubs Size Small - Way too big!!
There is nothing small about these scrubs whatsoever. The crotch area on the pants goes down to my knees and even when tied the pants fall off of my waist. I am a 5' 2" 123 lb female and the way these scrubs fit me they should be labeled as a man's XL. I do not want to return them because allheart charges an $8 return fee and the scrubs only cost about $14 total. Why waste my time to only get half of my money back. Very disappointing.
I'm satisfied with the quality of the clothing material used and the design. Good value for the price. Im 5'6" and medium frame , medium size fits perfect. I will recommend this to a friend/ co worker
Size Chart
Natural Uniforms Unisex Size Chart:
| | | | | | | | | | | |
| --- | --- | --- | --- | --- | --- | --- | --- | --- | --- | --- |
| | XXS | XSM | SML | MED | LGE | XLG | 2XL | 3XL | 4XL | 5XL |
| Bust | 31-34 | 35-36 | 37-39 | 40-43 | 44-47 | 48-50 | 51-53 | 54-57 | 58-60 | 60-63 |
| Waist | 24-26 | 26-27 | 28-31 | 32-34 | 35-38 | 39-41 | 42-45 | 46-49 | 50-53 | 54-57 |
| Hip | 35-37 | 37-38 | 39-41 | 42-45 | 46-48 | 49-52 | 53-56 | 54-57 | 58-60 | 61-64 |
| Inseam | 28.5 | 29 | 29.5 | 30 | 30.5 | 31 | 31.5 | 32 | 32.5 | 33 |
Bust
Measures the fullest part of your chest.
Waist
Bend to one side to the natural crease of your waist and measure across this point.
Hip
Standing with feet together, measure around the fullest part of your hips and rear.
Inseam
Measure from the bottom of the crotch seam to the bottom of the hem along the inside seam.
Unisex Fit Chart:
The top feels like: This silhouette is classic and roomy with room to breathe at the sides, and a longer sleeve length to accommodate both men's and women's arm sizes. These scrub tops always have a longer length.
The pant feels like: Both drawstring and elastic waistbands on a unisex fit pant have a higher rise, and sit closer to your natural waistline. The legline is typically straight and offers plenty of room around the leg as well as at the seat.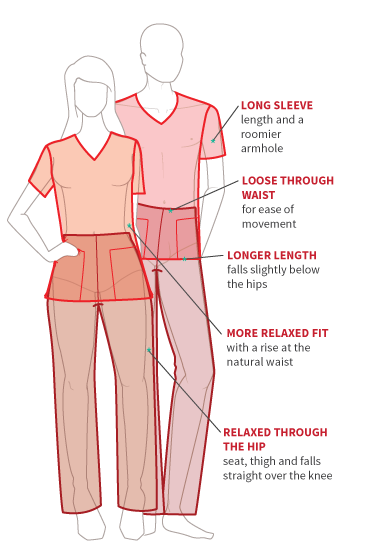 Size Tip
If you're a guy ordering unisex fit scrubs, they should ideally be true to size. For the ladies, consider ordering one size smaller than you would in a women's fit scrub top or pant.