Description
allheart Basics are your best scrub value: essential, traditional pieces made of a high-quality 65% polyester/35% cotton blend and double-stitch construction to last wear after wear. This premium scrub set features a V-neck scrub top with one roomy patch pocket at the chest and drawstring scrub pants with a roomy back pocket.
Unisex fit
65% polyester / 35% cotton poplin
V-neck scrub top
Patch pocket at left chest
Scrub top 28" long
Drawstring scrub pant
Back pants pocket
Pants inseam: 30"
Use the size chart to find your best fit
Reviews
Uniform fit better than l thought. Good price . But needs more pockets on top and pants.
We purchase large quantities for our workers in a food-grade facility. We have never had any issues with the fit or quality of the garments. Many of these garments last well more than a year which is great considering they are worn 6 days a week. I have found the fit to be the same as with any other brand of scrubs. They are unisex fit so the fit is not tailored. Great quality at very good price.
To big and to small at the same time
The shirts are awkward, too big and oddly to small as t the same time. But I can work with that. The pants however are so long they come an extra 6 inches past my feet. Fit fine in the waist. Then too small in the crotch area where it ripped when I went to stand up after putting on shoes. Wont be buying these again. Get what you pay for though.
They were way too big for me
The fit is fine. But, I didn't notice it has no pockets at the bottom of the top, nor on the pants legs. This makes life a bit more complicated when working and needing that pocket space. I would not buy again.
After multiple attempts to order quality scrubs, I purchased multiple sets trusting a familiar brand only, to be disappointed again. I am not going to send them back because that only creates additional frustration. The tops are okay the pants run small. (Natural Brand) quality should never be a question. It appears that a label is applied without verifying quality. Sad I have purchased dozens of sets of this brand in the past without complication. Buyers remorse.....
Right Color, But they are way to big..
Horrible quality. Definitely you get what you pay for. They are boxy and uncomfortable. Not something I would want to wear for long hours at a time.
Material too heavy and too shiny
Medical Health Tech / Paramedic
Very disappointed with the pants ripped on 1st of job. I do not recommend this product to a big guy! Scrub shirt nice, wished it has more pockets.
First bought the size medium, was way too large. After returning the set (paying my own shipping out of my refund, which is lame), I opted for the size small. Arrived, was way too small. I understand these are really affordable but ¯\_(ツ)_/¯ Was upset I had to pay return shipping again to get a partial refund for something I didn't use. I'm out about $25 with nothing to show now.
I ordered 5 ceil uniforms and got them delivered to me today and opened the box they were the right color that i need for work i got a large and they fit good a little bit to big but that is okay i love them so i will be recommending allheart to everyone and i will be ordering again
Pretty good, I'm tall though (5'8") so of course the pants are a bit short but I expect this. They also shrink a little because of the material so order a size up.
I love them. They are good gifts. Person was surprised and excited. But since they run a bit large, have to try again. Will be back to buying more! For sure.
Very good fabrics. Fast shipping. I guessed on the size so please use the size chart! Two people could get iny uniform. My fault entirely!
Yes! But does not have enough pockets! Need more pockets to carry our supplies as a nurse.
I ordered 18 pairs of these scrubs in the color red for my job for Halloween costumes so that we could be prisoners. The quality of these uniforms for the price is AMAZING. I think that I should have ordered a large if I was ordering for a real situation because the x-large is big and the pants are long but I wanted to be sure they fit because I had a short turn around to make these into costumes before Halloween. Per the sizing chart I should have ordered a large but the large was on back order until Halloween. I am 5'4 and 226 lbs. The pants are too long and the shirt is a little big and long which is okay because we are just playing with these uniforms. I suggest to follow the sizing chart. The price was amazing and the feel and the comfortablity of these scrubs are amazing.!!!!!!!!!!!!!!
So I ordered this set in pink xs and I LOVED them. They were a bit deep from hip to crotch but I just rolled them over once (I prefer low rise) and had no other problems. So. I decided to order a second pair in maroon since they were such a great price, thinking they would be the same size. They were not. The thighs and butt of the pants were so comically tight I'd be embarrassed to be seen in them. On the top, the whole for the head was too small and it took some effort to force my head through (I have a tiny head, too.) The body of the top was wide, though, the proportions were very odd. I had my entire work laughing trying to tell them about getting dressed that morning. I'm about to attempt the return process but am a little bummed I'm going to lose almost nine bucks to send them back.
Got the scrubs on sale at a good price. I like the lightweight material used to make these. The material has stood up well to several washes. The fit could be better in the pants. Great overall value.
Great scrubs but they run big!
These scrubs worked out great for our employees, but they do run a bit big.
size too large and when I asked about return was told would only get 5.00 for it
Size chart is wholly inaccurate. Fit is too tight, fabric is cheap, head hole is weirdly small. Wouldn't buy Allheart brand again.
I bought 5 sets of these scrubs and was pretty impressed by the quality of them for such a reasonable price per set
I customize a set of scurb and scrubs weren't good quality as shown on advetisment.
Bought these scrubs in a larger size. The crotch ripped out the first time I wore them. The she shirt was way too big but the pants were not proportioned right at all.
These scrubs are just what my husband wanted and they are affordable. Nothing wrong with them at all!
Pricewise it's a great buy. However the material is on the tougher side, despite washing them. You forget aboit it whole you work though.
They were too big i have to return them for a smaller size
My love uniforms. She's crazy about the colors.
All Heart is thee best. on time delivery merchandise wrapped and concealed properly and never a hassle on getting what you ordered.
I'm usually a size 2-4. Ordered the XS unisex scrub set. Top fit fine but I could not get the pants over my hips! Then I ordered the S set and the pants and top were HUGE! There's just no in-between! The fabric felt a bit stiff too! Definitely returning both set!
The only thing that was good about the product was the price. The sizing was very horrible. I ordered an xxs scrub set and it was to long and too big.
Way too big. But comfortable.
Way too big. But comfortable.
FAST DELIVERY, GOOD PRICES, AND GOOD QUALITY PRODUCTS
Very good price & quality is good.
Uncomfortable and bad fit.
Some of the uniforms are bigger than we needed. Please let me know how I can return those and get the smaller size.
All Heart is the best. delivered on time and have great scrubs. I'm going to order alot more.
The color is perfect, but they run small. I'm very disappointed that I wear other size medium pants from there and they fit much looser.
I had read in all the reviews to size down because these scrubs run large. I bought an XS, and the top fit perfectly, but the bottoms were far too small to pull past my thighs. The back panel of the pants have about as much fabric as the front, so if you have any (and I mean any - small buttock people alike) junk in the trunk, they will not accommodate.
Received the set on time good quality and price.
I like these scurbs they are nice but the unisex scrubs dont fit right on women with curves so if you are curvy stick to just women scrubs and not unisex
Nice Price, Sizing is Tricky
Nice Scrubs. Great price. Sizing is tricky. The length is fairly predictable however the widths (diameter) of the leg openings are huge.
Just received my scrubs. I have to say the quality is good for the price. I am giving 3 stars because I ordered 2XL and in my opinion the pants fit a bit more snug then I would like. I like to have room in my scrubs so I usually order a larger size than I would normally buy. Reviews said this fit big, so I ordered the correct size for me, and I think the pants are too snug in the crotch. Other than that, they seem to be well made. For the price I am not going to complain. Color is good. Very vibrant. I am hoping they do not shrink alot when washed. If they do that won't be good. I give three stars for the fit and also, I paid for the fastest delivery and my order was 4 days overdue. Customer service said they will refund half of the delivery charge. I will be watching for that. All in all....a good buy.
My sisters and I bought this for our mom, who is a nurse. We wanted to surprise her, and we definitely did when she saw that the scrubs were more than twice her size. These don't run true to size, and since we personalized it, we spent so much money for something that she can't even wear. We're really disappointed with this purchase and we just wish we can get it altered for free or something because the design/emblem/writing was good, but those don't make up for the size. Useless.
Got these from my boyfriend for Christmas. I typically am an xs in scrubs but he ordered a size up so I could layer underneath them for the Winter season. I would have been more than okay with an xs with still having room to layer. The top is super big and the pants look like parachutes. Do not run true to size.
Got these from my boyfriend for Christmas. I typically am an xs in scrubs but he ordered a size up so I could layer underneath them for the Winter season. I would have been more than okay with an xs with still having room to layer. The top is super big and the pants look like parachutes. Do not run true to size.
I always buy scrubs larger than needed for easy moving. These are beyond the size ordered.. good material
I'm 6 foot tall and 170 pounds I ordered large which I am in in all my clothes. The top is a little bit to large but the pants are huge in the waist and leg width. Looks like clown pants.
Great scrubs. Good value, comfortable, washes well and fit true to size. Would purchase again.
Very comfortable and light. I ordered XL and they fit well, I could probably squeeze into a large, but I like having extra room. I ordered them in pewter, pink, eggplant, and royal blue. I love the color choices.
I bought 5 sets because of the price. I ordered down a size and they are still way too big and too long. I will have to take them in and hem them to be able to be comfortable. Really not worth the effort but it will cost to return them. Wishing I had shopped around longer.
Seems to be great quality.. but like most of the reviews, they run large. I'm usually a large and I'm drowning in these. Classes start soon so I don't have time to return and wait for new pair.
Seems to be great quality.. but like most of the reviews, they run large. I'm usually a large and I'm drowning in these. Classes start soon so I don't have time to return and wait for new pair.
did not care for the material, scratchy not soft like I am used to. Size too big, will need to return products back. Do not like pants with a tie in them, prefer elastic. Great price, though!!!
Pants are really long and top is huge in the shoulder and arms. The shoulder for the top is almost down to my elbow
Bought 4 sets of these scrubs. Great price but the back pocket already busted apart and it's only been 2 weeks.
I liked the scrubs I just ordered the wrong size
The quality is good however they are NOT true to size. I ordered a large and I swam in them. They were more like a 2x. I returned them.
I have an extremely hard time finding a good pair of scrubs that actually fit and cute. I finally found them I ordered every color and in xxsmal lolz and they fit great. I always receive compliments. I wish they add more colors and lighter colors as well so I can buy more. Thank you! I highly recommend these scrubs.
My shipment took too long to get to me and then the items that I ordered were/are too big because I ordered unisex, not knowing they're made bigger.
Top quality. The best online site to buy scrubs with the best quality. Better than Amazon. The engraving is amazing.
I was looking for inexpensive scrubs to wear during my weight loss journey and I think I found them! The fabric appears to be a basic broadcloth which usually washes well and is great for warm climates. It fits true to size for unisex. They're a bit bulky but easy to camouflage with a few tucks and a scrub jacket. They wear comfortably for a 12hr shift. Time will tell for durability as I've only worn one set thus far. Shipping is a little slow, taking about 2 weeks. That could be because I bought all of the available colors which one is still on backorder. Overall I'' happy and feel t's well worth the wait. I've since placed my 2nd order.
I'm sure the quality is good, however .. Reading the reviews I ordered a size down and that was not the thing to do!! Couldn't even get them over my hips !!!
These uniforms are comfortable and at a reasonable price.I just wish they came with the rubber in the waist, because the string kept coming loose.
The scrubs appear to be of good quality but they were to large
I love the quality and feel of the sets I've bought! The color stays true even after several washed and the prices are great!
These are pretty nice, very simple but tough. Easy to clean too. My only complaint is that they don't come in a size that actually fits. You can adjust the drawstring but that does nothing for the length. These scrubs are made for giant, Gumby people.
These scrubs are very comfortable and allow for flexibility without any of the uniform binding or restricting my movements with very active patients. The material is rugged and durable while being presentable at the same time. Excellent product that's absolutely perfect for work and leisure time.
Overall very pleased. The fabric is a little stiff, and I wish the upper half of the scrub bottoms fit better, but the price was fair and the color looks great.
Great quality, sizes are true to USA sizes. I'll buy again
My wife tells everyone she works with that allheart Scrubs are a great buy as well as a great fit
Everything came out fast and just what we ordered
I purchased for the top and it is sooo comfortable. Sizes are pretty generous , ordered a 5x and seems alot larger than other companys,FYI
I am 5'3 and 125 pounds. Sizes run large so I recommend ordering a size smaller than you usually wear. I measured and compared to size chart and ordered a size small. It was WAY too big. I exchanged for an XSM and they fit perfect!
The items that I have acquired was an appropriate fit. The materials were of the best quality; the response from the customer service folks was outstanding and I was pleased with the transaction. This company has shown me that they are the best by test and I will be utilizing them for all my medical needs.
These are very cheap scrubs, but they get the job done. I volunteer with a group and we have to wear these scrubs specifically and they are fine but I would never wear them if I didn't have to. The pants are disproportionately huge in the waist in comparison to the thigh/legs. These is only one back pocket in the pants.It's important to remember you get what you pay for. They are cheap, but they do work.
I have always liked all heart scrubs. They are comfortable and reasonably priced.
good quality and affordable price
good quality and affordable price
good quality and affordable price
good quality and affordable price
We ordered these for a group of teenagers - multiple sizes and they all fit! comfortable and put together well. Not to mention, you can't beat the price for a set of scrubs!
Wonderful service. Fast sphipping, and very friendly people. I called with a question and they answered it fast and easy.
Inexpensive and Great Fit
I am about 5'4-5'5 and 115 lbs. and I got the XS expecting it to be too small, but they actually fit me perfectly. They are very inexpensive and they came pretty fast. I would definitely order these again!
Great quality. Fits good. Embroidery makes it very personal. Glad I purchased.
Low price .High quality.Love it.Thanks
Allhearts basic unisex scrib sets
Good quality, true to size, would order again.
im a petite 5'3, 110lbs.. i love the colors but my only problem is the sizing. i ordered the xxs. the top size was ok, but the pants were too small around the hips. it would have been perfect if the top was xxs and the pants at xsm. i ended up returning them.
Some scrubs are a little tight in the crotch, but these have plenty of room. I have only had mine for a short time, but they are very comfortable and appear to be very well made. I like them so much I ordered four more sets today. Note that there are no side pockets in the pants, only a rear pocket, which may be an issue for some people (I don't need side pockets, so these work for me).
We order these for our CNA students. They are perfect! I just wish they whites were all the same color. Our students tend to break up the sets to find the shirt and pant that fits them best.
These are pretty good, you can't beat the price. They arrived quickly and in good condition, and are true to size. I am 5'2, 115 pounds and the XS fits pretty well although the shirt is a little baggy (perhaps ordering the women's style vs. the unisex style would solve this). I usually have problems with the XS pants not fitting (usually are just a tiny bit too tight on my hips/behind) but these fit fine. I would recommend them, but don't expect to feel stylish in these as they are very basic.
I love my scrubs got real quick my name sewed on really looks nice!!!
Scrub set is very roomy and super comfortable. Will purchase again.
Hi, The scrubs are comfortable and fit well. The only problems were the light material almost too thin (see through especially the pants) and no pockets. Otherwise, I like them and the price is reasonable.
I couldn't believe how fast I received my product. After reading reviews on line, I order the scrubs a size bigger than needed. So disappointed that I had to go up 3 sizes. I will be returning them soon.
The items arrived fast and were in good shape
Great price if you're looking for an inexpensive set
The price is definitely a good one for a set of scrubs. The downside is, you get what you pay for. The scrubs are made well however the material feels a step closer to paper than cloth. That being said, if you're looking for an inexpensive option, these are great.
The material was nothing to be impressed with but they are also much cheaper than nearly every other scrub set which makes up for it. The sizing chart is way off too. What they said would fit a 33 waist was nearly a 44.
I am 5'4 and weight 105 pounds. As you can imagine it is incredibly hard to find scrubs that fit and flatter. I purchased a set while they were on sale to give them a try. I ordered an XXS I can honestly say I will probably now buy a set in every color! They fit perfectly and are even the perfect length! I am so pleased! Most XS don't even come close to being small enough for me. I will recommend all heart to everyone in the future!
Scrub Size: Larger Than Expected
I'm not a big guy, but I typically wear an extra large t-shirt, so I decided to get the extra large scrub size. Measurements of my body seemed to match the XL sizing chart (on the lower end) provided by AllHeart. But when I received the scrubs and tried them on, they were WAY TO BIG! Need something more like the medium size. Now I have the inconvenience of returning to get a size that I'm still not sure will be right.
Allheart Scrub Basics Unisex Scrub Set
Good price, but did not fit.
These arrived on time, and are very comfortable! I enjoyed the wide color selection available too.
Made of Great Quality, custom print work is always done correctly
Good product, but I ordered them waaaaay too big! So, be careful of the sizing when you order these!
These scrubs are good for everyday use. They are basic and only have 2 pockets but they work great for what i need them for
The set came quickly and a perfect fit! The embroidery is right on with my other staff sets
The set fits my boyfriend perfectly and they didnt shrink or fall apart in the dryer. The colors are perfect too, just the right tones for a manly man like mine ;)
Excelent quality , fast delivery
It's a great feeling when something actually exceeds expectations. Outstanding price. Good quality. Delivery was way earlier than expected. They run slightly large, but I knew that when I was ordering. I'll definitely order from allheart again!
Excellent, satisfied customer for 14 years
Great fabric, the right amount of pockets
i ordered a number of colors for our hospital uniform and everybody was glad to have it in due time at a sale price. we had minor repairs basically on length but that was not a big deal. how we wish we can still avail of the discounted price as we plan to have more set and colors for our daily uniform
The shipping was quicker than expected even when ordering the item with a personal embroidery. The colors and size are perfect and just as advertised and the feel is even better than other more expensive sets I've tried. I am about 5' 6" and 120lbs and the size small fits wonderfully. I will definitely be buying more.
a great price, a great basic. no complaints here!
Very good product for the price. Fast service. The embroidery is excellent. Would have rated 5 stars if the sizing was a little bit clearer. The sets are quite baggy for the size ordered. People who use scrubs all the time may already know how to order the sizing correctly.
I didn't expect this quality at the price I paid for these. Very surprised. They are durable and lasted quite a while. They're true to size.
I have been buying allheart brand scrubs for a little over four years now. I was at first intrigued by them because of the sizes, but the price is amazing. I am a female who currently weighs 93 pounds and I'm 5'2. The xxs size fits me PERFECT right now. The top and bottoms are both good lengths. My butt is 33 inches around and the xxs fit my butt PERFECT, any tighter, I might have to go the next size up, which is almost unheard of for me. There is plenty leg room for me, probably since I have scrawny legs. The quality when I first started buying them were decent, but still really good for the price. I've since ordered on several different occasions but this last time when my order arrived, I was pleasantly surprised. Their materials look, feel, and even fit better than before. PLEASE DON'T EVER TAKE THE XXS SIZE AWAY!!
I didn't expect top of the line scrubs at the price I paid for these. They fit like any other unisex scrubs. They seem durable and hopefully will last quite a while. They're true to size. I assumed they wouldn't be and ordered a size smaller than I should have. They still fit, but a bit snug.
Great Quality Scrubs. I have been wearing the same allheart brand scrubs for 8 years. I recommend allheart to everyone at work
I purchased these scrubs for a new Operating Room Technician. He's a big and tall person and these fit him great! He was so excited to have scrubs that weren't short (high waters) and that actually fit him with a little extra room! Oh, they're a fantastic price as well!
Great Quality for the Price
These scrubs came in the mail quick and are just great. They are good quality and comfortable. They are a little big in size, and around the waist.
XXS is actually XXS!!! LOVE IT :D
So I'm petite and I usually always have such a hard time finding scrubs that fit me. Last time I bought some from Amazon and the XXS was literally a large. I mean I'm actually going to try to change it to just an XS or Sm because the XS fits me too perfect and I deal with a lot, and they like to dig their nails, I'd rather it be on a loose shirt than on my skin. Still, I LOVE MY NEW SET!!!! I'm definitely going to continue buying my scrubs here. Thank you, All Heart staff! :)
i like these better than my landau scrub set. really comfy and the material feels like it should last a long time. pros: comfy, good material, CHEAP, roomy cons: only 2 pockets (1 on top and 1 on pants), non reversible, leg length a bit long my large scrubs are usually on the mark but these definitely are roomy so if you want a little more tight fitting scrubs then order a size smaller
Ordered three customized sets. 100% satisfied. At this excellent price I didn't know to expect. The quality is above average and the customization is extremely well done. They arrived at my door ahead of expected delivery. You can't go wrong.
Quick and thorough service, you had just what my husband needed in the right color. He loved the pockets, everywhere they were.
The All Heart Basic unisex scrub is a quality product at a great price. I only wish more colors were available.
The scrubs, themselves, are really good for the price. The pants aren't as comfortable as I'd like. However, they stay up pretty well. Would have loved elastic or something like that. Also, there is only one pants pocket, in the rear. I find I have to hold my phone in my shirt pocket. Would have been wonderful to have pockets on the side.
xl was way too big/ok quality/rough material
great quality, not great sizing
I actually bought these for a dance that I am choreographing. The tops fit pretty well, if a bit big. The bottoms however are pretty tight in the hip area when my dancers tried to bend their knees or sit at all. If we went up a size bigger that the tops would be falling off them. If the bottoms fit better I would have given them 5 stars as they are great quality and color, just not great fitting.
I was very happy with the ease of ordering and the timeliness of the delivery time. However, unfortunately the sizes I ordered were to large. Normally I ordered extra large which is what I normally get, but the scrubs were way to big for me.
Good Price for a Set of Scrubs
These scrubs are great and the price was amazing. I was a little worried at first, but when I got them they were fine. I ended up ordering 3 pairs of these scrubs. The only downside to them is that they don't have pockets on the sides of the pants.
I have been ordering these scrubs for 6 years and they are great. They are a little hard but they become really soft after a few washes. They do run a little big so if you wear a size 10-12, perhaps medium will be fine. Careful, because some of them may be a little tight on the hips (depending on the color you get). This time I ordered large and they are BIG - but comfy and for work, So I will keep them.
Comfortable, Affordable, Well Made
Great scrubs for the price. Compare favorably to higher priced scrubs. Wash well.
Scrubs were perfect, good price. They run BIG, and flare at the leg. But I needed them for my fieldwork for 8 weeks and they were just what I was looking for.
i did have to return due to size,but doing an exchange
Highly recommended! I needed a set for my clinicals, but since it was only for a few weeks (and because I'll never wear this color red again), I didn't want to invest 30$ to 40$ on scrubs. I'm a 5'8" MALE with a slender build (148lbs) so I bought the SMALL. A great fit in the top and the bottom.
Exelent basic scrubs good value
Exelent! Nice fabric, nice colors and prompt delivery and the best of all, very affordable price.
Purchased 3 sets of scrubs. They were delivered in a timely manner the colors where great exactly as the models on the computer. The fit is great. I am a plus size female and very tall and the regular length is great. Nice fit and very comfortable I will be ordering from here again. Thanks allheart.
I bought 2 sets of these...one set is o.k., but the other one, the pants waist is too narrow and the color tends to be purple with blue.
Came in the time said. Shirt a little smaller because i am an XS and had to get a XXS because XS was not in stalk but the pants are perfect :)
AllHeart Unisex Scrub Set
Received scrub set in a timely manner. Scrubs were very basic, but they are very comfy!
The scrub suit are very good. I had 1 problem-- on 2 of the tops the backing from embroidering was left on -- taking them off ruined the the embroidered name.
Went by sizing chart and came in entirely too small. Can't return because was personalized.
Have been buying my scrubs here for two years. Have find the scrubs to be of good quality and arrived in a timely manner. I will continue to get my scrubs here, great prices.
The item as describe. Thank You++++++++
The item was as describe. Fast shipping.+++++++ Thank you.
ordered a size larger than normal as I wear these as PJs and like lots of room. the top is way to big and the pants are short waisted so don't give room for your bottom...can't return them as I washed them right away...they are big enough but not made with the 'right' shape....who'd a thought...no room for my backside.
Monogram and fit are perfect... Shipping was fast.... Very Pleased!
The fabric in this scrub set is really nice. I would normally wear a 2x in women's but I ordered an XL in the unisex size and it fits perfectly. I'm 5'7 1/2" and the pants are plenty long enough. Would buy these again. What a great price!
I made the mistake of thinking all brands of scrubs fit in similar ways. That they all ran big in all their dimensions. I found this deal on Allheart.com and thought the price was great! Until I received it and tried the pants on. I bought a size small set. I'm a 5'9" 135lb female, and these pants were simply too short. The shirt was also too long. It brought me back to my awkward middle school days of ill-fitting clothes. You get what you pay for I suppose.
I haven't started wearing them, but the exlarge was like a 2x and the large was like a medium but the colors and the way they look are very nice thank you
watch sizing- WAY to big.
Purchased these scrubs in 7/2013 and went up one size due to wt gain. I wear a 16-18 Got the 2x thinking a little extra room would be good working in veterinary medicine and all the bending & such. They were HUGE. Cannot wear them and can't return them because of personalization. Pant legs are enormously wide and the bust area of the shirt gave me a good 10 extra inches. Positive note is the material is no iron and came out of dryer ready to wear (except I can't, HUGE!). Have bought these in the past and have held up well. Maybe they updated the sizing??? Guess I may try XL instead.
I wish the top had front pockets but the fit is good and it washes well.
I was very happy to receive my order in a timely manner. My purchase of the scrub set was great !
These scrubs are comfortable, light, and very reasonably priced.
I LOVE THE COLOR, THE SIZE DID RUN BIG.
These are my everyday scrubs. I work in an animal hospital and they hold up very well to all the paws and claws and frequent washing. They're a relaxed fit, which I like since I need to be able to retrain animals unrestricted. I LOVE these scrubs!! And they're inexpensive, what a plus!! The customer service with allheart is really great, they respond very quickly to emails and help to get things all sorted out. Had an item backordered, but they got the rest of the order to me promptly. Thanks allheart peeps! Glad to recommend you to my coworkers!
Great service! Scrubs are extremely good quality for the price.
Excellent purhase for the price of scubs and very satisfied with delivery to my residence. Will keep doing bussiness wirh you.
Yes I was completly satisfied with my order. It was shipped in a very timely fashion, the price was great, and overall I liked the product. Will definetly continue using your company. A co-worker recommened this company and I will most certainly pass it along.
Decent quality but sizes do run big as stated by previous buyers
i love the service, my order come to me exactly when they said it would. Love the experience with allheart!
These are nice. But they are way bigger then the size indecates.
For the price of these scrubs, the quality is outstanding! I was expecting thin material. When they arrived, the material was very high quality. I ordered all white for pinning ceremony. I was expecting them to be see through because of the price. They weren't, they were better quality than some of the more expensive scrubs. Totally worth the price!
I purchased these scrubs after years of frustrations of years with another brand that seemed to fall apart at the seams after weakness in the fabric from washing. I must say I am much happier with Allheart brand. The fabric is much more durable and color does not seem to change with washing.
nice color and fit to size
again, they fit fine. Need more coloors
Am very happy with the quality and received my order faster than expected (even with custom embroidery). The sizes do run large, so be careful.
I would purchase another set but my true size-these run very large-I wear 1x-got 2x just in case and it was too big!!
gone with allheart for years now... always hit there sales items and never returned a thing..
Quality is fine, but smaller than stated by chart and reviews.
I should have ordered a medium size, but after reading the reviews about them running big, and also looking at the size chart, I decided to order the small. I should have gone with my instinct and ordered Medium. I just had to return them to exchange. Too small, and did not fit. I am 5'9" and 170 # and both the pants and top were too small. The color and fabric seemed fine, but size was an issue. If you are normally a med, then get medium. Don't go too small.
These scrubs are comfortable, I know I purchased them, but I didn't realize the the bottoms were the kind you have to tie, I prefer the elastic band. I also didn't know that there was only one pocket on the pants and that it is located on the back of the pants. I love them, I just should have read the description better.
I got 5xl scrubs and the only thing I can find wrong was the pant legs were for someone 6'9". I ordered 5xl because Im big, not because Im tall. Otherwise the service was wonderful, easy to use web site, and was exactly what I was looking for... except the length of the legs. :-)
The best for the price, nobody can beat
I was so pleased with my first order, I placed my second order shortly after. The quality of these scrubs are very good and they are a great value.
Scrub basics unisex scrub set
Great scrubs and great price
Everything was great.... the ordering, the price, shipping was fast. But when i ordered 5 sets of scrubs... ie both the top and bottom sent in one package. One of the sets had the correct size top,but the pants were a different size. But over all it was a good deal and experience.
Love the scrubs. Good color. would like a front thigh pocket on the pants though.
Pants were ordered in a Large. I had to return them because they were more of a 2XL size. I have a 34 waist. Other than that. I like the scrubs.
AS TONY THE TIGER WOULD SAY GREAT!!!!!!!
I got my order after 7 day in Canada, that's great. I got 3 sets and as the other friends said I think Tops are fit but I have to make some changes in pants because they are a little tall and big!!!anyway I love them and I love allheart.Thank you to make me happy :))))
allheart Scrub Basics Unisex Scrub Set
Upon receiving the scrubs I did try them on and I was disappointed that they did not go around my waist but were more hip hugger type pant. The length was very long I wouldn't think for someone 5'6 and buying normal size clothes that I would have had a problem with walking on the bottoms of the pants. Other than that I am pleased with the uniform. Shipping was right on time.
Great price for very good quality. This product is a great value.
love it glad i got the large will continue to buy from allheart thats my place for all my needs
I'd have given a higher rating if the top came with front hip pockets and/or the waist on the pants were elastic, but this is still a nice set for the price. The pants little long on me (avg ht.) but that happens a lot with scrub pants. I do have to hitch them up some, but I usually do with string ties.
I got these to shadow a dentist - so not much heavy lifting. These are simple and economical. They serve their purpose well and the color is pretty true to picture (carribean blue). Wish I had more pockets though.
Love everything I get from here...
A little rough but very nice material. Great fit. I am sure after a few washing will be perfect. Great Value for the money. Fast service also.
Very good scrubbs at a good price. The only suggestion is to have more items like these in stock within the warehouse so that there won't be as long of a wait for them.
Just wanting to know if there are pockets on the shirts!!!!
It`s good product.I`m liking the way the name. The only thing is that I want to track the order in usps but does not give me much information
X-Large was larger than the X-Large that I am used to. If I order again, I will need a large instead. Overall, I like the scrub sets. The order arrived promptly, even with the personalization.
I bought two sets of these scrubs and must say they feel great. I like the way they aren't rough against my skin and I do enjoy wearing them to work. They do not come with the paints described in the description; they come with plain paints that have no pockets at all. I called customer support and they were very friendly and courteous. The support told me to return the pants and they sent me two paints back as described i the set!! They are great.
This is a wonderful product, great quality.
Bought as a gift! Great value with a better price!
My sister is a vet and asked for scrubs for Christmas. After looking at a zillion websites with outrageous pricing, I was happy to stumble upon Allheart.com and find such a steal on scrub sets!
i love these scrubs! They look so professional and are true to size. Im 5'1 102 lbs and ordered xxs
Got 3different sizes for 3 different family members and they loved it..
Great quality fabric at a great price. No complaints.
The scrubs are excellent for the price. I have already ordered more.. Will continue to do so. Love the unisex.. We use them for a residential drug treatment facility. They work perfectly.
Its a great pair of scrubs. great material. good fit. only downside is that they do not have pockets in the pants.
The allheart.com uniform are very good and the service also
Love them!!! I have tons of pairs of all different colors!
Great price! Great Quality! Happy Customer!
I use to buy the AllHeart Unisex Discount Scrub Sets (in Clearance for $15.00) but the fit wasn't right. Well on ""Black Friday"" i decided to checkout the offers and came across these. They were $10.00 each ($11.68 after sale is still cheap!). For that price I was elated! Got them on the following Monday and wore them to work. The fit was better! Breathable! & One happy customer!
Allheart Scrub Basics Unisex Scrub Set
I bought these just to try them over a year ago. I bought 2 sets along with some other more expensive name brand scrubs. These outlasted the name brands and the Navy didn't fade out. Other than the fact that they run a little big, they are great! I'll be buying these from now on.
AWESOME SCRUB SET!!!!!!!!
I was a little unsure about ordering these scrubs but I am so glad that I did. They are such a great value and the material is great. They look and feel way more expensive than they were. The pants are long so if you are short just be aware of that. I love my pants long so they were great for me. After I received my first two sets and saw the quality of the sets, I went back to order three more. Gonna keep ordering until I have ever color.
Good quality for the price especially for my profession,dog groomer. They last and are the best for the price. With wearing them everyday and washing them every week they stand up to the wear and tear of my job! You wont be disapointed.
I'm really petite, 5'1, and 103 lbs. I ordered the xxs and it was too small for me, which was the first time scrubs had ever been too small for me. If you are on the petite side, these are for you, especially if you are a student because of the inexpensive price.
everything expected from allheart always deliver on great scrubs for a good price
Very comfortable. Wears well. Gives me a clean professional look. No shrinkage after washing, Love the colors.
The product was just a described, the monogramming was perfect and it fits so well!
Good price, good quality.
Very comfortable nice sizing
VERY good bargain. Good quality at a very low price .
The allheart basic scrub sets I bought are extremely comfortable and look surprisingly smart. The one objection I have is the lack of pockets; it's a big problem. Two pockets are not enough even just for work items, let alone one's wallet, keys, meds, breath mints, etc. Not only are there not enough, but neither of the two pockets are able to be secured to keep things from falling out.
I am really happy that I decided to buy these items because they are very good to work in and the delivery and service is excellent.
Scrub Basics Unisex Set by Allheart
Our staff wears these scrubs every day in a clean room atmosphere for building custom surgical packs. For the price they are an excellent bargain.
for a good price, it was what I needed for my work uniform
Great product for the price only thing it lacks is more pockets.
Scrubs so comfortable you will want to live in them.
After first washing them I thought the colors might bleed somewhat. But not only did they come out of the washer crisp and wrinkle free, they stayed true to color. Since I only bought 2 sets I wish I had purchased more and intend to, Shipping was prompt and customer service excellent. Best buy for the money, it just proves you do not have to spend a fortune for quality like this.
Fabric OK, colors OK, but the large is huge and pant legs are more than described. So, order a smaller size. Elastic waist would be better than Draw cord. Good value. Shipping is very expensive for this $10 item.
Tight around the hips for girls and fades after one wash.
I love my items that I purchased from AllHeart. I will be doing more ordering from here in the next couple of weeks.
right sizing info, good quality & very affordable
vey satisfied, will order more.
Size Chart
allheart Unisex Scrub Set Size Chart:
Top
| | | | | | | | | | | | |
| --- | --- | --- | --- | --- | --- | --- | --- | --- | --- | --- | --- |
| | XXS | XSM | SML | MED | LGE | XLG | 2XL | 3XL | 4XL | 5XL | 6XL |
| Chest | 26-28 | 30-32 | 34-36 | 38-40 | 42-44 | 46-48 | 50-52 | 54-56 | 58-60 | 62-64 | 66-68 |
| Center Back Length | 25 | 25.5 | 26.5 | 27.5 | 28.5 | 29.5 | 30.5 | 31.5 | 32.5 | 33.5 | 34.5 |
Pants
| | | | | | | | | | | | |
| --- | --- | --- | --- | --- | --- | --- | --- | --- | --- | --- | --- |
| | XXS | XSM | SML | MED | LGE | XLG | 2XL | 3XL | 4XL | 5XL | 6XL |
| Waist | 26-28 | 30-32 | 34-36 | 38-40 | 42-44 | 46-48 | 50-52 | 54-56 | 58-60 | 62-64 | 66-68 |
| Inseam | 29 | 29 | 29 | 30 | 30 | 30 | 31 | 32 | 32 | 32.25 | 33.75 |
Unisex Inseam Measurements:
Short Inseam is approximately 26"-29"
Regular Inseam is approximately 29"-32"
Tall Inseam is approximately 32"-35"
Chest
Measures the fullest part of your chest.
Waist
Bend to one side to the natural crease of your waist and measure across this point.
Hip
Standing with feet together, measure around the fullest part of your hips and rear.
Inseam
Measure from the bottom of the crotch seam to the bottom of the hem along the inside seam.
Unisex Fit Chart:
The top feels like: This silhouette is classic and roomy with room to breathe at the sides, and a longer sleeve length to accommodate both men's and women's arm sizes. These scrub tops always have a longer length.
The pant feels like: Both drawstring and elastic waistbands on a unisex fit pant have a higher rise, and sit closer to your natural waistline. The legline is typically straight and offers plenty of room around the leg as well as at the seat.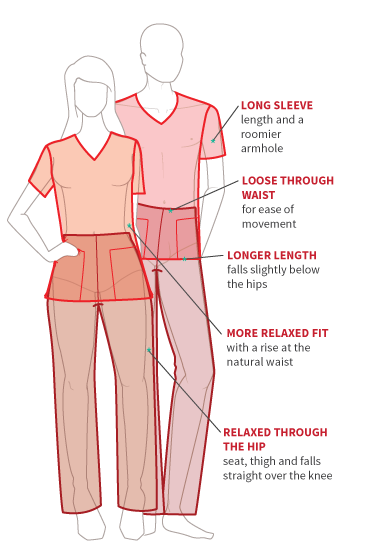 Size Tip
If you're a guy ordering unisex fit scrubs, they should ideally be true to size. For the ladies, consider ordering one size smaller than you would in a women's fit scrub top or pant.