18320 3.5 V Halogen HPX Ophthalmic Set
| | | |
| --- | --- | --- |
| Quantity | 1 | 2 |
| Unit Price | $978.98 | $976.49 |

The Welch Allyn 18320 3.5 V Halogen HPX Ophthalmic Set comes with a coaxial ophthalmoscope, streak retinoscope, and a universal rechargeable handle. The ophthalmoscope provides 30% more light output for true tissue color, while the retinoscope provides a glare-free view with a crossed-linear polarizing filter.

11720 3.5V Coaxial Ophthalmoscope
Halogen HPX™ illumination provides 30% more light output for true tissue color
Polarizing filter virtually eliminates corneal reflection
18 unique aperture/filter combinations
28 focusing lenses with a range of -25 to +40 diopters
Detects corneal abrasions with cobalt blue filter
Traditional flat-top design
18245 Elite Retinoscope
2.8x the brightness and superior streak quality versus the standard for quicker refractions
Optional crossed-linear polarizing filter removes 99% of glare from trial lenses
Sealed optics keep dust out and optics clean for a more effective exam
External focusing sleeve offers continuous rotation
71000-A universal rechargeable handle with battery converter accessory
Accepts all Welch Allyn 3.5V instrument heads
Chrome-plated brass handle rests comfortably in hand
Adjustable rheostat control
Safety switch prevents accidental battery drainage
Rechargeable by plugging directly into wall outlet
3.5V Nickel-Cadmium Rechargeable Battery included
Set comes in hard case.
Description
The Welch Allyn 18320 3.5 V Halogen HPX Ophthalmic Set comes with a coaxial ophthalmoscope, streak retinoscope, and a universal rechargeable handle. The ophthalmoscope provides 30% more light output for true tissue color, while the retinoscope provides a glare-free view with a crossed-linear polarizing filter.
11720 3.5V Coaxial Ophthalmoscope
Halogen HPX™ illumination provides 30% more light output for true tissue color
Polarizing filter virtually eliminates corneal reflection
18 unique aperture/filter combinations
28 focusing lenses with a range of -25 to +40 diopters
Detects corneal abrasions with cobalt blue filter
Traditional flat-top design
18245 Elite Retinoscope
2.8x the brightness and superior streak quality versus the standard for quicker refractions
Optional crossed-linear polarizing filter removes 99% of glare from trial lenses
Sealed optics keep dust out and optics clean for a more effective exam
External focusing sleeve offers continuous rotation
71000-A universal rechargeable handle with battery converter accessory
Accepts all Welch Allyn 3.5V instrument heads
Chrome-plated brass handle rests comfortably in hand
Adjustable rheostat control
Safety switch prevents accidental battery drainage
Rechargeable by plugging directly into wall outlet
3.5V Nickel-Cadmium Rechargeable Battery included
Set comes in hard case.
Reviews
Related Products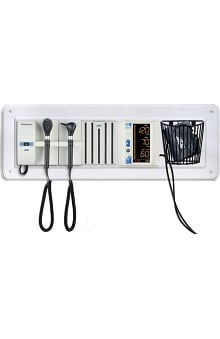 The ADC® Adstation™ 3.5V Modular Diagnostix™ Wall System ...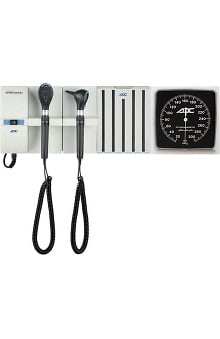 Get ultimate convenience from the ADC® Adstation™ 3.5V ...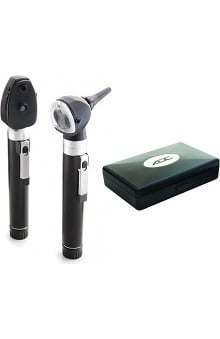 Advanced lighting updates the ADC® Diagnostix™ LED Pocket ...