Description
WonderWink offers a fashionable twist on the classic long-sleeve T-shirt. Extra-long sleeves create a modern look. The fabric has a touch of stretch that makes this an extra comfortable layer to wear under your scrubs.
Junior fit
Extra long sleeves
Tagless for comfort
WonderWink logo on left sleeve
95% rayon, 5% spandex
Length is 27 1/4"
Reviews
I wear medium scrubs, but these shirts stretch, so small fits well. They are so soft and comfortable. I have 4 and absolutely love them.
Woman's silky long sleeve underscrub
Wonderfully comfortable. Washes well. No shrinking. Recommended
Woman's silky long sleeve underscrub
Wonderfully comfortable. Washes well. No shrinking. Recommended
Love this top! I have one in several different colors. It is not to thick and the material is great for wearing under your scrub top.
Super comfortable layering shirt for scrubs
These shirts are so comfortable and breathable, you forget that you have them on! They do not shrink in the dryer and they do not attract lint! Love these shirts!
Silky, comfy, warm. Just the extra layer needed and exactly what I was looking for
I normally wear a medium size, but this shirt fit a little larger than I normally wear. The material is soft and comfy, but the sleeves are really long. All in all, it is a great shirt, just order a size smaller and expect the longer sleeves.
Awesome. Feels good and fits good. It is very soft and stretch. It does not limit your movement at all.
Was looking for women's base layers, but most are in black, gray, or white. Wanted some fun colors. I'm 5'6", 130 lbs. and normally wear a Med. I'm sure a Small would have been better. Label says to Line Dry. I'm not into special care. Plus, these shirts are super long. Seems like Line Drying would make them even longer. Came out of dryer fine. Super soft and warm for layering. Would buy again. In fact, I talked my mom into buying some.
Soft, lightweight, and comfortable
I wanted a light-weight shirt that was professional and could hold up. This shirt fit the bill. I like that it's not tight-fitting either.
I like the feel and of this shirt, but it is rather big. I should've sized down. I ordered a small, and I'm sure that I could easily wear an extra small. I'm 5'3" and 120 lbs for reference. Will order more in different colors in extra small.
These tops are awesome! I work as an ER scribe 80-100 hours a week and wear these every day under my scrubs. The sleeves are nice and long and don't shrink up after washing, the material is super soft and comfortable. The material is pretty light and a little sheer in the lighter colors so I wouldn't recommend wearing them alone but they are perfect for layering! I'm 5'7" and 150lb hourglass shape and the smalls fit with a good amount of extra room. The material is pretty stretchy too so expect your size to be a comfortable fit and maybe order a size down if you want a tight fit.
Perfect under scrub layer
This is the shirt I have been searching for! It runs big so get a size or two smaller than you normally wear. I currently wear an XL scrub top but fit a M of this under scrub shirt b/c I like it to fit close. A Lg also fits me (I bought both M and L, and will place an order for more M's). What I love about it is the length comes right down to mid-hip. I am 5'8". The price is perfect, too. I'm off now to order several more!
Great undershirt. Getting 2 more today.
I love this shirt so much that I bought some for lounging around the house. It's my go-to under-scrub shirt and will remain so as long as it's in stock. It's nice and smooth. I wash it often on the hot/sterilizing setting on my machine (due to the environment they're used in), and it remains soft. They're plenty long, even for my long torso. Although this shirt is very resistant to wrinkles, I tend to toss it in the drier about ten minutes before I put it on, and there are never any wrinkle concerns.
I love these tops very much! They fit very well under my scrubs. I have them in black, white, and light pink. The material is very soft and feels comfortable. I am very satisfied with my purchase and will be coming back soon for another colour!
Very soft and comfortable! True to size. Will definitely recommend.
these tops are great for layering in summer and winter they also seem to hold up nicely to washer abuse
Love the material of this base layer. Its so cool and soft. Im 5'6" and 150lbs. Initially got a Large but was too big so ordered a medium and it fit perfectly. Didnt return the Large as I decided to give it as a gift to a relative coz as mentioned, I loved the item and wanted to share it with others. Highly recommeneded
This top is great to wear under your scrub top or alone with scrub bottoms. It is light weight, yet keeps me warm enough for those night shifts. The colors are true to the picture. I purchased an XS and am 5'3 115lb. The length on the arms are perfect as I do prefer them long. If rolled up on the arm they stay put too. Bought many of the colors and am excited with the purchase.
Perfect fit and very comfortable.
I've tried a few different under shirts for my scrubs and this one is the best. Very stretchy and doesn't cling to scrub top.
I LOVE THESE SHIRTS! These shirts are so soft and truly are the perfect under scrub top. I noticed that the colors come a few shades darker than the picture, but they are still very nice. Not only do I wear these shirts under my scrubs, I wear them as every day shirts (I've received many compliments!). They are so awesome! PLEASE PLEASE bring in more colors of this shirt. I'd love to buy a dark hunter green or burgundy colored shirt!
Exactly what I had been looking for and wanting! The material is soft, comfortable, and warm. I do have to say I through it in the drier for 5-10 min after washing and it helps to keep the material wrinkle free. After throwing the shirts in the drier I lay them flat to dry.
I bought mine in black and I love it. I would not hesitate to buy it in more colors and I may.
I love, love, love this top. It is very light weight. I wear it under my uniform shirt for extra warmth. It fits well and is not too hot. I will probably order in more colors!I also wore it as an outer shirt with a nice scarf, too.
I got these for my wife. She has commented several times on how warm and soft they are.
OH WOW!! These shirts are AMAZING. I need 100 more. I'm a size 4/6 and normally go for size mediums in shirts to play it safe.I actually went with a size Small in this shirt and probably could go with an Extra Small if I really wanted. It is SO comfortable and smooth like butter. I cannot stress how magical it feels. The ONLY thing I can think that might be slightly negative is that the sleeves are a smidge long for me, but no big deal.
Still like new after 3 years of wear
I bought these 3 years ago to go under my scrubs and they're still holding up like new. They're so comfortable, I'm coming back to get more for everyday wear. The material feels nice and silky. I'm 5'2'' 110 lbs and the XS fits me well, not snug, but cozy.
so comfy and high quality. fits perfectly!
Layers shirt by wonder wink
I really like this shirt it is thin and comfortable with stretch. able to slide sleeves up when I feel warm and pull back down when needed.
Love the weight and fit of these shirts. The fabric has a nice silky feel.
These wonder wink tops are great!
Colors are pretty and true to picture. after a wash, material is wrinkled, need to iron before wearing, even on the perm cycle
I've enjoyed having this shirt--got the gray and the white. They wash/dry well although get wrinkled if you leave them in the dryer. I like the weight of the material, thin but not flimsy. Sleeves are really long & stay pushed up. Fits smoothly under closer fitting scrub tops but still loose enough, not tight (I ordered Small, I wear a 4/6 but have broad shoulders & it fits closer but not tight at all). I'm looking for additional colors to order!
The shirt is thin, if you need a heavier material this is not it however it is comfortable. I bought this shirt to go under jockey scrubs and this shirt is darker still acceptable.
I purchased two of these shirts to go under my scrub tops. They are very soft, wash and dry well (take them out of the dryer before it stops to prevent wrinkles). Great weight, not too heavy or light.
To my surprise this shirt ended up being cool and comfortable. I wasn't sure about wearing the undershirt because I thought that it would be too hot, but to my surprise with the super soft and cool material it ended up being very comfortable! When you push the sleeves up they don't get all stretched out and constantly fall down while you are busy.
silky long sleeve undertop
The green shown online was the color I am mandated to wear at work however when the shirts arrived they were sevel shades darker then almost a hunter green instead of a lime green. I am unable to wear the shirts at work BC they don't meet the mandated color. The shirt is a nice quality but the color shown on line is very different then what I got. I love wink scrubs and this is the first time I have ever been disappointed.
Good Quality Material But...
I ordered two of these shirts to provide warmth under my scrubs. The material is very smooth and silky but the problem I ran into was the more I washed and dried them, the shorter the sleeves became. I ended up giving them to a coworkder of mine that was smaller than myself. I recommend ordering up a size or hang them up to dry.
I will purchase another one. I love the texture. It felt so soft on my skin!
Great quality for the price, perfect for layering, easy to wash. Only wish would have many other colors though :)
fit well, not too heavy, runs a little big
I love these T shirts!! They are so soft and comfy and fit great too. They are true to size! I wish they came in more colors!!!
Wonder Wink SilkyLayers Long sleeved tee
LOVE!!!! So soft and comfortable. I wear mine everyday.
I love wonder wink as a rule but these shirts are great! They fit so well that I do not feel bulky but can still keep warm.
Great silky long sleeved tee
So soft, comfortable, breathable but warm! Very smooth and does not add bulk!
Very happy with the fit and comfort, I am able to move in this shirt.
Size Chart
WonderWink Women's Size Chart:
| | | | | | | | | | | |
| --- | --- | --- | --- | --- | --- | --- | --- | --- | --- | --- |
| "Lady" Fit | XXS | XSM | SML | MED | LGE | XLG | 2XL | 3XL | 4XL | 5XL |
| Ready-to-Wear | 0 | 2-4 | 6-8 | 10-12 | 14-16 | 18-20 | 22-24 | 26-28 | 30-32 | 34-36 |
| Bust | 30-31 | 32-33 | 34-35 | 36-38 | 39-42 | 43-46 | 47-50 | 51-54 | 55-58 | 59-62 |
| Waist | 22-23 | 24-25 | 26-27 | 28-30 | 31-34 | 35-38 | 39-42 | 43-46 | 47-50 | 51-54 |
| Hip | 33-34 | 35-36 | 36-37 | 38-40 | 41-44 | 45-48 | 49-52 | 53-56 | 59-62 | 63-66 |
Inseam Measurements:
Petite Inseam is approximately 28"
Regular Inseam is approximately 31"
Tall Inseam is approximately 33"
Bust
Measures the fullest part of your chest.
Waist
Bend to one side to the natural crease of your waist and measure across this point.
Hip
Standing with feet together, measure around the fullest part of your hips and rear.
Inseam
Measure from the bottom of the crotch seam to the bottom of the hem along the inside seam.
Junior Fit Chart:
The top feels like: A junior fit scrub top is made to sit closer to your sides and natural waistline. The sleeve length is shorter and ideal for anyone with a petite frame. If you like a shorter length, you'll find most junior fit scrub tops fall just at or above your hip depending on your height.
The pant feels like: Junior fit scrub pants are meant to feel more like a pant you would wear when you're off duty. The rise, or how high the pant sits on your waist, is lower and may be closer to your hip line. A more streamlined cut means the leg line of this pant is closer to your own leg line, fitted through the hip and thigh.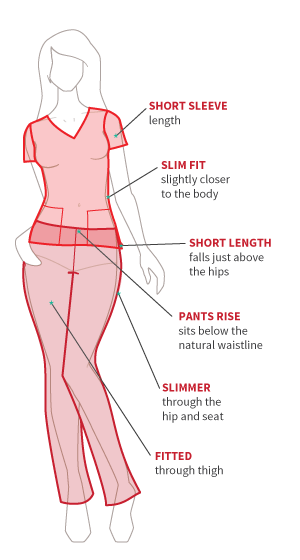 Size Tip
If you prefer your scrubs to have a little more breathing room, try ordering one size larger than you typically would in a scrub top or pant with a junior fit.