Description
More of everything you want in a scrub set. The classic V-neck scrub top is cut for comfort and practicality with side vents and two roomy patch pockets. The drawstring scrub pants with back hip pocket are neither too baggy nor too tight. Their waist features a drawstring substantial enough to hold its tie without slipping loose or knotting up. This scrub set looks great with the top tucked in or left loose. The fabric is a soft and study cotton/polyester blend. The inseam is 30".
Unisex fit
V-neck scrub set
65% polyester/35% cotton
V-neck scrub top
Side vents
Two patch pockets
Drawstring scrub pants
Back hip pocket
Extra-sturdy drawstring
Inseam: 30"
Reviews
Not the most comfortable scrubs, but still good quality! The fit was good although the pants were longer, but I expected that considering they are unisex. Great price point for the quality, I would buy again.
Too big. Seems to run big
VERY MUCH EXTRA SUPER MEGA SATISFIED
Im still much overwhelmed with your service and with my purchase quality. First of all you did an excellent adjustment in terms of from the day I placed the order and the day I received it. Have to give two thimbs up because if Im not mistaken it didnt even take a whole week for me to receive my order for this I top my hat to you guys, this time you over did yourselfs. Second of all the material and the quality of my scrubs are fantastic, they sure make me look like the doctor I am. Very much obliged with you guys.
The scrubs turned out to be too big ( I follow their sizing chart). I ended up returning the items and still waiting for the replacement (it has been a week since and ended up choosing a different brand) and haven't received any confirmation either e-mail or phone call. If thinking of purchasing this product, maybe go one size down eventhough the sizing chart says otherwise, and read the description vs. the picture, there are 2 front bottom pockets and I think you can not tuck them in.
i normally purchase fundementals by white swan scrub sets with personalization. this time, i chose adar for greater selection of colors, in addition, they offer XXSMALL size. the pix provided is of a man with scrubs tucked in his pants. when i received the 2/4 sets i purchased, i was completely disappointed. 2 large pockets at bottom of shirt were present which does not allow for tucking. again, this was not evident with picture provided on site. XXSMALL pants were appropriately sized, but shirt was significantly larger & certainly does not represent XXSMALL. in fact, the XXSMALL was much larger than my normal XSMALL from white swan. i immediately called allheart to cancel the 2 which were not shipped, and i am unable to return the 2 i have because of personalization. i honestly believe this is unfair, as the product is not what was represented in the picture provided. very disappointed on all aspects of this order.
i love the pockets on the side and the slits on the side help to fit over my curves.
Great color, wish had elastic band on pants and extra pockets
The scrubs was excellent quality, the fitment was perfect. All the letters requested were done correctly and in a very neat way , one problem that it just took longer than anticipated to get them ready, around 2 more weeks! Otherwise, everything was good!
Buy one size small than sizing chart!
Great item but runs WAYYYYYYY toooo big...buy one size small!!!
I really like this scrub set. I think it is really good quality for the price. I like the way it fits too. I will be ordering more of these sets as needed.
Top fit to size, but pants were way too large.
I'm a skinny guy, 150lbs 5'10"". The M size top fit great. Just a tiny on the large side for me, but overall a good fit. The pants are another story. Way too big in the waist and just way too baggy and large. I feel the same about All Heart brand as well, so I guess I'll just be buying separate tops and bottoms.
Size Chart
Adar Men's/Unisex Size Chart:
| | | | | | | | | | | |
| --- | --- | --- | --- | --- | --- | --- | --- | --- | --- | --- |
| | XXS | XSM | SML | MED | LGE | XLG | 2XL | 3XL | 4XL | 5XL |
| Women's Conversion | 0 | 2-4 | 6-8 | 10-12 | 14-16 | 18-20 | 22-24 | 26-28 | 30-32 | 34-36 |
| Men's Conversion | 30-32 | 34-36 | 38-40 | 42-44 | 46-48 | 50-52 | 54-56 | 58-60 | 62-64 | 0 |
| Chest/Bust | 29-31 | 32-34 | 35-37 | 38-40 | 42-44 | 46-48 | 50-52 | 54-56 | 58-60 | 62-64 |
| Waist | 21-23 | 24-26 | 27-29 | 30-32 | 34-36 | 38-40 | 42-44 | 46-48 | 50-52 | 54-56 |
| Hip | 29-31 | 32-34 | 35-37 | 38-40 | 42-44 | 46-48 | 50-52 | 54-56 | 58-60 | 62-64 |
Adar Men's/Unisex Inseam Measurements:
Petite Inseam is approximately 28½"
Regular Inseam is approximately 31"
Tall Inseam is approximately 34"
Bust
Measures the fullest part of your chest.
Waist
Bend to one side to the natural crease of your waist and measure across this point.
Hip
Standing with feet together, measure around the fullest part of your hips and rear.
Inseam
Measure from the bottom of the crotch seam to the bottom of the hem along the inside seam.
Unisex Fit Chart:
The top feels like: This silhouette is classic and roomy with room to breathe at the sides, and a longer sleeve length to accommodate both men's and women's arm sizes. These scrub tops always have a longer length.
The pant feels like: Both drawstring and elastic waistbands on a unisex fit pant have a higher rise, and sit closer to your natural waistline. The legline is typically straight and offers plenty of room around the leg as well as at the seat.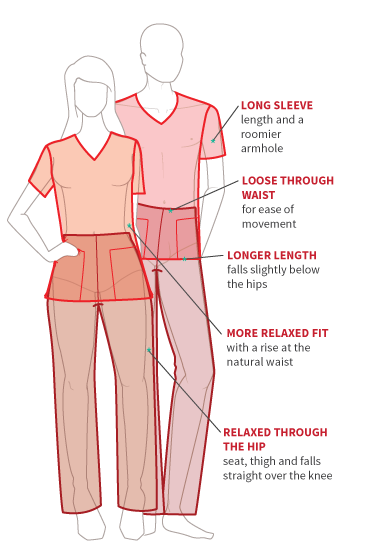 Size Tip
If you're a guy ordering unisex fit scrubs, they should ideally be true to size. For the ladies, consider ordering one size smaller than you would in a women's fit scrub top or pant.