11842 PanOptic™ iExaminer Digital Imaging Kit
| | | |
| --- | --- | --- |
| Quantity | 1 | 2 |
| Unit Price | $759.98 | $757.49 |

p>The Welch Allyn 11842 PanOptic™ iExaminer Digital Imaging Kit includes an ophthalmoscope, rechargeable power handles, iExaminer adapter, batteries and plug-ins, and a soft storage case. Get the best of optic technology in one package deal. 11820 PanOptic™ 3.5V Ophthalmoscope
5x larger view of the fundus vs. standard
Greater working distance
Halogen HPX® lamp provides bright, white light
Slit aperture, red-free filter, cobalt-blue filter on corneal viewing lens
Digitally capture, store, and share fundus images by combining with iExaminer
Dynamic focusing wheel allows continuous, smooth action and more precise control
Compatible with all existing Welch Allyn 3.5V power sources
11840-A6P iExaminer Adapter
Turns PanOptic Ophthalmoscope into a mobile digital imaging device
Compatible with iPhone 6 and 6s
71900 3.5V Rechargeable Power Handle
120 minutes of on-time
110V charging module
71960 Lithium-Ion battery
IEC Plug Type-A
Set comes in a soft case. 90 day warranty.
Description
p>The Welch Allyn 11842 PanOptic™ iExaminer Digital Imaging Kit includes an ophthalmoscope, rechargeable power handles, iExaminer adapter, batteries and plug-ins, and a soft storage case. Get the best of optic technology in one package deal. 11820 PanOptic™ 3.5V Ophthalmoscope
5x larger view of the fundus vs. standard
Greater working distance
Halogen HPX® lamp provides bright, white light
Slit aperture, red-free filter, cobalt-blue filter on corneal viewing lens
Digitally capture, store, and share fundus images by combining with iExaminer
Dynamic focusing wheel allows continuous, smooth action and more precise control
Compatible with all existing Welch Allyn 3.5V power sources
11840-A6P iExaminer Adapter
Turns PanOptic Ophthalmoscope into a mobile digital imaging device
Compatible with iPhone 6 and 6s
71900 3.5V Rechargeable Power Handle
120 minutes of on-time
110V charging module
71960 Lithium-Ion battery
IEC Plug Type-A
Set comes in a soft case. 90 day warranty.
Reviews
Related Products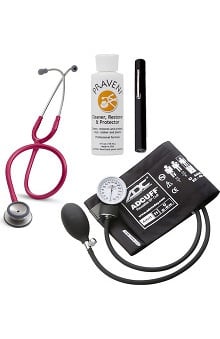 The 3M™ Littmann® Classic II SE, ADC Phosphyg ...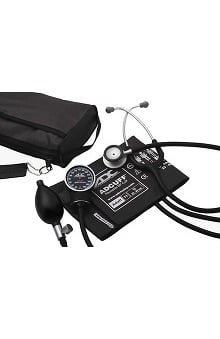 Two versatile diagnostic instruments combine in the ADC® ...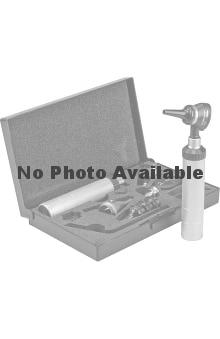 This opthalmoscope easily fits in your chest pocket. ...