This Welch Allyn 97120-C 3.5V Standard Diagnostic Set comes with the versatile and economical 11710 3.5v Standard Ophthalmoscope and Pneumatic Otoscope. The universal rechargeable handle includes a battery converter accessory that allows the handle to be powered by C-cell batteries, a handy feature if you're on call or have forgotten to charge the battery.

11710 3.5V Standard Ophthalmoscope
Halogen light for true tissue color and consistent, long-lasting illumination
28 focusing lenses with a range of -25 to +40 diopters
Apertures: micro, small, large, fixation target, slit, red-free filter
Rubber brow rest prevents scratching of eyeglasses
Traditional flat-top design
20200 3.5V Pneumatic Otoscope with Specula
Halogen HPX™ lamp achieves true tissue color
Consistent, long-lasting illumination, Rotating lens with ultra-seal enables easy pneumatic otoscopy
Fiber-optic illumination for cool light
Set of 5 reusable ear specula included
71000-C universal rechargeable handle
Smooth, nonabrasive knurled finish for no-slip grip
Chrome-plated brass construction for durability
C-cell battery converter accessory included
72300 Nickel-Cadmium battery
IEC Plug Type-A
Set comes in hard case
Chiropractic Physician & Radiologist
Everything was fine . Thank You:)
Description
This Welch Allyn 97120-C 3.5V Standard Diagnostic Set comes with the versatile and economical 11710 3.5v Standard Ophthalmoscope and Pneumatic Otoscope. The universal rechargeable handle includes a battery converter accessory that allows the handle to be powered by C-cell batteries, a handy feature if you're on call or have forgotten to charge the battery.
11710 3.5V Standard Ophthalmoscope
Halogen light for true tissue color and consistent, long-lasting illumination
28 focusing lenses with a range of -25 to +40 diopters
Apertures: micro, small, large, fixation target, slit, red-free filter
Rubber brow rest prevents scratching of eyeglasses
Traditional flat-top design
20200 3.5V Pneumatic Otoscope with Specula
Halogen HPX™ lamp achieves true tissue color
Consistent, long-lasting illumination, Rotating lens with ultra-seal enables easy pneumatic otoscopy
Fiber-optic illumination for cool light
Set of 5 reusable ear specula included
71000-C universal rechargeable handle
Smooth, nonabrasive knurled finish for no-slip grip
Chrome-plated brass construction for durability
C-cell battery converter accessory included
72300 Nickel-Cadmium battery
IEC Plug Type-A
Set comes in hard case
Reviews
Chiropractic Physician & Radiologist
Everything was fine . Thank You:)
Related Products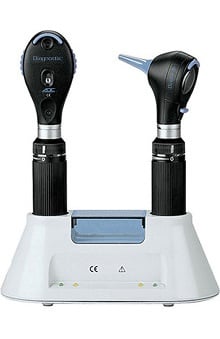 Precise ears, eyes, nose and throat tools stay ...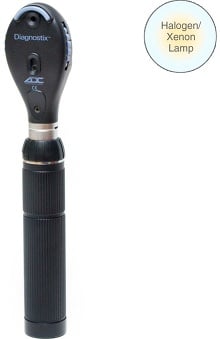 You'll appreciate the convenience of this ADC® 3.5V ...
Portability adds convenience to this ADC® 3.5V Diagnostix™ ...