Welch Allyn
18320-C Diagnostic Set with 3.5V Coaxial Ophthalmoscope, Retinoscope, Convertible Handle & Hard Case
| | | |
| --- | --- | --- |
| Quantity | 1 | 2 |
| Unit Price | $826.98 | $824.49 |

The Welch Allyn 18320-C Diagnostic Set includes an ophthalmoscope, retinoscope, and rechargeable handle in a portable hard case. A convenient C-cell accessory allows you to charge the handle when you're on-the-go so that you're always prepared.

11720 3.5V Coaxial Ophthalmoscope
Halogen HPX™ illumination for true tissue color
Polarizing filter virtually eliminates corneal reflection
18 unique aperture/filter combinations
28 focusing lenses with a range of -25 to +40 diopters
Detects corneal abrasions with cobalt blue filter
Traditional flat-top design
18245 Elite Retinoscope
2.8x the brightness and superior streak quality versus the standard for quicker refractions
Optional crossed-linear polarizing filter removes 99% of glare from trial lenses
Sealed optics keep dust out and optics clean for a more effective exam
External focusing sleeve offers continuous rotation
71000-C universal rechargeable handle
Smooth, nonabrasive knurled finish for no-slip grip
Chrome-plated brass construction for durability
C-cell battery converter accessory included
72300 Nickel-Cadmium battery
IEC Plug Type-A
Set comes in hard case
Description
The Welch Allyn 18320-C Diagnostic Set includes an ophthalmoscope, retinoscope, and rechargeable handle in a portable hard case. A convenient C-cell accessory allows you to charge the handle when you're on-the-go so that you're always prepared.
11720 3.5V Coaxial Ophthalmoscope
Halogen HPX™ illumination for true tissue color
Polarizing filter virtually eliminates corneal reflection
18 unique aperture/filter combinations
28 focusing lenses with a range of -25 to +40 diopters
Detects corneal abrasions with cobalt blue filter
Traditional flat-top design
18245 Elite Retinoscope
2.8x the brightness and superior streak quality versus the standard for quicker refractions
Optional crossed-linear polarizing filter removes 99% of glare from trial lenses
Sealed optics keep dust out and optics clean for a more effective exam
External focusing sleeve offers continuous rotation
71000-C universal rechargeable handle
Smooth, nonabrasive knurled finish for no-slip grip
Chrome-plated brass construction for durability
C-cell battery converter accessory included
72300 Nickel-Cadmium battery
IEC Plug Type-A
Set comes in hard case
Reviews
Related Products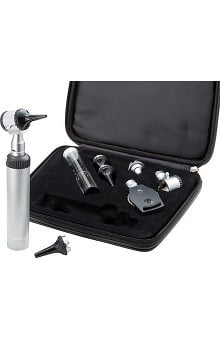 Expect ultimate performance and convenience from the ADC® ...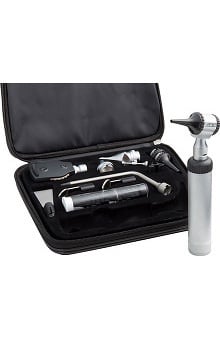 Keep vital instruments within arm's reach with this ...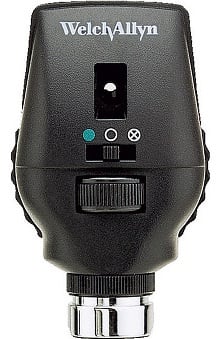 The Welch Allyn 11721 3.5v Ophthalmoscope Head features ...