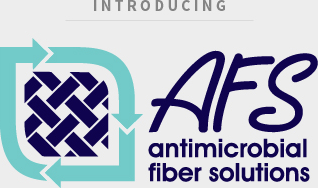 Antimicrobial Fiber Solutions has created a revolutionary line of sustainable scrubs and lab coats with
built-in antimicrobial protection

that won't wash or wear off for the useful life of the garment!

Great for groups!
Available exclusively at
AFS products are distributed exclusively
by us at extremely competitive prices
that make these antimicrobial products a
revolutionary value as well!
Safety Weave by AFS™, better for the environment
The number of water bottles we've saved from land fills to create these scrubs and counting!
0%
The reduction in effectiveness after repeated washings. AFS antimicrobial is effective for the useful life of your garment.
%
The percent of fiber in the fabric used to make AFS scrubs that is made from recycled plastic bottles. That makes them not only safer for people but better for the environment. Clean and green!
The number of days this product is safe to use in a year. Yep, the antimicrobial agents are registered with the EPA and safe for everyday use! They're also non-carcinogenic and non-allergenic.
Keeping the world safe never looked so good!