Athmedic
Medical + Athletic = Comfortable scrubs that go the distance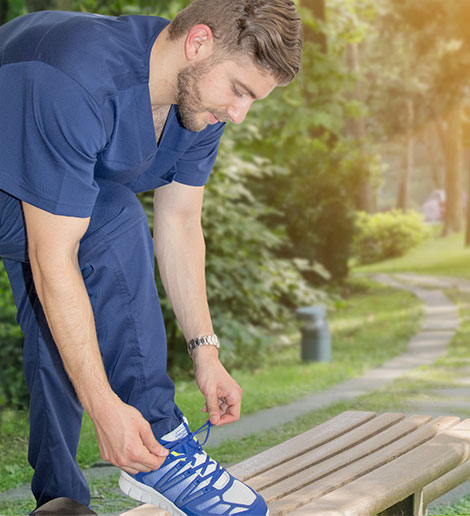 Working in the medical field sometimes feels like you're really a professional athlete. You have to be quick, agile, and able to lift patients of any size. Shouldn't your scrubs perform as well as you do? We think so.
Fit
Athletic fit scrubs are crafted to sit a little closer to the body and move freely without extra fabric to bunch up or get in the way. This means a sleek, straight leg line that may even be a bit tapered, but will still fit over any sneaker. Scrub tops will give you more of that "athletic fit" you find in dress shirts- less boxy, but not too tight.
Details
Yokes are seams at the chest and shoulders and are a staple detail of athletic wear. You'll almost always find a chest pocket on athletic style scrub tops and slip pockets instead of patch pockets for that streamlined look. There's always elastic on the waistband of athletic scrub pants, and sometimes a hidden drawstring, too so you can customize your fit.
Fabric
Expect stretch. You can't move freely without it, so you'll find plenty of it in addition to softness for comfort. Another fantastic feature of athletic style scrubs is moisture-wicking. Special fabrics like the ArcDry™ used in Active by Grey's Anatomy scrubs pull moisture away from the skin so sweat doesn't get in your way.
Fabric like the ArcDry™ used in Active by Grey's Anatomy scrubs pulls moisture away from the skin.
Athmedic scrubs keep you looking professional and feeling like you can run marathon- or whatever feat your day demands.