Eko Digital Stethoscope Spotlight: The DUO ECG + Digital Stethoscope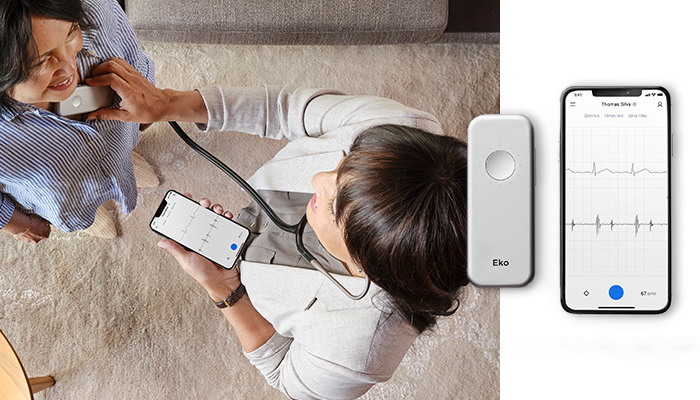 The Eko DUO is a digital stethoscope that combines the auditory analysis of a traditional stethoscope with the electrical signal tracings of an ECG. This combination provides unprecedented insight into cardiovascular function and makes it easier to diagnose patients quickly and accurately. This is the first ever combined digital stethoscope and handheld ECG and will pave the way for more portable and accessible medical devices.
Not only that, but the Eko Duo also provides up to 60X amplification of heart sounds, which enables medical students and clinicians to feel more confident in their assessment. If traditional stethoscopes don't provide the audio quality that you need, the Eko Duo is an excellent solution that will provide easy-to-hear audio and contribute to more accurate diagnostics.
By pairing with the free Eko mobile app over Bluetooth, you can display both sound waveforms (phonocardiogram) and ECG tracings (electrocardiogram) in real-time. You also get unlimited recording space, so you can record, visualize and save all your data to your patients' records in Eko's secure cloud storage. If you need to remotely monitor a patient or check in during a telemedicine appointment, you can live stream the high-quality stethoscope and ECG signals over Eko's HIPAA-compliant platform.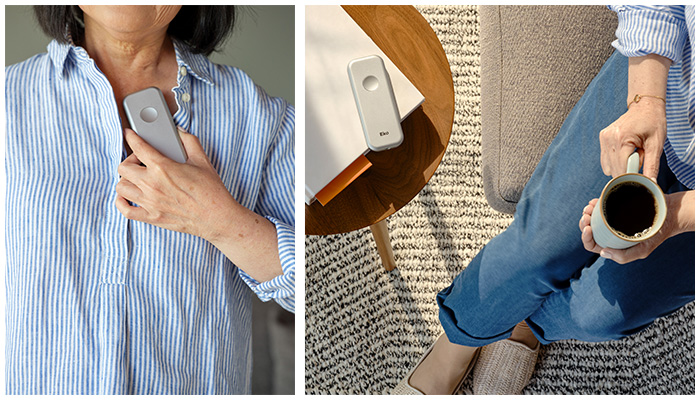 Obviously, the Eko DUO stethoscope offers many exciting possibilities for clinicians. However, it can also be used by patients for monitoring and management beyond the clinic by physician prescription.
Specifications for the Eko DUO Digital Stethoscope
The Eko DUO ECG + Digital Stethoscope is a slender, rectangular device that measures 4.7" (119mm) by 1.9" (47mm) by 0.6" (16mm). It can be used on its own or plugged into the included tubing and used as a traditional stethoscope head. The device is FDA-cleared and comes with a one-year manufacturer's defect warranty.
The device itself is made of machine aluminum and high-impact ABS thermoplastic, so it's free of latex and phthalate plasticizers, which some people are allergic to. The simple, elegant design is user-friendly and easy to navigate.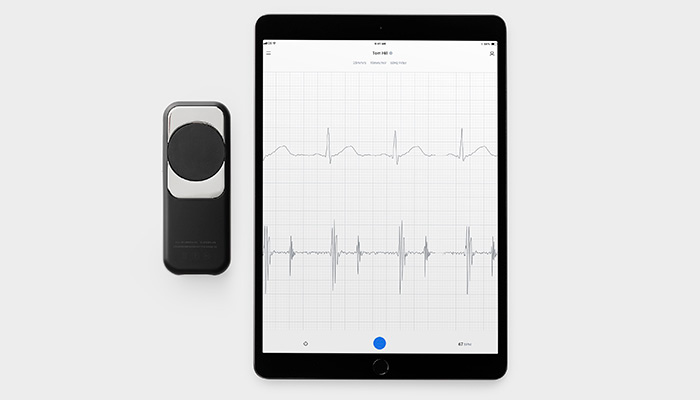 You will need to download the Eko app in order to display, save, and share the data collected. The app is compatible with iOS, Android and Windows devices and can export the recordings as PDF and WAV file formats. Clinicians can capture 15, 30, 60 or 120-second recordings to chronicle a patient's exam history, and share those recordings for a second opinion or a referral.
The lithium ion batteries provide nine hours of power before it needs to be recharged, and the device automatically powers down after five minutes of no use. The DUO also comes with a wireless charging pad, 1.2m micro USB charging cable and a USB power adapter.
The DUO provides four audio filters for real-time listening: diaphragm, bellmode, midrange and extended. The ambient noise reduction helps amplify the audio up to 60x, and the super-bass driver provides premium quality audio. The soft seal removable ear tips block out even more background noise–and if you prefer to listen with traditional headphones, the 3.5mm headphone jack is also compatible with those. As for the ECG part of the DUO, the device has a selectable 50/60 Hz main filter, 0.01 Hz high pass filter, two stainless steel electrodes and a 500 Hz sample rate for superior listening.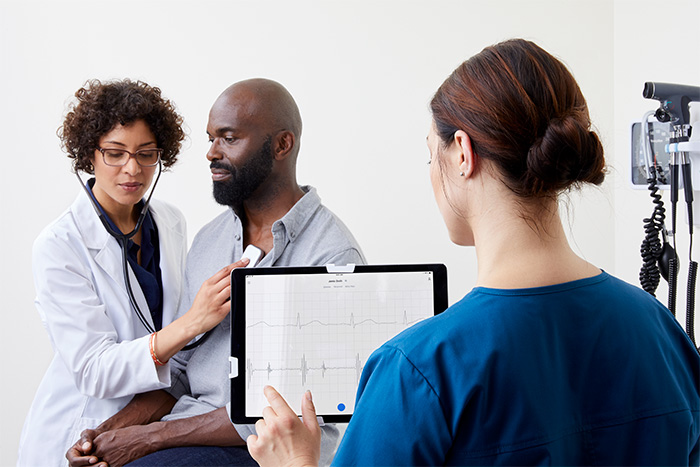 How is the DUO different from other digital stethoscopes?
The DUO clearly has a lot to offer, but you may still be wondering exactly how it's different from other digital stethoscopes on the market. Now, some Bluetooth stethoscopes currently available do offer some of the same capabilities as the Eko DUO.
What really sets the Eko DUO digital stethoscope apart is the combination of the ECG with the traditional features of a Bluetooth stethoscope. By incorporating the ECG capabilities, Eko has made it easier than ever to accurately diagnose heart conditions using only one device, saving providers time and money. Both clinicians and patients benefit from having both of these features in a single, portable device. If you're a physician or cardiologist who constantly screens patients for arrhythmias, having that extra functionality can help you quickly and accurately diagnose a patient.
While not as cheap as a standard stethoscope, the Eko DUO is comparably priced to other digital stethoscopes and a lot more affordable than a full ECG machine. Some patients may also experience delays in scheduling a separate appointment to get tested with a traditional ECG machine, which can further delay their necessary treatment. As medical technology continues to advance, we'll begin to see more and more affordable, portable diagnostic devices like the Eko DUO. If you listen to patients' hearts often, you should definitely consider incorporating the Eko DUO stethoscope into your practice.