3M Littmann Stethoscope Care + Tips
Make the most of your Littmann stethoscope with professional tips
CHECK OUT ESSENTIAL TIPS & MORE FOR YOUR 3M LITTMANN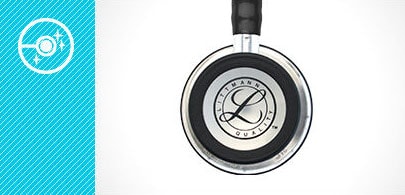 Cleaning & Care
Make sure your Littmann always looks fresh and new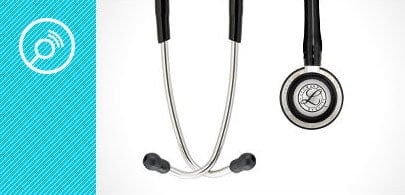 5 Essential Tips
Create optimal performance by following this list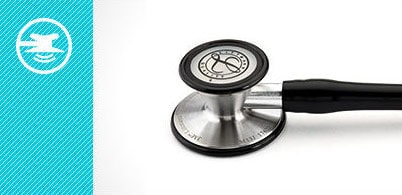 Tunable Technology
Master high and low frequency listening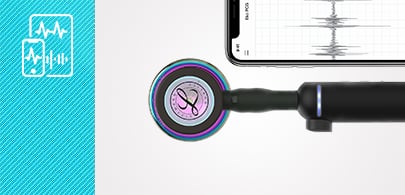 Do It Digitally
Upgrade your auscultation with electronic stethoscopes
Cleaning & Care
Keep your Littmann looking and feeling brand new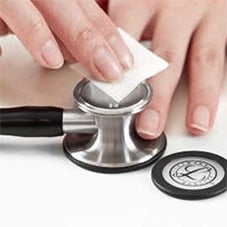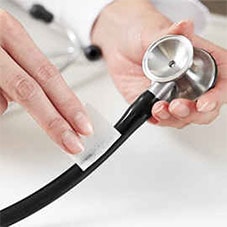 Routine cleaning is the best way to prolong the life of your stethoscope. We recommend Praveni products to keep your Littmann in top condition.
GENERAL TIPS
Disinfect with a 70% isopropyl alcohol solution wipe
Never submerse in liquid or sterilize
Keep away from extreme heat, cold, solvents and oils
Tunable diaphragms can be removed from a chestpiece and wiped with alcohol or soapy water, then dried thoroughly before reassembly
Remove eartips from the eartubes for cleaning and make sure eartips are snapped firmly back onto the ribbed ends of eartubes for safety.
Avoid folding tightly
Help resistance to skin oils by wearing over a collar
SAFE STORAGE
Keep your Littmann secure when it's not in use with our allheart stethoscope case.
Interior foam padding
Stethoscope indent for protection
Mesh pocket for spare parts
Lightweight EVA material
5 Essential Tips
To ensure optimal performance and wearability
1. Align the Headset
Make sure eartips point away from you (Figure A)
Pull the headset open for safe and easy insertion (Figure B)
Not comfortable?
All Littmann headsets are adjustable- squeeze eartubes for more tension, pull them apart for less tension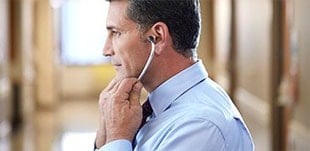 A. Proper Insertion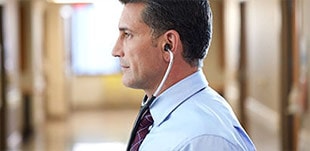 B. Correct Positioning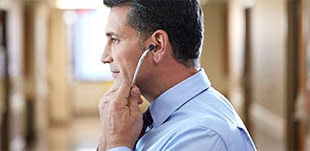 C. Incorrect Positioning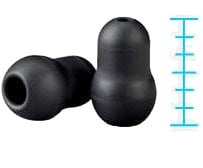 2. Fit Your Ear
Choose from small or large eartips to find the best fit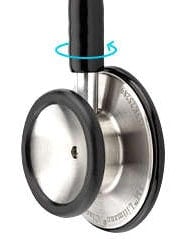 3. Choose Your Side
Make sure you open or index the side you want to use. Only the diaphragm or bell can be open- not both. One blocks sound from the other.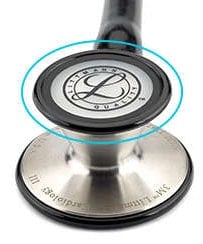 4. Keep the Pathway Open
Don't let dirt and debris accumulate and obstruct your sound. If you use a Littmann Cardiology III™ or Classic III™ stethoscope, using the removable
5. Check the Seal
An airtight seal is essential to sound transmission. Anything from cracked tubing to improperly seated eartips can prevent a proper seal.
TUNABLE TECHNOLOGY
Master high and low frequency listening
Littmann invented tunable technology so you could hear different sounds just by the amount of pressure applied to the chestpiece. No more unscrewing and changing diaphragms and bells, turning over, or repositioning the chestpiece.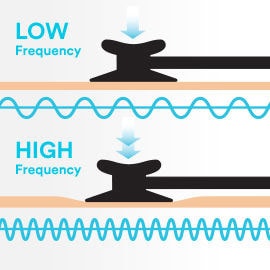 LOW-FREQUENCY SOUNDS
Light pressure
Keep chestpiece suspended
HIGH-FREQUENCY SOUNDS
Firm pressure
Diaphragm movement restricted
Low frequency sounds blocked
DO IT DIGITALLY
Learn the ins and outs of the next generation CORE model