Unisex Fit Chart:
Top Details: This silhouette is classic and relaxed with room to breathe at the sides, in addition to a longer sleeve length which accommodates both men's and women's arm sizes. Unisex scrub tops tend to run longer than other fits.
Pant Details: Both drawstring and elastic waistbands on a unisex fit pant have a higher rise, and sit closer to your natural waistline. The legline is typically straight and offers plenty of room around the leg as well as at the seat.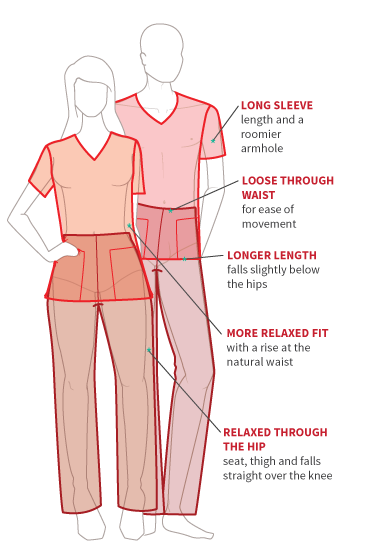 Size Tip
If you're a guy ordering unisex fit scrubs, they should ideally be true to size. For the ladies, consider ordering one size smaller than you would in a women's fit scrub top or pant.