Lab Coat Fashion: 5 Tips for Choosing a Feminine Lab Coat
Lab coats, but make it fashion. While it might seem impossible to find a white lab coat that looks like anything else but a box with buttons, there are flattering lab coats for women out there. You just need to know how to choose them. Below, we walk you through five things you need to keep in mind during your quest for a stylish lab coat.
Work Environment
There are different expectations—both practical concerns and long-standing traditions—that dictate what type of lab coat is worn in different medical environments. A shorter, more open lab coat with big pockets (like the Pro by META Labwear Women's 32" Lab Coat) might fit in if you're working in a clinic or doctor's office. A longer, full closure coat with knit cuffs is a better fit for dentist offices, where there is a higher risk of splatter. If you're in the market for a new lab coat, make a note of the various styles that your colleagues wear, especially fellow women. That will give you a lot of inspiration and a sense of what attire is expected in your workplace.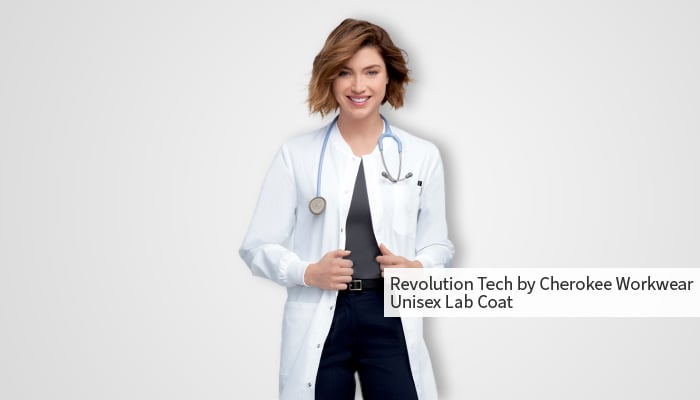 Silhouette and Size
You might associate lab coats with large, shapeless sacks of fabric. While unisex lab coats are definitely available (and some women find the roomy fit more comfortable), there are also lots of lab coat styles specifically tailored to a more feminine shape. These women's lab coats use front and back princess seams, back belts and other features to create more of an hourglass silhouette. They are available in many sizes, from XS through 4XL or 0-18 (so if you're wondering whether or not plus size lab coats are available, the answer is yes!).
Like scrubs, women's lab coats come in two main fits: junior contoured fit and missy relaxed fit. As the names indicate, a junior fit (like the Infinity by Cherokee Women's Princess Seam 40" Lab Coat) is more tailored and gives you less room to move, while a missy relaxed fit (such as the Medelita Women's Vandi lab coat) provides a bit of a looser fit and is better for layering over more clothes. Obviously, if you're more comfortable in a unisex fit, you can stick with that, but if you'd prefer something a little more tailored, definitely check out one of these other lab coat styles.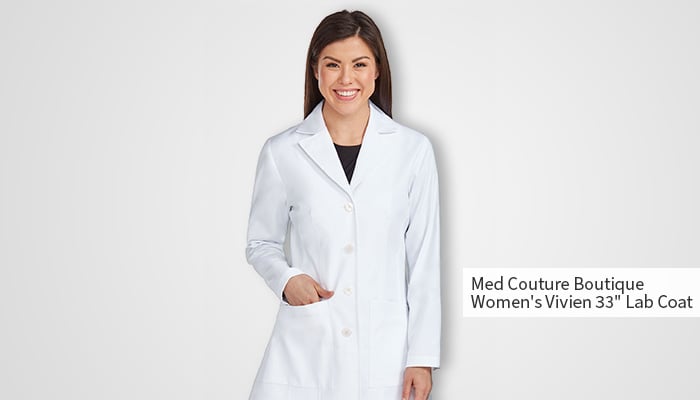 Length of the Coat
The length of the coat that you select will depend on both how tall you are and what you normally wear underneath your coat. For example, pants of any length work with any type of coat, but a shorter coat is better if you tend to wear knee-length skirts. That way, your coat doesn't completely cover up your outfit.
Here are the standard lengths for lab coats:
Consultation Length = 27-32 inches
Mid Length = 29-35 inches
Full Length = 36-45 inches
Petite women will probably gravitate towards consultation length coats, while taller women will want full length coats. If you're of average height, a lab coat in the middle—such as the Med Couture Originals Women's 37" Lab Coat—might be the perfect compromise. Don't forget to grab a measuring tape and double-check where a lab coat will hit before you hit the order button.
Fabric
The fabric that a lab coat is made of will affect how it lays and, therefore, how flattering it is. Thicker fabric will result in a more bulky garment that may be less flattering than one made of a thinner fabric. Here are common fabric types to watch out for:
Poplin: Sometimes called broadcloth, this high thread count fabric is made from alternating threads that result in a thin, smooth, durable material. This is better for hotter environments.
Twill: Heavier than poplin, twill fabric features weft threads that run over or under multiple warp threads at a time, creating patterns and thickening the fabric. This is better for cooler environments.
Micro-sanded: This finishing technique breaks up the surface of the fabric to make it feel softer and more flexible. Keep in mind that hair does cling very easily to this finish, so it might not be the best choice for vets.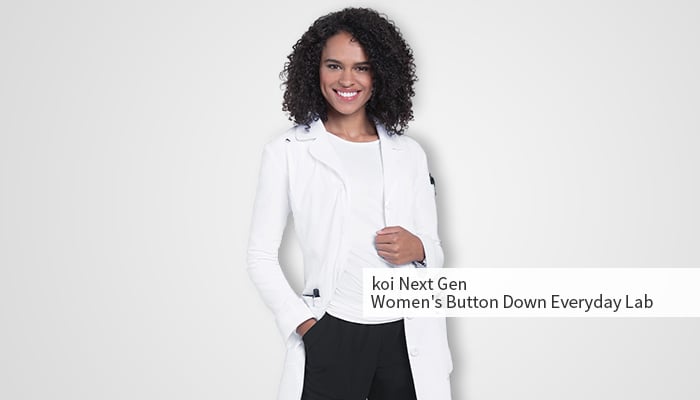 Other Features
It's the small details that make lab coat fashion choices stand out. Lapels, pockets, closure styles and other details will tweak the functionality of your lab coat and set it apart from that of your peers. There's no right or wrong answer. It's whatever you prefer!
A stylish lab coat isn't an oxymoron and, with this guide, you're now equipped to find flattering lab coats for yourself. If you're looking to buy a coat, check out our selection of fashionable lab coats for every body and budget.