6 Stylish Lab Coats for Students, Doctors and Nurses
Lab coats tell the world that you've earned your place in the medical field. But not all lab coats are created equal. While you've probably seen lots of shapeless and rumpled lab coats, there are plenty of stylish lab coats to choose from. Below, we highlight six of our most popular lab coats that will keep you looking good.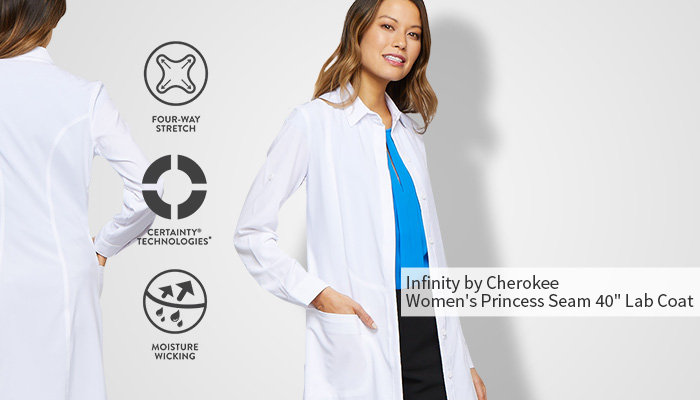 This full-length lab coat features CERTAINTY® Antimicrobial Fabric Technology that helps inhibit the growth of bacteria, yeast and algae. This technology also works to minimize odors and stains from bacteria and prolongs the life of the garment. This doctor lab coat features a junior fit for a contoured, contemporary fit and athletic styling. The fabric is a 95% polyester, 5% spandex blend. Style details include a point collar, adjustable long sleeves with roll-tab button cuffs, front welt pockets, covered button-front placket closure, tuxedo-style front seaming, back princess seaming and a long-curved shirt-tail hemline at the back.
Our customers love this stylish lab coat for its unique, elastic cuffs, which are designed to protect your wrists and provide extra comfort. The lab coat collar also comes with a neck gripper that won't lose its shape through industrial laundering. The unisex fit looks great on men or women, and the durable 80% polyester, 20% combed cotton fabric blend will last through many washes. The coat also features two front patch pockets to hold whatever you need to carry with you on your rounds.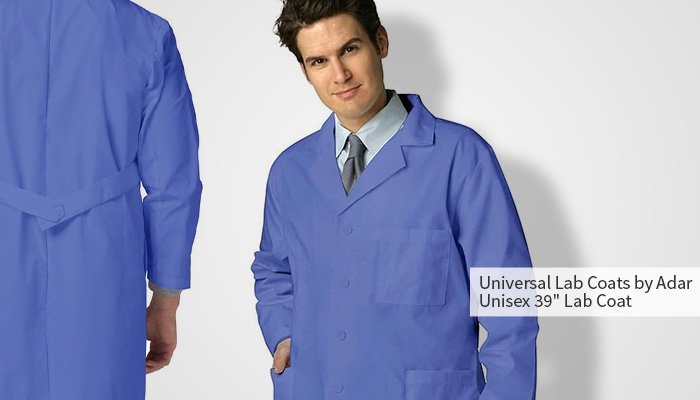 If you've always considered colored lab coats, look no further than this collection of Universal Lab Coats by Adar. They come in 10 different colors, including white, black, burgundy and royal blue. This lab coat is made of a 65% polyester, 35% cotton blend and features long sleeves with vents for superior cooling. It also boasts a single chest patch pocket with a pen slot, two front patch pockets and one interior pocket for extra storage space. Other features include side access, a buttoned back belt and a back vent at the hem.
If you're looking for a women's lab coat, but not the tailored junior fit, then you should check out this missy fit lab coat from META Labwear. This coat offers a relaxed fit that's tailored to your form with a pleated back and a sewn-down belt. The soil-release twill fabric is made from a blend of 80% polyester and 20% cotton that combines both durability and comfort. Other features include two deep patch pockets, a chest pocket with a pen slot, two inside pockets and a scissors holder. This coat is also available in a tall size with a center back length of 40" and a sleeve length of 25".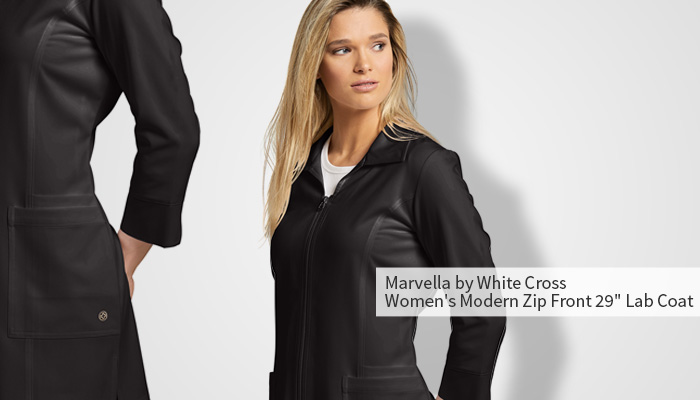 If you'd prefer a zip-up, then we recommend this modern look from Marvella by White Cross. The ¾ length sleeves, spread collar and missy relaxed fit help to update the traditional doctor lab coat silhouette. Made from a 62% polyester, 34% rayon and 4% spandex fabric blend, the lab coat is available in both black and white. With a center back length of 29", the coat features two large front patch pockets with an interior slip pocket, side vents at the hem for extra cooling and back princess seaming for an improved fit. You'll love the flattering look and the convenience of the zipper — in fact, you might never want to go back to button up lab coats again.
This lab coat sets itself apart with a rounded collar that offers a feminine touch. Part of Barco's Grey's Anatomy™ brand, this three-button lab coat comes in a junior contoured fit. The 70% polyester, 25% rayon, 5% spandex fabric blend combines durability, fit and comfort for long-lasting wear. This coat offers plenty of storage space thanks to the front patch pockets and the breast pocket with a pen stitch. Set-in sleeves and a loose back belt with button complete the updated look.
A stylish lab coat isn't an oxymoron. Choose from the six options highlighted here or shop some of our curated lists to help you narrow-down all the choices.