6 Tips for Choosing Women's Scrub Pants
The best scrub pants are functional and flattering, but finding this winning combination can be oh so difficult. To help you out, we've put together a guide to walk you through the six steps of choosing the best women's uniform pants: taking your measurements, picking your size, deciding on the best fit, choosing your fabric options, selecting your favorite colors and thinking about what features you need.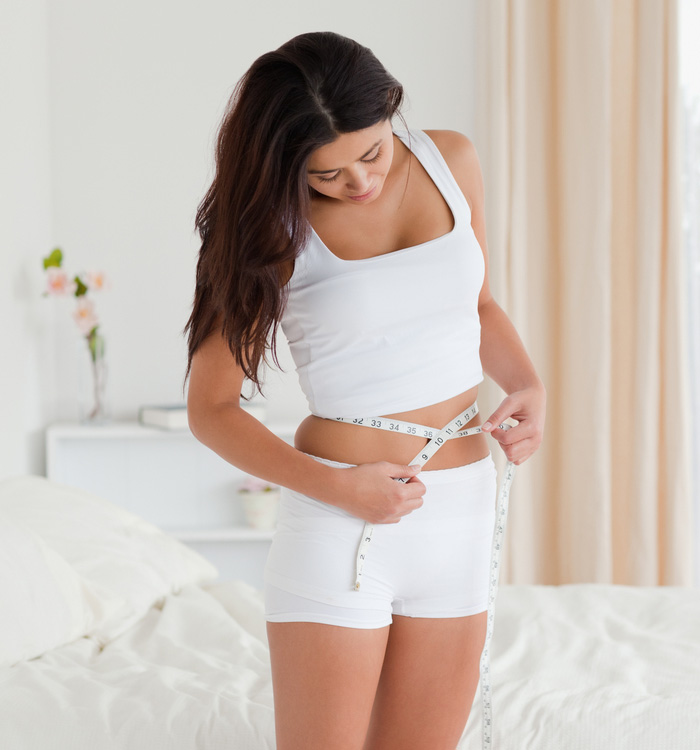 Take your measurements.
The first step to choosing any clothing, including women's uniform pants, is to take your body measurements. For pants, you should measure three different locations:
Waist: Measure just under the natural waistline (i.e., the smallest part of your waist), taking care not to pull the tape measure too tightly.
Hips: Stand with your feet together and measure around the fullest part of the hips.
Inseam: Measure along the inside of the leg to an inch below the ankle.
Mark down your measurements and then compare them to each brand's size chart. This last step is critical, as sizes can vary from line to line, and you might be an 8 in one brand but a 10 in another.
Pick your size.
Most major brands offer regular, petite, tall and plus sizes to ensure you can find the perfect fit no matter what. Here's the difference between these four options:
Petite: Intended for nurses who are 5'4" and shorter, these scrubs feature shorter hems but use the same sizing conventions as regular length pants otherwise.
Tall: Intended for nurses who are 5'9" and taller, these scrubs feature longer hems but use the same sizing conventions as regular length pants otherwise.
Plus Size: Different scrub brands follow different sizing conventions, but if you wear a size 12 and up, consider plus size styles.
Regular: If you don't fall under any of the above categories, you should look into regular size scrubs. These scrubs are intended for women who aren't particularly short or tall and who typically wear a 0 to 12 in everyday apparel.
Choose your true size if you prefer your scrub pants to be more fitted, or size up for roomier clothes.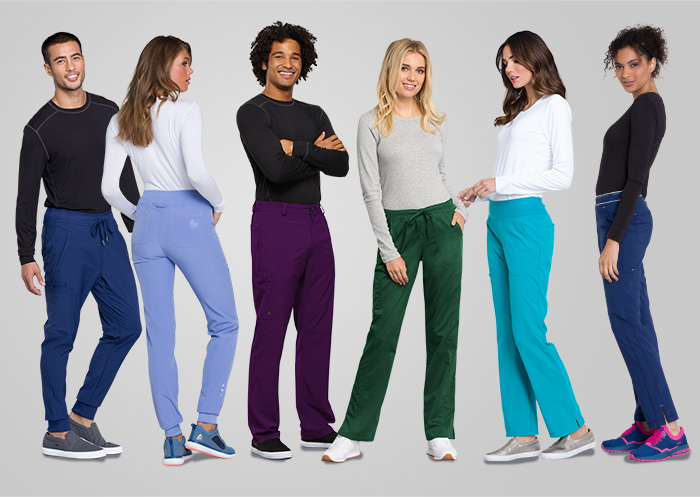 Decide on the best fit.
Once you've taken your measurements and decided on the right size, it's time to choose a fit. There are general four main styles when it comes to scrub pants:
Missy Fit: These pants have a more traditional silhouette, sitting just below your natural waist. The legs are relaxed through the hip, seat and thigh and give you plenty of room to move.
Junior Fit: These pants have a lower rise, usually closer to your hip line. The legs are more fitted through the hip and thigh for a more streamlined look compared to the missy fit.
Unisex Fit: Unisex scrubs are made to fit both men and women, so a small will be closer to a men's size than women's. The overall fit is a basic natural waistline and a straight leg. For unisex scrubs, women should usually order one size down from what they normally wear.
Athletic Style: This cut is designed to move with you, offering a moderate rise waist and special features such as mesh perforations or knit panels. Waistbands are usually adjustable or stretchy for extra comfort.
Choose your fabric options.
Not all scrub fabrics are created equal. Most women's uniform pants are made from various blends of popular fibers, such as cotton, polyester, rayon and spandex. The fabrics have different properties depending on the percentage of each fiber, as well as the weave and finish. For more information about scrub fabric, see our ultimate guide.
Select your favorite colors.
Scrub pants come in literally dozens of colors in all shades of the rainbow. While you don't typically see allover prints in pants like you do tops, there are still plenty of hues that ensure you find the exact shade you've been looking for. You can opt for a classic neutral like black, white or grey, or go wild with bright colors like hot fuschia and icy purple.
Think about what features you need.
Depending on the design, scrub pants may offer different features such as antimicrobial fabric treatments, pockets of all sizes, mesh vents for breathability, knit panels for extra movement, drawstring and/or elastic waists and more. Use these features to narrow down your selection and make your final purchase.
Hopefully, this guide will help you choose the right scrub pants from the outset—but if you don't, allheart.com offers a convenient, flexible return policy to ensure that you're totally satisfied with your new scrub pants. If you have questions about a specific brand's sizing or fit chart, our customer service representatives will be happy to help find the perfect scrub pants for you.