Scrubs for Men: Best Brand and Fit Options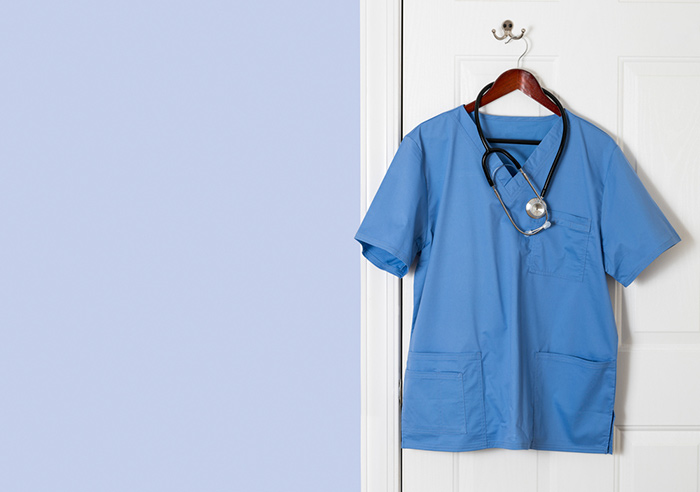 To help you choose the best scrubs for men, we've outlined the eight essential steps to finding the perfect set. Then, we wrap up the guide by highlighting seven different brands that make some of our favorite medical scrubs for men.
How To Choose Medical Scrubs for Men
Whether you buy a budget medical uniform or invest in top-of-the-line scrubs, you could be wearing them for 12 or more hours a day, so you want to make sure that they fit correctly and will last for a long time. Here are the eight steps you should follow to ensure that you're selecting the best set of scrubs for you: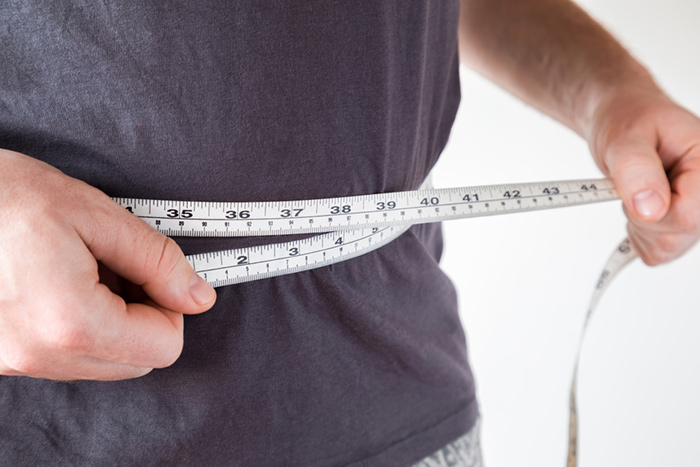 1. Take your measurements.
The first step to choosing clothes of any kind, including scrubs, is to take your measurements. Men will want to get a flexible tape measure and measure their chest at the widest part, their natural waistline, their hips at the widest part (while standing with feet together) and their inseam (the inside of their leg to an inch above the ankle). Write down your measurements so you have them on hand for easy reference.
2. Choose your size.
Now that you've got your measurements, it's time to select your size. Compare your measurements to the size chart for each brand. If you like things more fitted, choose your true size or size up if you prefer a roomier fit. It's important to look at the size chart for each brand because different companies cut and size garments differently. A medium at one brand may be more comparable to a small in another, even if you're buying both company's scrubs from the same retailer.
3. Investigate the fabric blend.
We published an entire guide covering just scrub fabric, but we'll briefly recap the highlights here. The four main types of fibers are cotton, polyester, spandex and rayon. Cotton is lightweight, soft, flattering and durable, but it may shrink, and it soils and wrinkles easily. Polyester is wrinkle-resistant, easy to care for, durable, quick-drying and resistant to both stretching and shrinking; however, it tends to trap sweat and other moisture, and its texture can be a bit rough. Cotton/polyester is a popular fabric blend for scrubs because the two fibers balance each other out.
As for the other fibers, spandex adds stretchiness to fabrics and is often blended with cotton and/or polyester. Rayon can mimic the look and feel of many types of fabrics and is often blended with other fibers as well. The qualities of the resulting fabric depend on the exact percentages of each fiber, so pay attention to the label. For example, the higher the spandex content, the stretchier the scrubs will be.
4. Learn about fabric weaves.
Fibers and blends aren't the only factors you have to consider. The weave of the fabric—or how the horizontal (weft) and vertical (warp) threads are interlaced—affects the texture and durability almost as much as the fibers themselves. Weave can usually be determined by closely examining the fabric or zooming in on the image. There are three main weaves used in scrubs: poplin, dobby and twill.
Poplin is a plain weave with crosswise ribs that give it a corded surface and prevent wrinkles. Fabric created with a poplin weave is the same on both sides, making it a popular choice for printed fabrics. Dobby fabric features unique textures and geometric patterns that are created by raising and lowering the warp (vertical) threads individually. The resulting fabric is extra absorbent and wrinkle-resistant. Twill fabrics feature diagonal, parallel ribs, resulting in a lot of texture and visual interest. This texture also disguises stains and resists wrinkles—a great quality for scrubs to have.
5. Examine fabric finishes and treatments.
After it's woven, the fabric may be treated with additional coatings or processes to add different qualities to the materials. For example, brushing cotton removes excess lint and fibers and results in a super smooth, very soft fabric. Fluid-repellent and moisture-wicking finishes are also very common for scrubs. Antimicrobial scrubs are also usually treated with some type of coating to help reduce the transmission of bacteria and other germs. Finishes and treatments can affect the feel of the fabric, so read the fine print to see what alterations have been made to the material.
6. Decide what features you need.
Not all medical uniforms are created equal. While scrubs for men may follow the same basic design, each brand and style will have a slightly different set of features. A single chest pocket is pretty standard on a scrub top, but hip pockets aren't. Some medical professionals like side slits for ease of movement, while others don't. Certain performance scrubs feature mesh panels for ventilation. Scrubs pants may offer a drawstring or elastic waist and any combination of pockets. There's no right or wrong answer, but think about the features you most need or want in your scrubs and use that to narrow down your search.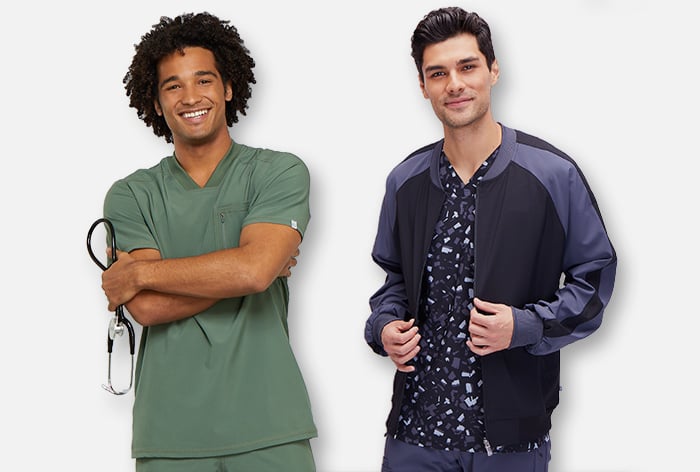 7. Select a color or print.
Now it's time for the fun part! There are literally dozens of colors of scrubs for every skin tone and color code: black, white, red, green, blue, navy, orange, pink, dark grey, light grey, khaki, purple, teal…the list goes on. Choose scrubs tops and bottoms of the same color for a monochrome look (make sure both pieces are made by the same brand and are in the same collection to ensure an exact color match). Or opt for two complementary or contrasting hues for more of a color-blocking aesthetic. Of course, we can't forget the many scrub print tops that are available in patterns from camouflage and abstracts to superheroes and Star Wars.
8. Consider personalization.
The last step is to decide whether or not you want to personalize your scrubs with custom embroidery. Usually only solid garments can be personalized because the embroidery does not show up well on patterned fabrics. You can choose an emblem or logo and up to three lines of text on either the left or right side of the chest (or both). There are also multiple thread colors and font types to choose from so you can get exactly the look you want. Other garments besides scrubs can also be personalized, including lab coats, t-shirts, scrub caps and more.
Best Scrubs for Men
So now you know how to buy medical scrubs for men. But what brands should you consider? Below, we highlight some of our favorite scrub brands for men, from budget-conscious basics to feature-laden performance wear.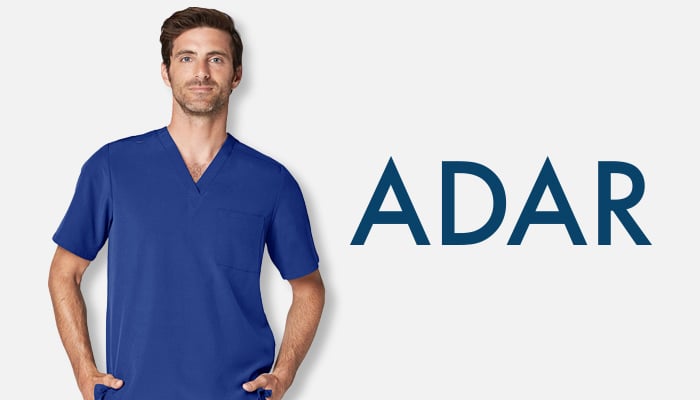 Adar
Founded in 1971, Adar Uniforms brings more than 45 years of experience to designing medical uniforms. Their scrubs are fashionable, practical and high performance. Their Universal Basics will provide a great foundation if you're beginning to build out your scrub collection. The Addition collection is wrinkle- and odor-resistant, wicking and cooling and antimicrobial. The fabric also provides four-way stretch. The Responsive collection also features four-way stretch panels and is wrinkle- and odor-resistant, plus the fabric is treated with a fluid-resistant finish. Their scrubs feature thoughtful touches such as bungee ID loops, contoured side vents and stretch grosgrain binding. Adar also offers other basics such as lab coats in addition to scrubs.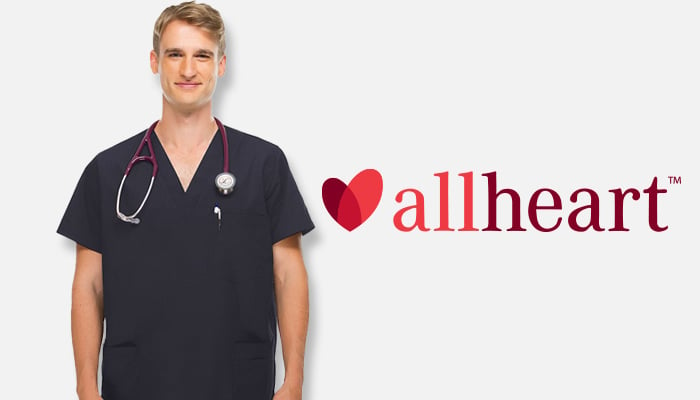 allheart
We had to include our exclusive brand on this list. Our Basics line comes in 16 different colors and offers most separates under $10 and most sets under $20, as well as lab coats, scrub caps and other essential accessories. Our Classics line offers added functionality thanks to extra pockets, and is made from a brushed polyester/cotton blend. Our Elate line is also made from a polyester/cotton blend that also incorporates spandex for added flexibility and comfort. (And if you have any little ones in your life who want to dress up like their dad or uncle, we also make a kids' line as well. Talk about an easy Halloween costume!)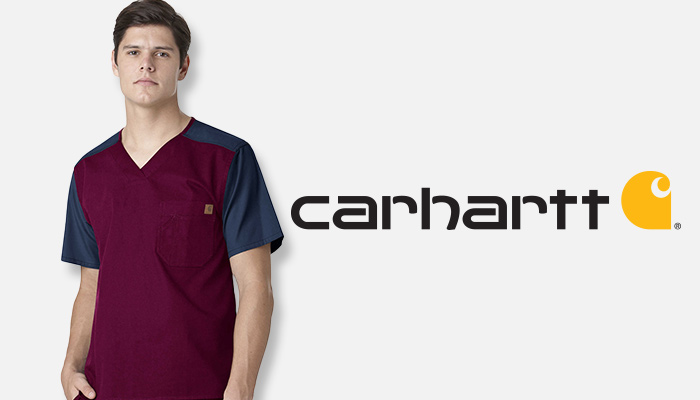 Carhartt
Talk about a long history of making quality products: Carhartt has been in business since 1889. The company started out by producing overalls for the Industrial Age, but eventually expanded into other types of work uniforms. True to the brand's motto ("Outworking them all since 1889"), Carhartt's scrubs are very durable, featuring triple-stitched seams, tradesmen pockets, ripstop fabric and Stain Breaker® technology. If you're tough on your scrubs, Carhartt can handle anything you throw at them during a long workday.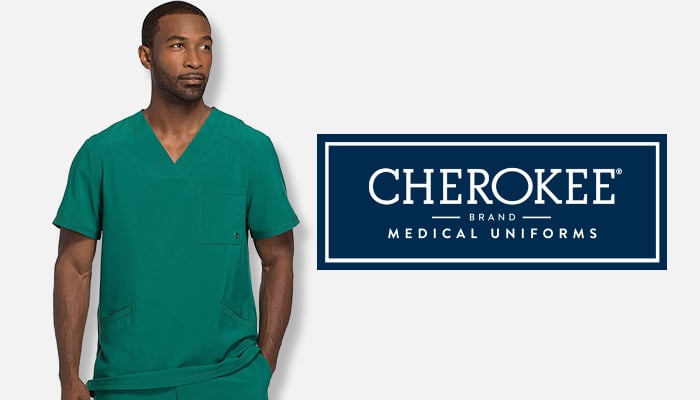 Cherokee
A staple of the medical uniforms market, Cherokee makes scrubs, lab coats, scrub jackets, scrub caps, shirts, socks and even shoes for the modern medical professional. Cherokee has been making ready-to-wear work uniforms since 1972 and seeks to unite comfort, fashion and quality in every garment. In addition to classic summer colors, Cherokee offers many prints and patterns, and even occasionally works with artists and guest designers to offer unique designs from their original artwork. Cherokee also makes the uber-popular Tooniforms line, which features characters and designs from movie and TV show properties such as Star Wars and Marvel Comics.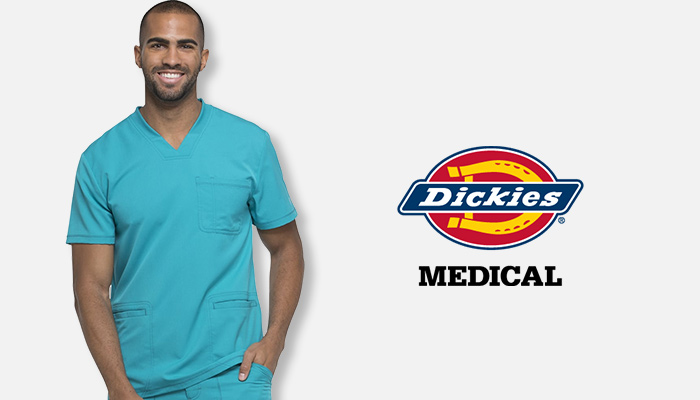 Dickies
Starting as a small bib overall company in 1922, Williamson-Dickie Mfg. Co. has transformed itself into the largest workwear manufacturer in the world. Dickies makes multiple scrub collections for men, including EDS (Every Day Scrubs) Signature, EDS Essentials, Essence, Gen Flex, Xtreme Stretch, Dynamix and Advance. Each line offers its own unique combination of features and performance, so you're sure to find something that fits your needs. In addition to scrub tops and pants, Dickies also makes lab coats, scrub jackets, scrub caps and shirts.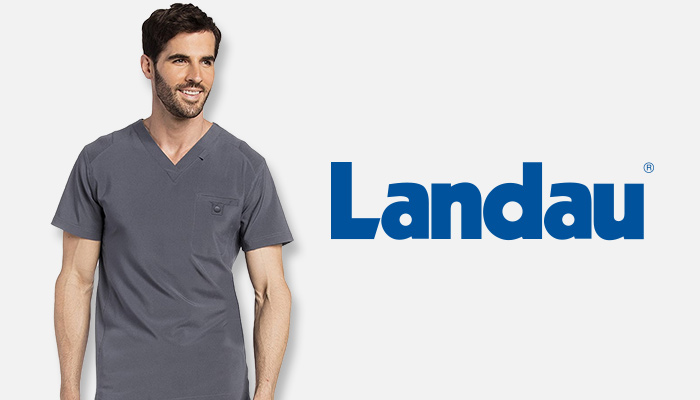 Landau
Landau's scrub materials are made from an exclusive fabric construction for a superior feel. The fabric also offers high durability, shade consistency and color-fastness. As the first manufacturer to introduce print scrubs, Landau's designs are always cutting-edge and come in a great variety of colors and patterns. The classic ScrubZone line provides high quality basics at affordable prices, while the All Day collection features a mechanical stretch fabric that adds comfort and flexibility to a traditional poplin weave. The Pre-Washed line delivers that broken-in feel straight out of the package, while the ProFlex collection offers two-way stretch, fade resistance and chemical-free wrinkle resistance.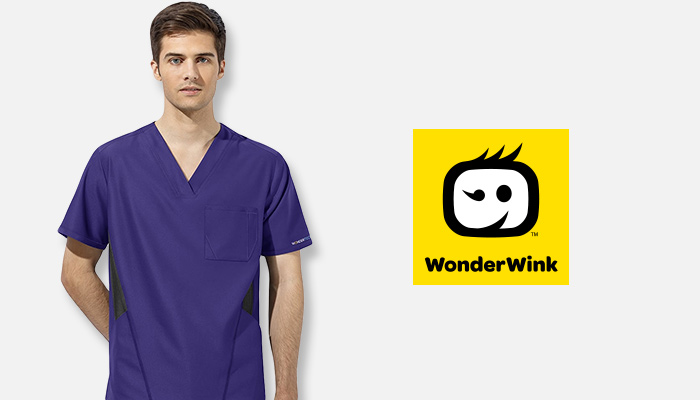 Wonderwink
Wonderwink brings a fresh and fun design sensibility to all of its lines, including Origins, Wonderlab, WonderFlex, W123 and WonderWORK. If you love to rep your alma mater on the job, Wonderwink also makes an officially licensed line of collegiate scrubs in true school colors with meticulous embroidery. Perfect for game day (or any day of the week), the collegiate scrubs combine Wonderwink's advanced scrub designs and comfortable fabric with school pride.
It takes a bit of effort to find that perfect pair of scrubs for men, but it's so worth it once you do. Plus, once you've made your decision, you can buy the scrubs in every color and call it a day! If you're not completely happy with your purchase, here at allheart you can return it within 60 days of receipt for a full refund of the purchase price, no questions asked. Best of luck shopping and don't hesitate to reach out to our customer care team if you have questions.