Free Continuing Education for Nurses: 7 Free Online CEUs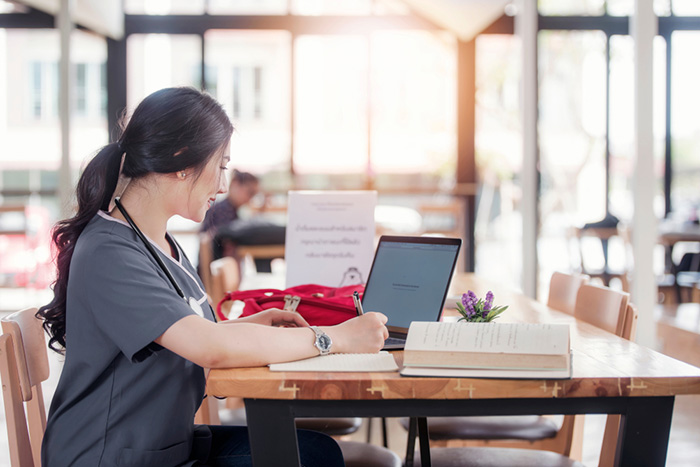 You passed the NCLEX and received your nursing license. So that means you're done with school, right? Not necessarily. While some states don't have requirements for continuing education for nurses, most require 15 to 30 contact hours every two years in order to maintain your nursing license. If you live in a state that requires additional education, you're probably wondering how to get those contact hours in a convenient and affordable way.
Fortunately, several well-regarded and accredited organizations offer free continuing education for nurses online. Below, we highlight seven different reputable websites where you can find nursing-related continuing education units (usually abbreviated CE or CEU).

Nurse.com
In business for more than 30 years, Nurse.com provides one of the most comprehensive offerings of free CE courses for nurses. The website offers more than 40 CE courses for free thanks to sponsorships from partner companies and schools. Courses range between 0.5 and 2.9 contact hours, with one to 1.5 hours per course being the standard. The courses are peer-reviewed by nurses and jointly accredited by three major organizations: American Nurses Credentialing Center (ANCC), Accreditation Council for Continuing Medical Education (ACCME) and Accreditation Council for Pharmacy Education (ACPE). We can't list all 40 here, but some of the free courses currently on Nurse.com include:
Every Nurse Is a Risk Manager
Generic Drugs: Reducing the Cost of Care
A Quadruple Aim and Social Determinants of Health Conversation Starter
Keeping Colleagues: Nurse Retention Is Everyone's Responsibility
Structural Empowerment
Interprofessional Strategic Planning
Control of Hypertension
Keep It Clean: Hand Hygiene and Skin Antisepsis
Nurses, Healthcare Professionals, Women and Heart Disease
Protect Yourself: Know Your Nurse Practice Act
Harmonize Diversity and Improve Health Outcomes
Visitors at the Bedside
Anaphylaxis: A Whole-Body Allergic Reaction
What's Being Done to Prevent Wrong-Site Surgery?
EBP Process: Translating Research into Practice
If the list of free courses isn't enough for you, you can pay an annual membership of $49.95 to access Nurse.com's library of more than 700 nursing CE courses. Members also receive a 50 percent discount on premium courses (of at least 1.5 hours) as well as access to the Nurse.com network and job board.

Penn State College of Medicine
Penn State College of Medicine is accredited with commendation by the Accreditation Council for Continuing Medical Education (ACCME). Penn State College of Medicine has been continuously accredited since the office was established in 1973, and also received Accreditation with Commendation since 2000. "Accreditation with commendation" is the highest level of recognition in the accreditation process and allows a six-year term as a provider of continuing medical education for physicians. The school hosts several in-person CE events per year at its Hershey, PA location, but it also offers numerous free e-learning courses as well. Courses are added and expire throughout the year, so the options are constantly being refreshed. Right now, nearly 30 free courses are available. Some of them include:
Juvenile Idiopathic Arthritis: Diagnosis and Management in Primary Care
Unraveling the Complex Treatment Landscape for Prostate Cancer: Guidance for Delivering Evidence-Based, Patient-Centered Care
Innovative Therapy in B-Cell Malignancies: An Expert Tumor Board on Novel Agent Classes in CLL, FL and MCL
Assessing the Role of Recent Therapeutic Breakthroughs in the Treatment of Amyotrophic Lateral Sclerosis
An Expert Analysis of New Data for Uncontrolled Persistent Asthma Treatments: Clinical Updates from Paris
Improving the Recognition and Management of Migraine in an Era of Expanding Options for Acute Treatment and Prevention: How Is the Role of the Primary Care Clinician Evolving?
Looking Beyond the Lipids: A Visual Guide to Targeting Vascular Inflammation in Atherosclerosis
Improving Long-term Outcomes in Patients with Tardive Dyskinesia: Examining the Impact of New Therapeutic Options
Breaking Down the Barriers to Optimal Spinal Muscular Atrophy Care: Overcoming Diagnostic Delays, Facilitating Early Treatment and Easing Caregiver Burden
Exploring the Latest Advances in COPD Treatments: Clinical Highlights from Paris
The Evolution of Multiple Myeloma Patient Management: Managing Today, Preparing for Tomorrow
Building Innovative Treatment Options for Patients with B-Cell Malignancies: Practical Insights on Clinical Evidence and Integration Strategies
Defining the Role of Extended Half-Life Replacement Clotting Factors in the Modern Management of Hemophilia A
Oncology Nurse Insights into New Agent Classes and Research Across B-Cell Lymphomas: Practical Issues and Evidence for the Front-Lines of Care
BTK Inhibition as an Anti-Cancer Strategy: Exploring a Model for Modern Targeted Therapy in Hematologic Malignancies and Beyond

Medscape
Medscape is most well-known for providing medical information to clinicians, but the website also offers free continuing education for nurses and physicians. Once you've created a Medscape.org account and logged in, look for courses with a red "CME/CE" badge next to them, which means they have credit available. Medscape offers dozens of free courses–too many to list here–but here's a sample of some recent course titles:
Facial Redness and Bumps: Can You Diagnose and Treat These Virtual Patients?
Current Insights into Cardiac Magnetic Resonance Imaging
Advances in Portopulmonary Hypertension: Assessing the Latest Data
Can You Recognize and Manage Sleepiness in Practice?
The Patient with Atrial Fibrillation Who Develops Heart Failure
Shifting the Paradigm: Rethinking Our Approach to Diagnosing Group A Strep Pharyngitis
Oral Anticoagulation Needs in CKD: What's the Evidence?
Narcolepsy and Excessive Daytime Sleepiness in OSA: Strategies to Improving Outcomes
New Advances in Hybrid Closed-Loop Control of Insulin Delivery
Minimizing the Impact of imAEs and Maximizing Efficacy: Nervous System Toxicities
Do Higher Nursing Degrees Lead to Better Care?
Looking into the Future: HER2-Directed Therapies in Advanced Gastric and Colorectal Cancer
Does Being Postmenopausal Impact Sexual Health?
Antiplatelet Agents and Bleeding: When to Reverse
The Consequences of Untreated White Coat Hypertension

NursingCE.com
Not to be confused with NurseCEU.com, NursingCE.com does offer paid CE courses, but a handful of free options are also available to nurses. To get started, choose a free course, review the content and take the assessment. Once you earn a score of 80 percent or more on your post-test, you will be able to immediately download your completion certificate for free. The NursingCE.com website says that the service regularly adds additional free CEs for nurses to take. In addition to the free options, the company also offers more than 100 hours of a la carte nursing CEs, which start at $10 per course. The free courses available are:
Nursing Evidence-Based Practice
Civility Matters! Strategies to Inspire Healthy, Productive Work Environments
Autism Spectrum Disorder
Tobacco Dependence Treatment

RedMedEd
Since 2013, RedMedEd has been offering CE and CME courses for the medical field, including free continuing education for nurses. The company has more than 18,000 registered users and 10,000 active participants, with a 99 percent learner satisfaction rate. Through partnerships with outside organizations, RedMedEd is able to offer some CE courses at no cost. The currently available free courses are:
Waldenström Macroglobulinemia: Expert Insights on Current and Emerging Treatment Options
Myeloma Masters: The Ultimate Myeloma Patient Care Quiz Show
A Change of Heart (Care Practices): Recognizing and Managing Transthyretin Amyloid Cardiomyopathy
TKI Therapy in CML: Emerging Treatments, Ensuring Safety
Treat-to-Target and Targeted Therapy: The Evolving State of Systemic Lupus Erythematosus Patient Care

Horizon CME
Founded in 2007, Horizon CME is a continuing medical education company that offers both paid and free continuing education for nurses and other clinicians. The company provides CME courses in two different formats–on-demand online courses and in-person live events. The free live events for the rest of this year will focus on the topic "Inhibitors in Practice: Real-World Strategies for Cardiovascular Risk Reduction" and will be held in Portland on September 5, 2019; Baltimore on September 17, 2019; Irvine on October 2, 2019; and Kansas City on November 12, 2019. If you don't live near any of these cities, you can take the following courses online for free at your convenience:
Early Combination Therapy in the Treatment of Type 2 Diabetes
Considerations for Advancing Treatment After Metformin
How to Select and Start Insulin in Patients with Type 2 Diabetes: A Hands-on Demonstration
Novel Pharmacological Approaches to Treating Post-Prandial Hyperglycemia in Type 2 Diabetes
Continuous Glucose Monitoring: Implications for Primary Care in Management of Type 2 Diabetes
Treating Diabetes Beyond A1C: Considerations for Cardiovascular Protection

ProCE.com
ProCE is a nationally recognized provider of continuing education for healthcare professionals. They host events and webinars and offer more comprehensive certificate programs, as well as the traditional CE courses which are listed under the "Home Study" tab on the website. More than half of the website's courses—45, to be exact—are free, in addition to dozens of paid courses. The activities cover a comprehensive range of content areas, including neuroscience, cardiovascular/pulmonary medicine, critical-care medicine, health information technology, infectious disease, medication safety and many specialty topics in the fields of medicine, pharmacy and nursing. Once again, we don't have room to list all of the free courses available, but here's a sampling of the current free offerings:
Addressing Risks Associated with IV Push Medication Use in Adults
Adult Vaccines in 2018: Where Do We Start?
Advancing Personalized Treatment of Patients with Hemophilia Through Comprehensive Pharmacokinetic Assessment
Current Regulatory Landscape in Antibiotic Stewardship
Dueling Recommendations: When to Use Dual Therapy
Expert Answers: Sterile Compounding in Health Systems
Going Forward in Reverse: Navigating Treatment for Acute Major Bleeding
IBD Module #1: Inflammatory Bowel Disease and the Role of Specialty Pharmacy Services
Management and Trends in Pulmonary Arterial Hypertension
Opioids in the Acute Care Setting: Safety is Within Our Reach
Safety Considerations in Rabies Post-Exposure Prophylaxis
Solving the Mysteries of Clostridium Difficile Infection: Using the Bench to Inform the Bedside
Staphylococcus Aureus Bacteremia: Best Practices and Clinical Controversies
Subcutaneous Insulin Use in Adults: Addressing Risks and Optimizing Safety
The Era of Targeted Therapy in Severe Asthma: Specialty Pharmacy Perspectives
Thanks to technology, free continuing education for nurses is now a reality. Courses are offered by reputable institutions and constantly updated to reflect the most relevant topics in the medical field, such as opioids and vaccines. These free online CEUs make it convenient and affordable for nurses to earn their necessary contact hours and stay current with the latest findings. In fact, even if your state doesn't require continuing education for nurses, you might still want to take a few of the courses listed here to gather some new knowledge. After all, why not? They're free!