8 Best Nursing Blogs
Blogs are some of the best resources for getting the inside scoop on your industry–nursing included. But with so many blogs launching or stopping each month, it can be hard to keep track of which blogs are still actively publishing. We've done the legwork for you and rounded up eight of the best nursing blogs you should check out.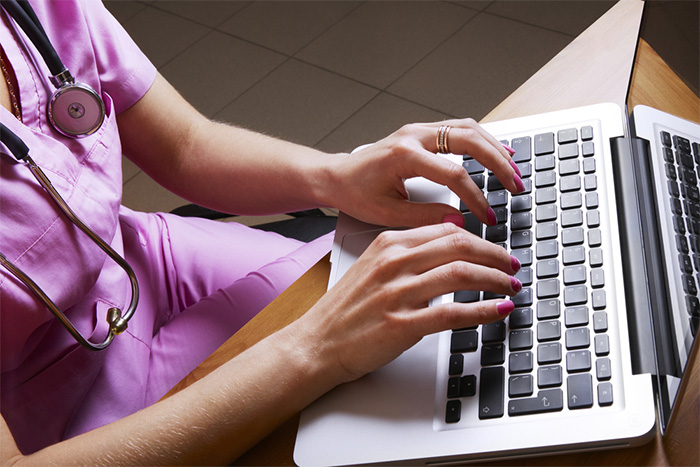 Nacole Riccaboni, aka Nurse Nacole, runs an eponymous blog full of resources for nurses. She separates her posts by helpful categories that are listed at the top of the website, including nursing hacks, nursing advice, CPR guidelines, dosage calculations and more. She also posts helpful nursing facts every day of the week. She tackles topics such as dealing with tough feedback on-the-job and what to do if you've lost your motivation at work.
Nurse Keith Carlson has worked in the industry for almost 25 years and runs one of the most long-standing nursing blogs that's still regularly publishing. Digital Doorway provides all sorts of advice for nurses at all stages of their careers. Recent topics include work-life balance over the winter holiday season and returning to nursing after a hiatus. Most of the blogs focus on nursing career development, since Nurse Keith is a certified nurse coach and runs a separate consulting service.
An RN with more than 35 years of experience, Kathy Quan runs The Nursing Site blog, which discusses topics such as the nursing profession, student nurses, new nurses and seasoned nurses. Kathy writes many of the posts herself, but also publishes a limited number of guest posts from other experts. She also maintains a long list of other blogs and resources that will undoubtedly prove helpful to nurses.
The Frugal Nurse was moved to start her blog when her husband almost died of overtreatment for what they believed was thyroid cancer. (He survived and is doing fine now.) In the years since then, she's written hundreds of posts about healthcare bureaucracy, treatment costs, insurance issues and more. While she did put the blog on hiatus at the beginning of 2020 to focus on other projects, there's still plenty of previously published content to go through if you weren't already following it.
Registered Nurse Brittney Wilson blogs about the intersection of nursing and technology as well as other subjects. Topics on The Nerdy Nurse include nursing issues, nursing products and services, healthcare, technology, social media, personal branding and lifestyle topics. If you're looking to start your own nursing blog, one section of the website also compiles resources and tips for aspiring bloggers. This blog combines more informative topics, like keeping your binder organized in nursing school, with more fun ones such as nursing clinical memes.
Dr. Renee Thompson has more than 27 years of experience as a clinical nurse, nurse educator and nurse executive. Her organization's blog offers tips for nurses looking to make smart careers and become successful nurse managers. Some recent titles include "Do you train or do you fire?" and "The right and wrong ways leaders recognize employees." If you've recently been promoted, or hope to be soon, this blog will help you hone the nurse management skills you need to get there.
If you're a new nursing grad trying to acclimate to the nursing world, this blog is meant just for you. Run by registered nurse Kati Keiber, the Fresh RN blog covers vital topics such as kindly exiting conversations at work and the unwritten rules for nurses. While it may not appeal to as many types of nurses as some other sites on this list, this blog is a fantastic resource for any nursing students and recent graduates.
Sometimes you just need a really good laugh, and that's when you turn to the Gomer Blog. Offering satirical humor in the vein of The Onion, Gomer Blog won't make sense to your non-healthcare friends—but you'll find it hilarious. If you're new to the site, start with the "Editor's Picks" section for the best-of-the-best articles. But really, you can't go wrong with any of the satirical articles on the site, and they're great for a quick stress-relieving laugh session.