A Beginner's Guide to Designer Scrubs
When you bought your first scrubs as a student or entry-level healthcare worker, you probably opted for affordability over the price of premium scrubs — understandably so. But as you progress in your career and start earning more money, you'll likely want to upgrade your scrubs at some point. That's when designer scrubs enter the picture.
Designer scrubs may refer to a limited collaboration created with the help of famous fashion designers, like koi's Betsey Johnson line. Designer scrubs might also refer to the top-of-the-line premium scrubs created in-house by the brand. Regardless of how the term is being used, you can rest assured that designer scrubs offer superior performance and features that will take your workwear game to the next level.
Below, we spotlight nine of our favorite scrub brands, tips on how to shop for designer scrubs and ways to ensure you bring home a high-quality product.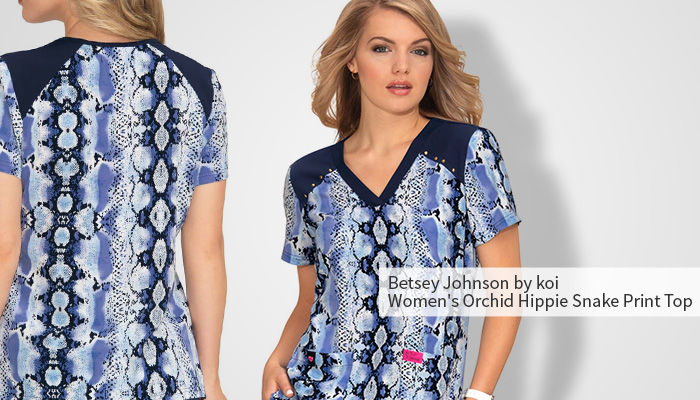 Betsey Johnson
Betsey Johnson is a famous American designer known for her bright, whimsical fashions. She brings this same spirit to her exclusive collaboration with koi scrubs. These Betsey Johnson designer scrubs are made of a stretch twill fabric composed of 73% polyester, 22% rayon and 5% spandex. The scrubs are all designed with a junior fit for a contoured style and a modern look. They come in a wide range of bright colors, such as hot pink and bluebell. Tops are also available in unique designs that you can't get anywhere else, including orchids and snakeskin prints. These scrubs feature crossover v-necklines, shoulder seam detail, interior facing prints, back yokes, side vents, patch pockets and more.
Smitten Scrubs
This premium line of scrubs is well worth the investment. If you're tired of feeling frumpy in your scrubs, then this trendy, fashion-forward line is for you. The brand's Miracle fabric is made from an 87% polyester, 13% spandex fabric that will move with you throughout your day. Each garment features unique details that combine fashion with function: think rounded seams, tons of pockets, set-in sleeves, shoulder yoke, contrast drawstrings, flare legs and more. Whether you're young or just young at heart, Smitten has the perfect set of scrubs for you (not to mention lab coats, jackets and everything else you need for your wardrobe).
STATEMENT by Cherokee
STATEMENT designer scrubs by Cherokee will help you stand out from the crowd. Pants are available in regular, petite and tall sizes. Better yet, all scrubs are available in sizes XXS to 3XL. This sporty collection follows a junior contoured fit for an athletic look, and most of the pants feature tapered legs so you won't have extra fabric flapping around your heels. These scrubs are made from a 76% polyester, 19% rayon, and 5% spandex blend that results in a superior stretch- woven knit fabric. Features include slip pockets, rose gold zippers, shirttail hemlines and doubled princess seams.
Infinity by Cherokee
In case you thought STATEMENT was a one-hit-wonder, Cherokee did it again with Infinity, another line of premium scrubs. Infinity scrubs are made with special CERTAINTY® Antimicrobial Fabric Technology that inhibits the growth of bacteria, yeast and algae as well as CERTAINTY PLUS®, which is both an antimicrobial and fluid barrier. This treatment minimizes odors and stains due to bacteria and prolongs the life of the garment. The scrubs come in a variety of colors so you can mix and match different combinations. The line features both men's and women's scrubs, as well as jackets, nurse shirts, and even slip-resistant shoes. Whether you want a tapered pair of joggers or a flattering scrub top, Infinity by Cherokee has you covered (literally and figuratively).of 25".
Dynamix by Dickies
If you mostly know Dickies for their utilitarian men's work pants, you'll be pleasantly surprised by this line of premium designer scrubs. These scrubs are made from a lightweight, 91% polyester and 9% spandex textured dobby fabric. The resulting material resists wrinkles, wicks away moisture and remains strong and durable after multiple wears. Many of their scrubs feature space-dyed panels for color contrast and a unique look. Other design touches include rounded patch pockets, zip pockets, high-low hems, side vents, top stitching for durability and more. This fun and flattering collection from Dickies will soon become your favorite.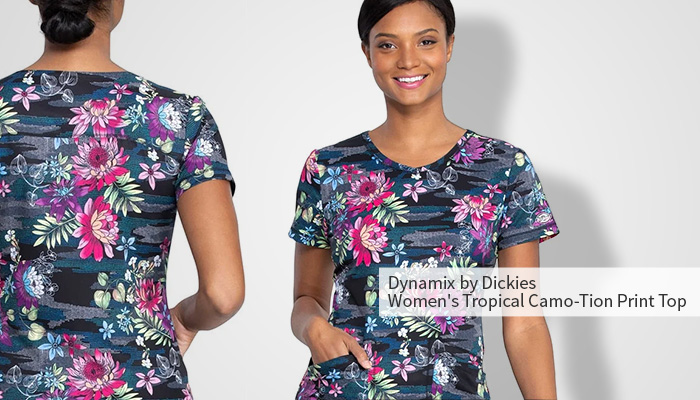 iMPACT by Grey's Anatomy™
Grey's Anatomy scrubs are some of the most popular on the market, and it's not just because of the TV show — they also make some really fantastic workwear. iMPACT is the Grey's Anatomy designer line, and it upgrades already awesome scrubs. The 74% polyester, 23% rayon and 3% spandex fabric easily wicks moisture and releases soil. iMPACT scrubs also provide stretch and comfort for your longest shifts. Little add-ons, such as contrast trims and tasteful cutouts, set this line apart. These scrubs also feature banded v-necklines, slanted front yokes, side vents at the hem and grommets for the drawstring waistband.
Barco One
Put on these Barco One designer scrubs and you might never want to take them off again. Barco has developed multiple fabric technologies to put these scrubs at the forefront of innovation. These technologies include Arcgreen technology for recycled fabric (made from recycled plastic bottles), Arcdry technology for moisture-wicking and wrinkle resistance, Arclux technology for super soft fabric and Arcrelease technology for soil release. Made of 50% polyester, 43% recycled polyester and 7% spandex, these scrubs provide four-way stretch for all-day comfort. Features include smooth knit waistbands, curved back perforated yoke banding, center back perforated panels, patch pockets, side vents at the hem and more.
koi Lite
koi also makes its own proprietary line of premium scrubs, and they don't disappoint. In fact, the brand was founded almost 15 years ago when founder Kathy Peterson realized there were no fashionable scrubs available and set out to make her own. Made of 100% polyester dobby stretch fabric, these koi lite scrubs provide a junior contoured fit for a more athletic look. Design touches include patch pockets, crossover mock wrap v-neckline, rib-knit side stretch panels, contrasting logo tape and toggles at the sides of pant legs to adjust the hemline. As an added bonus, whenever you buy koi scrubs, you'll be supporting a woman-owned business.
heartsoul
You can't go wrong with any of heartsoul's high-quality scrub collections. heartsoul includes design elements that we don't see on any other scrubs, such as notched necklines and lace trim on the sleeves. Their scrubs are made from a 95% polyester, 5% spandex stretch poplin fabric that will move with you as you go about your shift. The brand offers solid colors and many fun prints that will liven up your workwear. Whether you want a sweetheart neckline, tulip short sleeves or a confetti print, heartsoul has got what you're looking for.
Now you know which designer scrub lines to shop if you're looking to upgrade your workwear. It's also a good idea to familiarize yourself with features that set designer scrubs apart and how to identify high-quality garments. Here are some things to keep an eye out for:
Fabric Blend
We wrote an entire guide to scrub fabric, but here's the quick rundown: When researching scrubs, you need to look at the fiber or fiber blends (i.e. cotton, polyester, etc.), the weave of the fabric (i.e. twill, dobby, etc.) and any finish or treatment applied to the fabric. These factors affect many of the garments' key qualities: stretch, softness, durability, moisture-wicking, antimicrobial properties and more. For example, if moisture wicking is important to you, remember that 100% cotton scrubs will soak up the sweat but take forever to dry.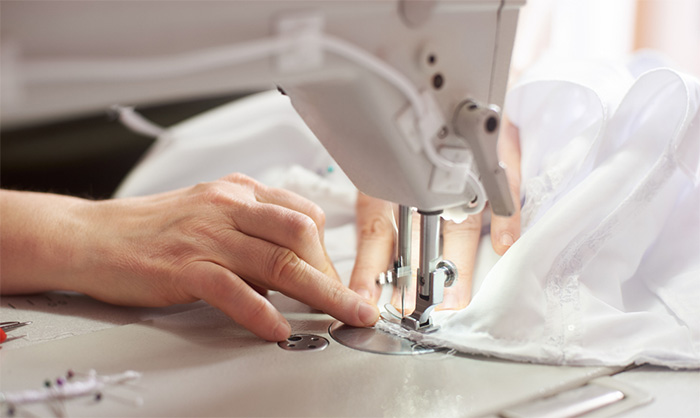 Stitching
The seams are often the first part of a garment to give way, which is why it's so important that they are strong. That's also why some brands double- or triple-stitch certain seams that are generally under a lot of stress. Seam placement also affects how loose or tailored a garment fits (more on fit in a minute). Run your fingers over the underside of the seam to see how strong it is and whether or not it lays flat— some seams can bulge or cause chafing. Give the fabric a firm tug to see if the seam puckers or holds firm.
Fit
The fit refers to how loose or tailored your garment is, as well as what body type they're meant for (i.e. men's, women's or unisex). A missy fit will be more relaxed and loose, while a junior fit will be snugger. Some brands offer petite and tall sizes to fit people of varying heights. You should always check the size chart before ordering scrubs, as the measurements can vary from brand to brand or even collection to collection. For example, you might be a medium in missy fit scrubs but a large in junior fit garments. There's no right or wrong fit or size, it's whatever makes you feel most comfortable.
Features
Besides fabric blends and treatments, features and styling details are usually what distinguish scrub lines from each other. Basic scrubs might only have a simple pocket or two, while designer scrubs will feature plenty of storage space, badge loops and flattering necklines. If two sets of scrubs look really similar at first glance, you'll probably be able to spot the difference once you start digging into the features themselves. While they may seem like unnecessary add-ons, trust us, you'll be grateful for those extra pockets. You can also use features to help you narrow down your search.
Other Garments
The best designer scrubs lines will offer an entire collection so you can match your nurse shirts with your lab coat and scrub jacket. After all, you don't want to throw on a stained, shapeless lab coat over your good-looking premiumfhttp scrubs, do you? If you want everything to match, narrow your search down to wide-ranging, premium lines that offer a wide variety of garments to fill out your whole wardrobe. After all, once you start updating your scrubs, you're going to want to do the same to the rest of your workwear as well.
There's no denying that designer scrubs cost more than the basic lines, but they're well worth the extra money. Premium scrubs deliver when it comes to performance, comfort, durability, moisture-wicking and extra features. If you're tired of scrubs that deteriorate quickly or don't offer enough functionality, it might be time to get yourself some designer scrubs. Shop the nine designer brands we highlighted here or browse our entire collection of scrubs to find the perfect option for your needs.