Most Flattering Scrubs: Ulitmate Scrubs Fit Guide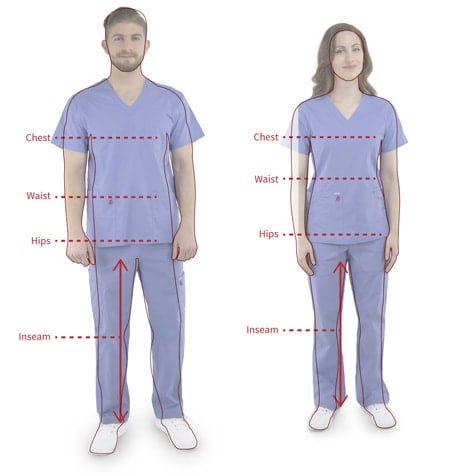 You wear your scrubs for 12 or more hours at a time, which means they've got to be comfortable, flattering and tough enough for the most demanding medical environments. But how do you know that your scrubs will fit you like a dream when you're shopping online? It's relatively simple, so long as you've got a tape measure and a little bit of know-how!
Get the Perfect Fit: Take Your Measurements
To ensure that you find the most flattering scrubs for your body type, you should begin by taking your measurements. Using a flexible tape measure, take your measurements around your bust (or chest for men), waist, hips and inseam (Bonus tip: have someone else do the measuring for optimal accuracy.
Bust or Chest - Measure beneath your arms around the fullest part of the chest.
Waist - Measure under the natural waist line, holding the tape measure loosely.
Hips - Measure around the fullest part of the hips standing with feet together.
Inseam - Measure along the inside of the leg to an inch below the ankle.
Mark down your measurements and reference each brand's size chart to ensure that you get the perfect fit. If you prefer things roomy, size up. If you like things more fitted, choose your true size.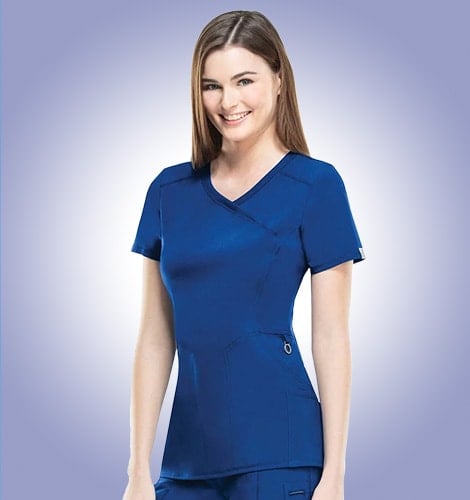 Choosing the Right Fit
Today's designer scrubs come in so many different fits, from loose-fitting to tailored, from classic to trendy. Choosing which fit is best for you comes down to your own personal preferences. Do you prefer a more fitted, tailored feel or something breezy and loose? Just remember that your scrubs should never limit your movements or prevent you from doing your job at your best. Many of our top scrub brands come in four popular fits:
Missy Fit - This fit designates scrubs that have a longer sleeve length with a flattering silhouette. The top's longer hemline offers extra coverage when bending or reaching, while the bottoms offer a higher rise with a relaxed leg.
Junior Fit - Those who prefer fitted scrubs will like the junior fit. This style typically features scrub tops with a shorter sleeve length and a slimmer fit throughout the shirt. Junior fit scrub pants tend to sit just below the natural waistline and offer a slimmer, more fitted leg.
Unisex Fit - Want scrubs that breathe? You'll love unisex scrubs. These classic, roomy and restriction-free scrubs offer a longer sleeve length with a roomier armhole and a straight, loose fit through the waist. The pants generally sit slightly below the natural waistline and have a more relaxed fit.
Athletic Fit - High-energy healthcare professionals love athletic fit scrubs! These offer a cut designed to move with you, some with mesh perforations for breathability and knit panels for extra flex. But all have a fabric with stretch, that's usually cotton free, easy care. Most athletic fit scrub pants feature a comfy, stretchy waistband to help you move freely.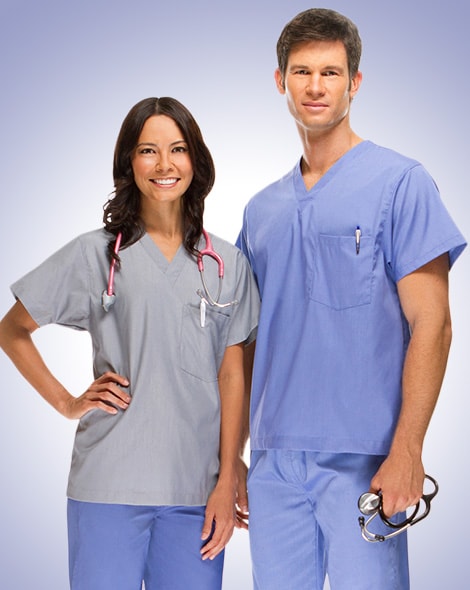 Other favorite scrub brands offer flattering scrubs in various size types. In other words, it doesn't matter if you're looking for the best scrubs for plus size or petite, you'll be able to find a style that suits you to a T.
Regular - This fit is appropriate for those who do not fall under the petite or plus size category. If you're not particularly short or tall and wear a 0 to 10 in standard sizing, you will probably prefer a regular fit.
Petite - This category includes scrubs for medical professionals who are 5'4" and shorter. Petite scrubs feature shorter hems but use the same sizing conventions as regular. In other words, choose your normal size in petite if you're shorter.
Plus Size - All of our favorite scrub brands make plus size scrubs that are equally as comfortable and flattering for curves. Different scrub brands follow different sizing conventions, but you should shop plus size styles if you wear a size 12 and up.
Choosing the Right Brand for Your Body Type
The majority of the most popular scrub brands - including Koi scrubs and the collection Purple Label scrubs -offer scrubs in various different fits. For example, Koi offers a collection called Koi Lite that features breathable, moisture-wicking fabric with ample stretch for a comfortable yet fitted feel. Brands such as Adar Medical, Allstar Uniforms, Maevn Uniforms, allheart, Urbane and others offer plenty of stylish plus-size scrubs.
As previously mentioned, scrub brands don't follow a universal sizing convention. In other words, some brands use small to large designations, while others use American or European numerical sizing. That's why it's so important to start by taking your measurements and referencing the specific brand's size chart before placing your order. allheart.com offers a convenient, flexible return policy to ensure that you're totally pleased with your scrub fit.