8 Steps to Become a Travel Nurse
If you'd like to live in different places and gain experience at different hospitals, travel nursing could be a great fit for you. However, the process for becoming a travel nurse has several extra steps when compared to the process for getting a permanent type of nursing position, so don't pack your bags quite yet. If you're wondering how to become a travel nurse, here are eight steps to take: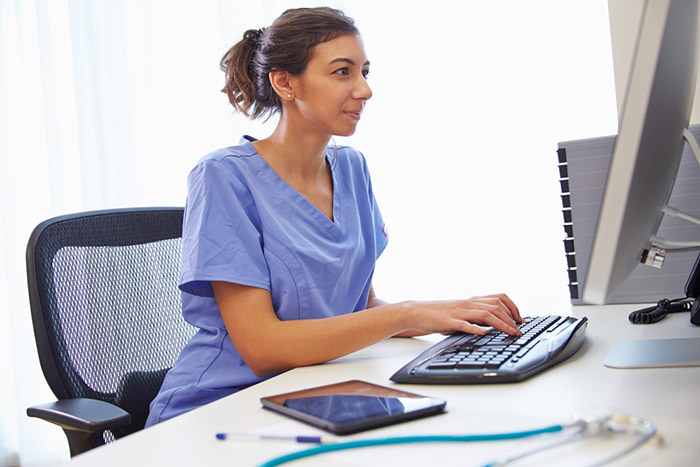 Get Educated
First, you'll need to graduate high school or earn your GED. Then, you can obtain a degree in nursing, either an associate's degree—an Associate Degree in Nursing (ADN) or an Associate of Science in Nursing (ASN)—or a Bachelor of Science Degree in Nursing (BSN). While some hospitals do limit permanent staff only to candidates who have a BSN, most facilities will accept travel nurses who have either an ADN/ASN or a BSN. However, this may change in the future, and if you ever transition out of travel nursing, having an ADN/ASN could affect your ability to get a permanent position.
Pass the NCLEX
In order to become a fully licensed nurse, just earning a degree in nursing isn't enough. You must also pass the National Council Licensure Examination (NCLEX), which is developed and administered by the National Council of State Boards of Nursing, Inc. If you earn your license in one of the 24 states that participates in the Nurse Licensure Compact (NLC), you'll be able to practice in other NLC states without having to obtain additional licenses—a big plus for travel nurses.
Gain Experience
Most facilities require a minimum of one year of experience to become a travel nurse, and some may even require two years (or sometimes three). In other words, you won't be able to jump into travel nursing right after graduating and passing the NCLEX. Instead, focus on getting experience in a specialty you want to pursue long-term through travel nursing.
Discuss It with Your Loved Ones
Travel nursing assignments usually last around 13 weeks, but may range from eight to 26 weeks. You'll be changing locations every few months, which is a great way to explore new locations and facilities. However, all this moving around can really take a toll on partners, spouses, children and even pets. Unless you're single and childless, you'll need to discuss the possibility of travel nursing with your loved ones and get them on board with your plan.
Decide on Your Pay Package Priorities
Compensation isn't only about base salary rate. Your total compensation package encompasses many different elements, including medical benefits and 401K retirement accounts. Because of their unusual work situation, compensation packages for travel nurses may also include housing or travel stipends as well as subsidization of rental cars or other ground transportation. Decide what factors are most important to you and use that to guide your search for the perfect travel nursing agency..
Find an Agency
Most travel nurses get placed through agencies rather than directly interfacing with hospitals. Not all agencies are equally reputable, so be sure to ask colleagues for referrals and to check rating websites before making a commitment. You can also use a lead generator that gives your contact information to various agencies, so they can reach out to you directly. Make sure that whatever agency you decide on provides assignments in your top locations and offers the compensation factors that you value.
Complete Your Submission Profile
Just as you prepare your nursing bag for a home visit, so you need to prepare your application for submitting to hospitals. Once you've decided on a travel nursing agency, you'll need to actually start applying to hospitals. While the agency will turn in your submission profile on your behalf, you're still responsible for putting it together yourself. Your submission profile consists of the application itself, a resume, a skills checklist and clinical references.
Practice for Interviews
If hospitals like your submission profile, you'll move on to the next step of the process, which is an interview via phone or video chat. Practice answering common interview questions, such as "What do you consider to be your strengths as a nurse?" and "How do your qualifications and work experience make you a good candidate for this job?" You'll also want a list of questions that you can ask the interviewer to discover more about the assignment and the hospital. If you don't have questions to ask, that can signal that you're not interested in the job.
If you're researching how to become a travel nurse, we hope that this helped clear up any confusion surrounding the process. Travel nursing isn't for everyone, but it can be a very fulfilling career for the right nurse.