Best Shoes for Standing All Day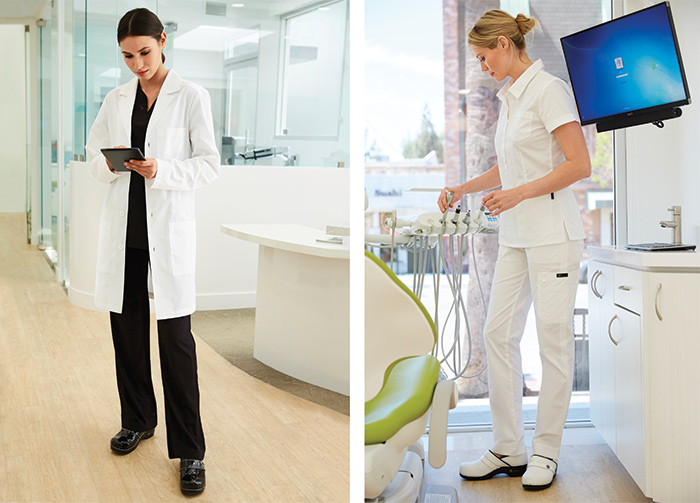 If you're on your feet for hours at a time, you absolutely need comfortable, supportive shoes to prevent foot pain and reduce the chance that chronic problems will develop. After all, each foot is made up of 28 bones, 30 joints and more than 100 muscles, tendons and ligaments, so they're complicated structures that need the proper supporty are.)
That's also why selecting the best shoes for standing all day is especially critical for nurses, who often spend 12 hours (or more!) on their feet at once. If you're in the market to replace your nursing clogs, here are six of our favorite brands to consider, from Dansko nursing shoes to Sanita clogs to Klogs shoes and everything in between:

Dansko
The name in nursing clogs, Dansko has been making comfortable, durable footwear for nearly 30 years. Dansko says that it makes shoes "that are simply good for your feet—all day, every day" and you'll feel the difference immediately as soon as you slip into their clogs. Especially popular with nurses, many Dansko shoes are slip-resistant, sole-tested and comply with standards set forth by ATSM International (formerly known as American Society for Testing and Materials). Some lines also feature a removable footbed that can be replaced with custom orthotics, if you need those. Many collections have also been awarded the American Podiatric Medical Association's (APMA) Seal of Acceptance, which is only given to products that pass rigorous evaluation and demonstrate foot quality health.

Sanita
Sanita's founder, Christen Meldgaard Andersen, started the company way back in 1907 by selling handmade wooden clogs. Today, the company makes Sanita shoes with thick but flexible rubber roles that cushion your feet as they conform to your stride. While its name is less well-known than Dansko, Sanita actually manufactured Dansko's stapled clogs line in the 1990s and 2000s (their partnership ended in 2007). Sanita has continued to manufacture its own high-quality clogs, which are still designed in their native Denmark and handcrafted in their factory in Poland. Try on one of their simple, ergonomic designs and you'll realize why these shoes have been sold for over 100 years.

Klogs Footwear
Not clogs—Klogs! This third generation, family-owned company makes uber-comfortable clogs from molded polyurethane and designs shoes for people "whose lives are tough on their feet," as their slogan puts it. Klogs shoes for healthcare professionals are made with a TRUBase™ Outsole, which provides flexible yet durable stability to help them move with confidence during long shifts. The outsole complements the TRUComfort™ Insole, which helps prevent and reduce foot pain by cradling the foot's natural shape and offering superior cushioning. Klogs shoes are also designed to skip the break-in period, so as long as you choose the right size, they'll be comfortable right out of the box.

Nurse Mates
Nurse Mates has been making shoes, scrubs and other gear especially for nurses since 1961. They offer many different types of nursing shoes, from clogs to slip-ons to lace-up sneakers, in many different colors as well as tasteful patterns. All Nurse Mates shoes exceed slip-resistant qualifications from ATSM International for extra peace of mind as you spend a long day on your feet. Since these shoes are designed specifically for nurses, they offer the ultimate support and comfort during those long 12s as you rack up the steps in the hospital corridors.

Anywhere
These affordable clogs and slip-ons will provide all day comfort without breaking the bank. Their seamless construction makes them easy to clean, and the plastic material is very easy to wash and disinfect. The insoles of Anywhere shoes are also treated with an odor-reducing, antimicrobial agent to keep them smelling fresh for a while, plus they're very cushy to provide shock absorption and support to keep your feet from aching. The oil- and slip-resistant soles also give you the confidence you need to keep moving during a long day.

Spring Step
Made in the true European tradition, Spring Step combines quality, comfort, technology, and style for a shoe that will last. Spring Step makes products that deliver "an extraordinary experience for your feet" and you'll feel the difference as soon as you put them on. Choose from a traditional leather clog or one of their many prints, or shake things up with their slips-ons or lace-up tennis shoes. You'll feel the "Comfort in Every Step" from the second you slide your feet into them. You only have one pair of feet, so take care of them and invest in the best shoes for standing all day. Whether you opt for Dansko nursing shoes or Sanita clogs, you can't go wrong with any of the brands here.