5 High-End Scrubs for Your Next Shift
When you first started out in nursing, you probably bought some entry-level scrubs that were on the lower end of the price spectrum. While this may have been good for your wallet, the cheaper scrubs are, the faster they wear out, and now you find yourself on the market again. While there's nothing wrong with basic scrubs—they're great for the budget-conscious!—they won't fit the bill if you're looking for scrubs that will hold-up over time. If your goal is to upgrade your workwear, here are five lines you should definitely consider as you shop:
If you want scrubs that are professional yet playful, look no further than Smitten's line of scrubs. True to their more contemporary look, they offer a junior contour fit and come in fun colors like jazz berry and jungle green. The 87 percent polyester/13 percent spandex stretch poplin fabric moves with you through the day for superior comfort (they don't call it the "Miracle Fabric" for nothing). Fun features keep these garments looking trendy, including contrast drawstrings, welt cargo pockets, inset bands, knitted panels, contrast bar-tack stitching and more. If you want high-end scrubs that still have a youthful sensibility, then you should absolutely check out Smitten Scrubs.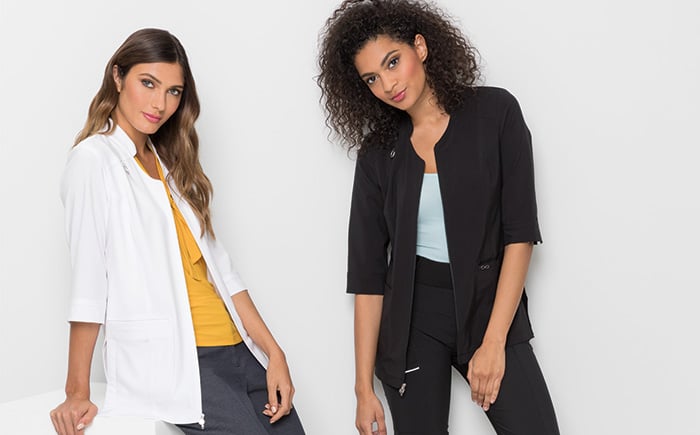 While Cherokee is known for their affordable collections, such as Workwear Originals, the brand also makes high-end scrubs, including Infinity by Cherokee. The CERTAINTY® Antimicrobial Fabric Technology helps inhibit the growth of bacteria, yeast and algae to keep your scrubs looking and smelling fresh. The garments are made of a 95 percent polyester, 5 percent spandex poplin that provides the perfect amount of stretch and breathability while still remaining durable. Their scrubs offer a junior contoured fit for a contemporary look with athletic styling. The uniforms feature thoughtful touches like cover stitch details, zip closure cargo patch pockets, side vents and scissor pockets. If you've only tried Cherokee's entry-level lines, we know you'll be delighted by this upgrade.
Even if this line wasn't inspired by one of our favorite medical TV shows of all time, we'd still love it for its premium quality. These scrubs are cut with a junior contoured fit and are made from a 74 percent polyester, 23 percent rayon and 3 percent spandex fabric that will hold up well over time. This fiber blend promotes moisture-wicking as well as soil release for scrubs that keep you comfortable and clean up easily. The scrubs come in some of the most trendy colors we've seen, including rose chiffon and Moonstruck, so your workwear will look just as modern as the rest of your wardrobe. Nice features like contrast trim, patch pockets and grommets with titanium tipped ties give the scrubs that premium feel.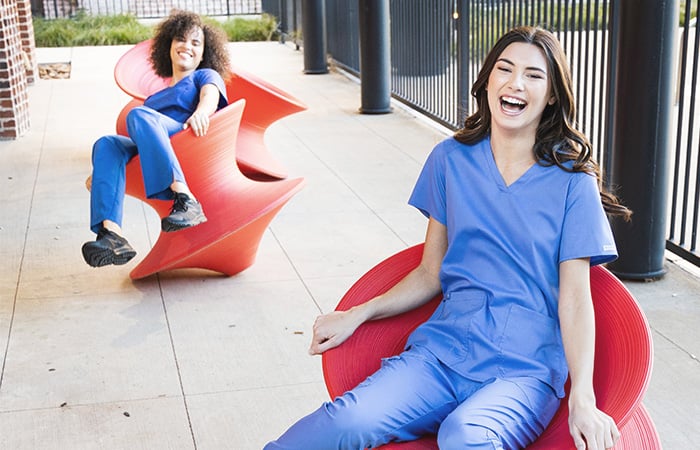 If you prefer a missy relaxed fit, definitely check out Touch by Med Couture. These high-end scrubs are made of a silky stretch poplin fabric that combines 77 percent polyester, 20 percent rayon and 3 percent spandex. Due to the more relaxed silhouette, these scrubs are super comfortable to wear for long periods of time and will still feel great at the end of a 12-hour shift. The scrubs are available not just in regular but also in tall and petite, not to mention sizes XSM to 5XL, so you can find the perfect fit for you. Notable features include contrast drawstring waistbands, curved shoulder yokes, v-necklines, badge loops and pen slots. You'll look forward to putting on these high-quality, well-fitting scrubs each shift.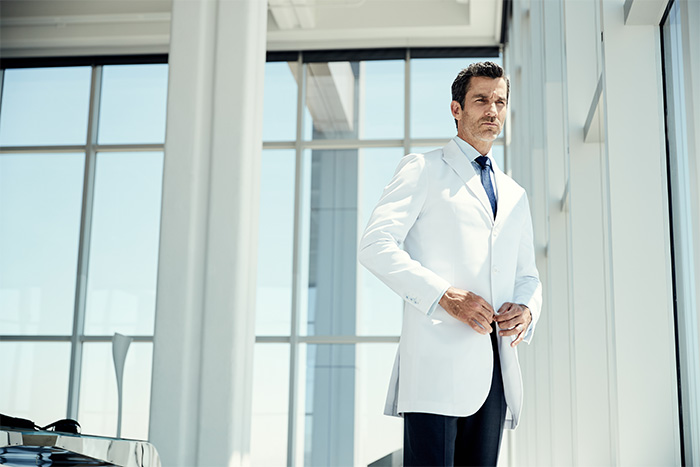 If you're investing in quality scrubs, then you'll want an equally premium lab coat to complete the look. Medelita makes excellent lab coats in both men's and women's cuts and a wide variety of sizes so you can find your perfect fit. Their proprietary blended fabrics are wrinkle, stain and fluid-resistant while remaining lightweight and breathable. Tasteful touches like notched collars and media ports make this lab coat so much more than just an outer layer. In fact, Medelita believes in their product so much that they offer a 1-year manufacturer's warranty on their garments, so you know that you're getting a quality product that will last for a long time.
High-end scrubs are a bit more of an investment, but they're totally worth the extra money in terms of comfort and quality. Make sure to check out these five brands as you shop for premium scrub