How to Become a Caregiver
If you're looking for a healthcare career with a low barrier to entry, becoming a caregiver might be the right job for you. In this ultimate caregiving guide, we discuss caregiver duties, certification requirements, and caregiver salaries. Discover everything you need to know about becoming a caregiver: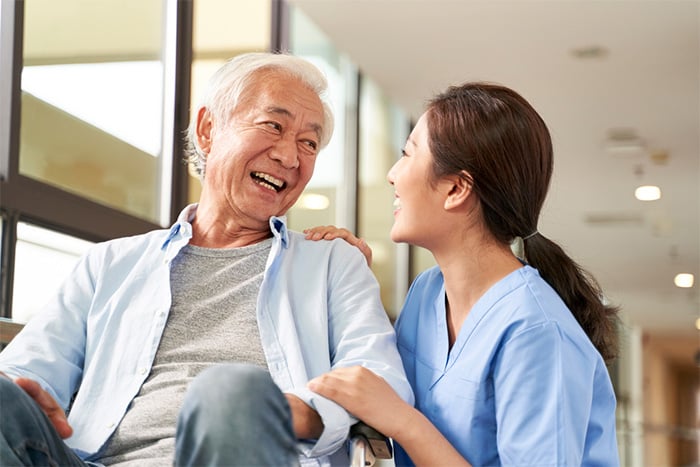 What is a caregiver?
A caregiver helps people with everyday tasks such as getting dressed, taking baths, eating or any other task to help their client get through the day. They may also help with basic clinical tasks, such as administering medication. There are several types of caregivers:
Private duty caregivers work for an agency that acts as a hiring intermediary. Usually, the agency recruits and screens caregivers, along with handling bonding and insurance requirements. Families can request a replacement caregiver if their regular one isn't a good fit or can't make a shift. This access to multiple caregivers is attractive to many clients. Agency caregivers might be more expensive compared to independent caregivers because of the extra overhead.
Independent caregivers work for themselves rather than finding clients through an agency. Being a private caregiver can offer more flexibility over which clients you take on and the hours you work, but you also have to generate all the client leads yourself. You also won't have an agency to protect you in case of a lawsuit. Independent caregivers can be cheaper for families, but there might be a higher risk of allowing someone in their home that hasn't been vetted by an established agency.
Family caregivers are relatives who choose to care for a family member — for example, an adult child caring for an aging parent. Family caregivers are usually not paid for their services, and they often have other duties (such as a job) that they must complete in addition to caregiving.
Respite caregivers help family caregivers for a set period throughout the day or week. Families can hire them through an agency or independent channels, but their assignments are generally limited and have an end-date.
Paid caregivers may also be called home health aides. Similarly, there are personal care aides. They help with tasks such as dressing and driving but don't usually provide medical services.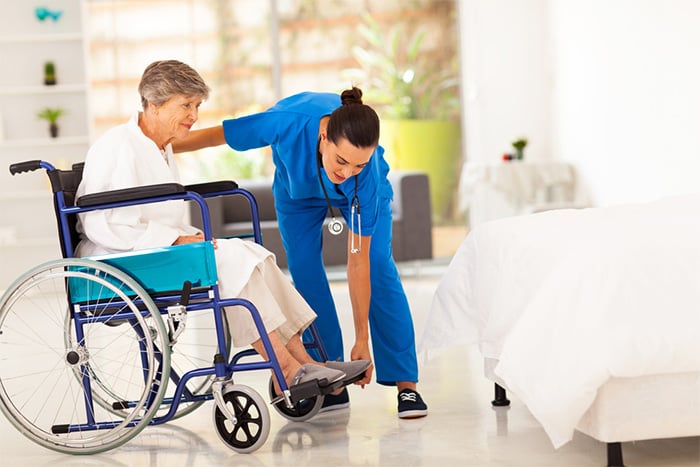 What does a caregiver do?
Caregivers may perform varying duties depending on the needs of their patients. Some typical tasks include:
Bathing, grooming and dressing
Using the restroom
Exercise or physical therapy
Preparing meals and eating
Grocery shopping and other essential errands
Light housekeeping
Basic chores like doing laundry
Administering medications
Doctor appointment reminders
Mobility assistance (for example, getting in and out of a wheelchair or car)
Transportation to and from appointments
Making notes of any changes in their condition and relaying that to doctors and family members
Grounding the patient during meltdowns or episodes of confusion
Companionship and emotional support
What kind of patients do caregivers work with?
Many types of people can benefit from caregiving. The most common group is seniors, who are fragile and more prone to suffer from limited mobility, physical ailments or mental conditions such as Alzheimer's. Indeed, the aging Baby Boomer population is a major reason why the demand for caregivers is expected to increase over the next decade. Caregivers don't only work with seniors, however. They may also work with children or young adults who have developmental disabilities, or a patient on bed rest while recovering from major surgery.
Where do caregivers work?
The Bureau of Labor Statistics separates the workplace statistics for home health aides and personal care aides. The most common workplaces for home health aides are:
Home healthcare services: 54%
Services for the elderly and persons with disabilities: 19%
Continuing care retirement communities and assisted living facilities for the elderly: 8%
Residential intellectual and developmental disability facilities: 5%
Nursing care facilities (skilled nursing facilities): 2%
Personal care aides, who do not provide medical care, work in similar environments:
Services for the elderly and persons with disabilities: 50%
Home healthcare services: 15%
Residential intellectual and developmental disability facilities: 9%
Continuing care retirement communities and assisted living facilities for the elderly: 7%
Private households: 4%
What hours do caregivers work?
Most caregivers work full-time, though part-time schedules are also available. Day, evening and night shifts are all possibilities since some people need care around the clock. Caregivers' schedules may differ during their shift. For example, some caregivers make four or five home visits during a typical 8-hour day shift, seeing multiple clients over the course of a single day. Other caregivers only work with one client their entire shift. These clients usually have greater needs and more limited mobility that necessitates a higher level of care.
How much do caregivers make?
According to the Bureau of Labor Statistics, the median annual pay for home health aides was $24,060 per year, or $11.57 per hour, in 2018. (In May 2018, the median annual wage for all workers was $38,640.) Around 3,253,000 people currently work as home health aides. This number is projected to rise by 36% between 2018 and 2028. To put it in perspective, the average projected growth for all occupations is 5%. This increase works out to an additional 1,185,800 jobs over the next decade. In May 2019, the top-paying states for home health aides were Alaska, North Dakota, Vermont, Massachusetts and the District of Columbia.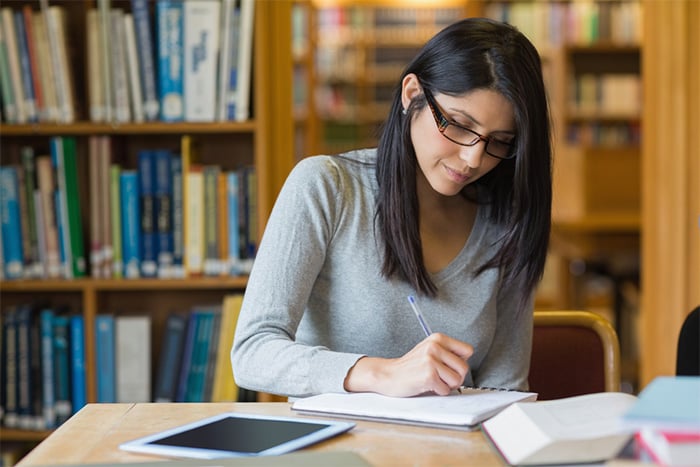 How to become a certified caregiver?
To get started as a paid caregiver, you need a high school diploma or the equivalent (such as earning your GED). Not all states require a certification to work as a caregiver, but getting your certification can open up more employment opportunities and potentially higher pay. Some agencies specifically look for caregivers who have a certification, even if the state doesn't require one. To get your certification, you first need to find a caregiver training program recognized by your state's department of health. Your state might have a caregiver resource center that provides such a class. In most places, training programs are also available at local colleges, vocational schools or organizations like the Red Cross. After finding a training program that fits your needs, you'll need to enroll and complete the course. Once you finish the course, you'll take an exam covering the topics you learned in the course. Upon passing the exam, you'll receive your certification.
What qualities do caregivers need?
Just as with any job, not everyone is well suited to being a caregiver. The best caregivers are detail-oriented. They can follow their agency's policies and keep track of important information like their patients' medication doses and medical appointments. They also need to have great interpersonal skills since they interact with clients and their families all day long. Caregivers must be patient and keep a cool head, even if the client is very distressed and in pain. Caregivers must also be trustworthy and full of integrity — after all, they often work in clients' private homes and help patients with sensitive activities such as bathing. Physical stamina is important, too, since some clients have limited mobility and need to be lifted or moved. Finally, caregivers need to have compassion and enjoy helping people, because that's what the job is all about.
What supplies do caregivers need for home visits?
Caregivers need a variety of supplies in order to succeed at their job. First of all, they will need high-quality workwear such as cotton scrubs and comfortable nursing shoes. They will also need a nursing bag full of common clinical supplies such as a bluetooth stethoscope, a blood pressure cuff, a thermometer, nursing scissors, tape, a sharps container, a tourniquet, hand soap, disinfectant, lotion, hand sanitizer and gloves. To learn more about nursing bag technique — including how to clean and sanitize your bag — read our ultimate guide.
How should caregivers prepare for interviews?
As a paid caregiver, you will be interviewed by both the agency that hires you and potential clients. Make sure to dress professionally for the interviews and bring along copies of your resume and other credentials.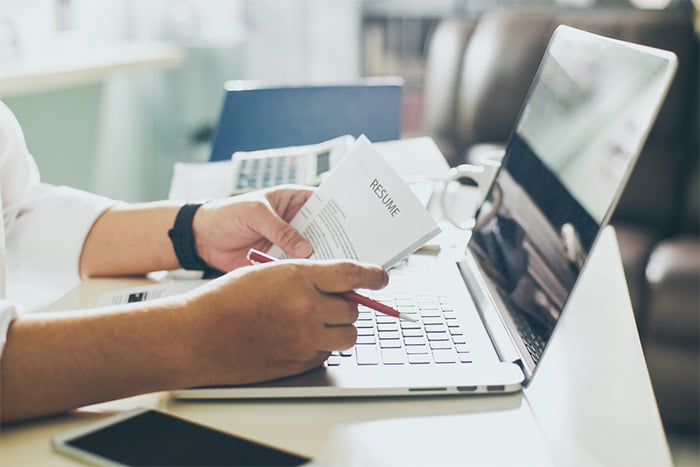 You should be prepared to answer common questions, such as:
Can you describe your work history?
What specific qualities do you possess that make you a good caregiver?
Why did you want to become a caregiver?
What is your approach to handling people with special needs, such as dementia?
How would you deal with a difficult situation, such as a patient who begins shouting at you?
Why do you want to work at our agency?
You should also be prepared to ask your own questions of either the agency or the potential client. Make sure that these questions aren't easily accessible on the agency's website or profile. Otherwise, it will look like you haven't done your research.
What's the difference between a caregiver and a nurse?
While most nurses work in hospitals, some of them are available for hire as caregivers. Nurses have more experience and education than caregivers, so they can perform additional clinical tasks such as wound care and IV insertion. Because of this additional experience, nurses are also more expensive to hire than regular caregivers. The nurse's cost will be somewhat dependent on their credentials — for example, a registered nurse (RN) usually commands more money than a licensed practical nurse (LPN). Most clients don't need the extra clinical skills that nurses provide, though a few do.
How do you find a caregiver for your loved ones?
If you've been caring for a family member and have decided it's time to hire outside help, there are several steps to finding the right caregiver. First of all, you should make a list of your loved one's needs and limitations, which will help you decide what level of care they need. You will also need a doctor's report confirming the need for in-home care if your family member has long-term care insurance, Medicare or Medicaid. Ask doctors, friends and other contacts for referrals to caregiving services. You can also find agencies in your area using online databases, or go through a home health registry if you'd prefer to hire an independent contractor. Even if you need to quickly find a caregiver, try to take the time to thoroughly vet all the candidates and consider all your options. After all, you want to be confident that whoever you hire will take great care of your loved one.
In just a few weeks or months, you could get the training you need and start work as a certified caregiver. If you're interested in this career, look for training programs in your area to get started on the requirements. And if you're already a caregiver and looking for supplies, be sure to check out our collections of high-quality scrubs and equipment.