LPN vs. RN: What's the Difference?
As you can tell from the names, Licensed Practical Nurses (LPN) and Registered Nurses (RN) are both types of nurses — but just because they have similar titles doesn't mean their jobs are interchangeable. If you're wondering about the differences between LPN vs. RN, you're not alone. Below, we've compared and contrasted these two jobs according to eight major categories: education, curriculum, licensing and certification, scope of practice, workplace, duties and responsibilities, earning potential and job outlook.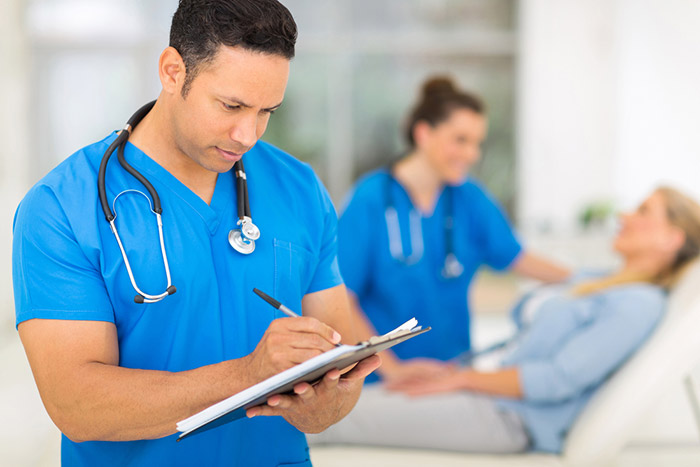 Education
LPNs must have graduated high school or earned their GED. Then, they enroll in an LPN education program, which takes between nine and 18 months to complete depending on the program and the state. Finally, they pass a state licensing assessment and officially become a licensed practical nurse. Registered nurses must earn a bachelor or associate degree from an accredited nursing school. There are also Master of Nursing (MSN) programs available for people who decide to become an RN later on. Earning a Bachelor of Nursing (BSN) or MSN is often a prerequisite for further degrees, such as Nurse Practitioner.
Curriculum
LPN education programs usually cover topics such as anatomy, biology, chemistry, psychology, food and nutrition, human health and disease, first aid, pharmacology and, of course, the fundamentals of nursing. RN programs cover all these same topics, but in much more depth. They also cover additional subjects such as community health, as well as soft skills like critical thinking and leadership.
Licensing and Certification
Most LPN programs offer some type of certification after completion and a few colleges offer an associate's degree as well, though these aren't the norm. If aspiring LPNs do attend a state-approved college, they'll have to pass the NCLEX-PN licensure test afterwards. Aspiring RNs earn a certificate, diploma or an associate degree, depending on the program. Then they must take and pass the NCLEX-RN test to become a fully-fledged RN.
Scope of Practice
LPNs are limited in what they can do because they must be supervised by either a registered nurse or a doctor. RNs work more independently, and with experience often become the manager of a team of nurses or even an entire unit or department. RNs can further expand their scope of practice with additional degrees and certifications—for example, by becoming a cardiology nurse practitioner. In pretty much every case, an RN will be considered over an LPN for a leadership role or an exciting new opportunity.
Workplace
While the hospital is seen as the typical place of employment for nurses, only a small minority of LPNs actually work in hospitals. LPNs are far more likely to work in other environments, including home health care facilities, nursing care facilities, community care facilities, physicians' offices, dialysis centers and blood banks, outpatient clinics, psychiatric hospitals and correctional facilities. RNs may find employment at these types of facilities, of course, but they're far more likely to be employed at general medical and surgical hospitals. They may also work at schools, summer camps or military bases.
Duties and Responsibilities
In a nutshell, the duties of an RN require more critical thinking, planning, experience and independent action than the duties of an LPN. Especially when they're starting out, RN duties will overlap with LPN duties, but as the RNs gain experience, their paths will begin to diverge. In certain states, LPNs may be forbidden from certain tasks that RNs can do, such as prescribing pharmaceuticals and starting IVs.
Earning Potential
Registered nurses will almost always out-earn licensed practical nurses when it comes to LPN vs. RN salaries. According to the Bureau of Labor Statistics, the median pay for registered nurses in 2018 was $71,730 per year, while it was only $46,240 a year for licensed practical nurses. RNs are able to further increase their earning potential by earning additional certifications, gaining experience in demanding specialties and taking on leadership and management roles.
Job Outlook
Given the developing nursing shortage, the job outlook is good for both LPNs and RNs and should remain positive for the coming years. The Bureau of Labor Statistics predicts that the job outlook from 2018-2028 will increase by 11 percent for LPNs and 12 percent for RNs, both much faster than the overall predicted growth rate of five percent.
We hope this clears up your questions about LPN vs. RN roles. They may both wear scrubs – and LPNs do begin work more quickly–but the career opportunities and earning potential are greater for RNs. If you're deciding between these two roles, carefully think through the comparisons listed here before making a decision.