Update Your Wardrobe with 7 Modern Scrubs
Looking to bring your wardrobe into the 2020s with some modern scrubs? Check out these seven awesome contemporary scrub collections:
This scrub brand isn't just based on the
super popular medical TV show
. It also makes really great scrubs. Grey's Anatomy has released many collections over the years catering to every style and taste. If you're looking for more modern scrubs, we recommend checking out their iMPACT collection. These scrubs come in a junior contoured fit and are made from a 74 percent polyester, 23 percent rayon and three percent spandex blend that provides moisture-wicking and soil release technology for long wear and all-day comfort. Features include patch pockets, side vents, color contrast trim, angled seaming and more. Our customers love this collection for its flawless fit—and if you order it, you'll see why!
It can be hard to find modern scrubs that aren't a more contoured junior fit, which is why we love the Revolution collection from Cherokee Workwear. These scrubs feature a missy relaxed fit that's flattering while still giving you room to move. These easy-care scrubs are made from a silky stretch twill fabric blend composed of 78 percent polyester, 20 percent rayon and two percent spandex. The scrubs include thoughtful touches such as tagless heat transfer labels, princess seaming, modified banded v-necklines and more. If you love Cherokee scrubs and are looking for a modern upgrade, definitely check this collection out.
Skechers makes more than just super comfortable shoes. They also make stylish scrubs. One of our customers' favorite collections from Skechers is the Reliance line, which comes in a junior contoured fit. Like other Skechers collections, their Reliance scrubs are made using their arcgreen™ sustainable fabric technology, which recycles plastic water bottles into fabric. Speaking of fabric, the 54 percent polyester, 40 percent recycled polyester and six percent spandex blend offer a 4-way stretch that will move with you throughout the day. Look out for attention-getting details such as crossover mock wrap v-necklines, interior mini pockets, shoulder yokes and more with this collection.
If you're searching for the best modern scrubs, definitely take a look at koi's Next Gen collection. These missy relaxed fit scrubs are super comfortable and feature contemporary designs such as jogger scrub pants and modern prints such as bold and bright florals. The scrubs are made from a 73 percent polyester, 22 percent rayon and five percent spandex stretch twill fabric that will keep you comfortable all day long. Features such as zipper closures, patch pockets and ID badge loops add to the functionality and comfort. As an added bonus, the scrubs come in sizes from XXS to 5XL, so you're sure to find your perfect fit.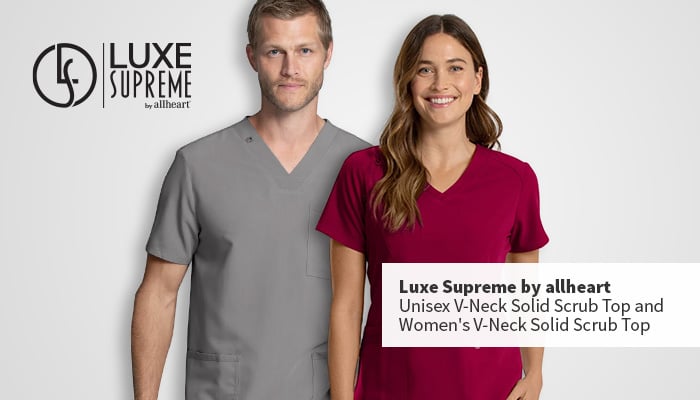 The Luxe Supreme collection is the epitome of classy modern scrubs. The resilient, memory-stretch fabric has a silky, flawless feel thanks to the 74 percent polyester, 22 percent rayon and four percent spandex blend. These missy relaxed fit scrubs are perfect for those who prefer a looser look, and they come in six trendy solid colors that will go with just about any dress code. We incorporated tons of functional and appealing features, such as front shoulder yokes, bungee ID loops, contoured top seaming, knitted waistbands and cuffs, cargo and patch pockets and more. If you've enjoyed other allheart scrubs, then you'll definitely love this new premium collection!
This is one of the most popular collections for a reason: it's a flattering modern scrub style in a junior contoured fit. The 95 percent polyester, five percent spandex blend unites performance with stretch in a fine dobby fabric that's comfortable to wear all day. The collection features innovative styling and details, such as a unique headphone cord system for convenient use of your smartphone. Double-needle top-stitching adds both a fashion detail and durability, while plenty of pockets offer copious amounts of storage. This collection also features plenty of trendy scrub pants, including a couple of different styles of joggers so you can put together the perfect scrub set.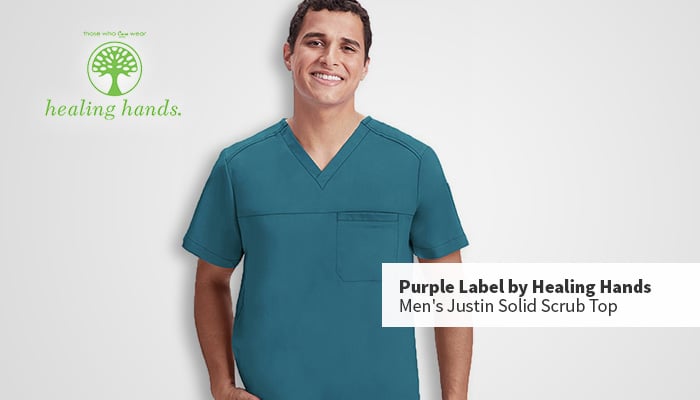 The Purple Label collection is the perfect introduction to Healing Hands scrubs. Purple Label scrubs are made of a stretch poplin fabric composed of a 77 percent polyester, 20 percent rayon and three percent spandex fabric blend. They offer a junior contour fit as well as features such as knit waistbands, cargo patch pockets, knee darts, side vents at the hemline and more. Not only that, but they come in more than two dozen colors so you can choose the perfect hue for your workplace wardrobe. If you're tired of typical scrub colors, then this is the perfect collection to consider!
Looking for other contemporary scrub options? Shop our collections of athletic scrubs today!