Slimming Scrubs
Scrubs have a reputation for being baggy and unflattering. While some scrubs don't do any favors for your figure, others can make you look really good. Of course, you'll need to choose them wisely. Read on to explore five tips for finding flattering scrubs. Plus, we discuss three of our favorite scrub tops.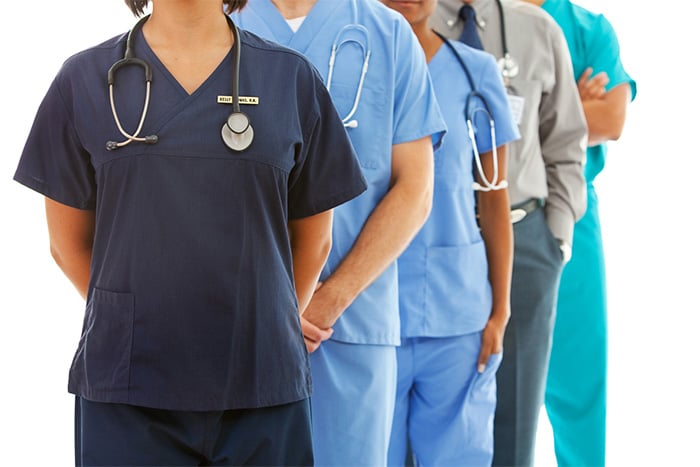 Select the correct size
Wearing the wrong size will make any set of scrubs unflattering, no matter your size or shape. Tight scrubs will pull and pucker awkwardly while large scrubs will billow out and make you look bigger. Measure yourself and compare your numbers to the brand's size chart for your perfect fit. Keep in mind that sizes vary from brand to brand. You might be a medium in one scrub and a large in another. Don't forget to consider the material as well. Stretch scrubs will have a bit of give to them, but other scrubs might not.
Pick the right color
It's true that dark colors are more slimming than light colors, but that doesn't mean your whole wardrobe should be black. When choosing scrubs, make sure to take your skin tone into account — some shades might pop on someone else and look totally different on you. Selecting tops and bottoms in the same color will create a monochromatic, slimming look that's sure to flatter everyone.
Choose prints wisely
If you don't like solid colors or are looking to branch out, you'll want to select prints. But be careful to avoid unflattering effects. Large, loud prints draw attention to your torso and make you look larger than you are. Look for small, repeating patterns that will add some visual interest without attracting too much attention. If you really want to downplay the pattern, look for designs that don't have much color contrast.
Look for flattering details.
Size and color aren't the only keys to figure-flattering scrubs. Small details and features can take your workwear from "meh" to "amazing." For example, color contrast side panels add visual appeal and create a slimming effect. Wrap tops enhance your figure naturally and draw the eye across in a flattering way. On the flip side, watch for details that may not flatter your shape, such as where side pockets are placed on hips and thighs.
Pay attention to the silhouette.
Different cuts look better on different people. For example, if your figure is more petite or athletic, you might prefer a more junior fit. If you have more curves, a missy fit might be better for you. Flare pant legs look great on some people, while others prefer tapered. If you know that you prefer a certain fit or cut over others, make sure to read the fine print before placing an order of slimming scrubs. If you're looking for nursing assistant scrubs in a missy fit, you don't want to accidentally buy a junior fit!
Here are some examples of our favorite flattering scrubs to help you shop: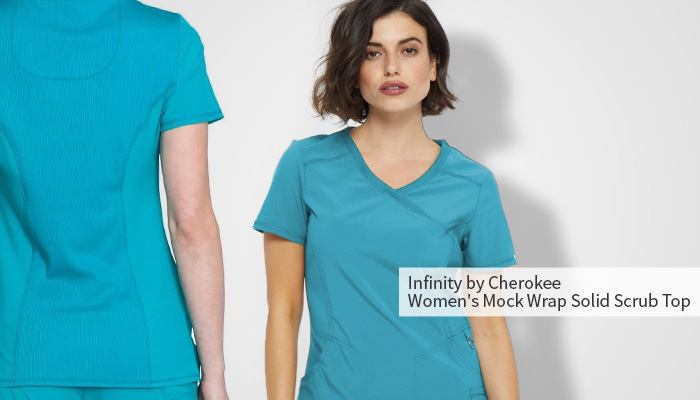 This scrub top is made with a junior fit for a more contoured, contemporary look. The mock wrap creates a flattering silhouette, while princess seams skim your figure for a slimming look. A stretch rib knit at the center back panel allows the body to move with you as you go about your shift.
If you can never find scrubs that fit quite right around the middle, you're in luck: These scrubs have a drawstring waist so you can adjust the fit as needed. They also have side slits, two front patch pockets and topstitching along the seams for athletic styling.
Follow these five principles to select the best slimming scrubs for your needs. Say goodbye to baggy workwear and hello to figure-flattering scrubs. You might actually look forward to putting on your workwear for once!