What Does a Pediatric Nurse Do?
Many aspiring nurses dream of one day working with children in a pediatric practice. Not only do pediatric nurses help improve or save young lives, but they also get to wear the most fun pediatric scrubs. Becoming a pediatric nurse takes a bit of a commitment — you have to earn a couple of years of on-the-job experience after graduating in order to get certified — but it's a fulfilling specialty for many nurses who love working with kids. Before you put on those slip-resistant shoes, here's what you need to know about becoming a pediatric nurse: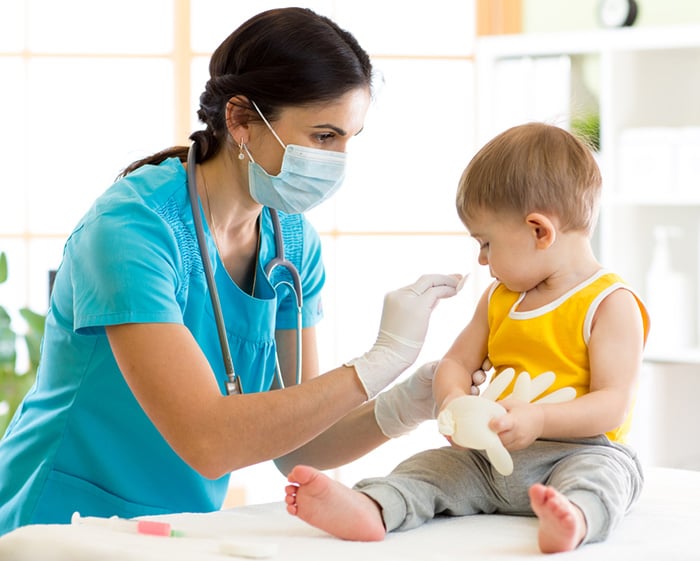 What does a pediatric nurse do?
Pediatric nurses perform many of the same duties that other registered nurses do, including (but not limited to):
Recording patient health histories
Conducting routine screenings and examinations
Ordering and interpreting laboratory tests
Formulating treatment plans
Administering vaccinations
Evaluating children for pain management, signs of abuse, and more
Prescribing medications and diagnosing illnesses (if they are a nurse practitioner and the state allows it)
While many of these duties overlap those of other nurses, pediatric nursing requires an extra level of education and experience. Children aren't tiny adults. Symptoms can present differently in kids, and patient needs change as they progress through different stages of development.
How to become a pediatric nurse?
Pediatric nursing is considered a specialty, so you can't dive right into the field. First, you'll need to earn your Bachelor's of Science in Nursing (BSN). If you already have a bachelor's degree in another field and are looking for a career change, you can get a Master's of Science in Nursing (MSN) instead. Then you'll need to get certified as a registered nurse and earn a couple of years of experience — most nursing degree curricula do not offer instruction in pediatrics as a concentration, so you have to get your experience on the job. Finally, you can study for and pass the National Certification Examination for Certified Pediatric Nurse, which officially makes you a pediatric nurse. Pediatric nurses may also choose to continue their education, becoming a Pediatric Nurse Practitioner (PNP) or adding additional specialties, such as intensive care.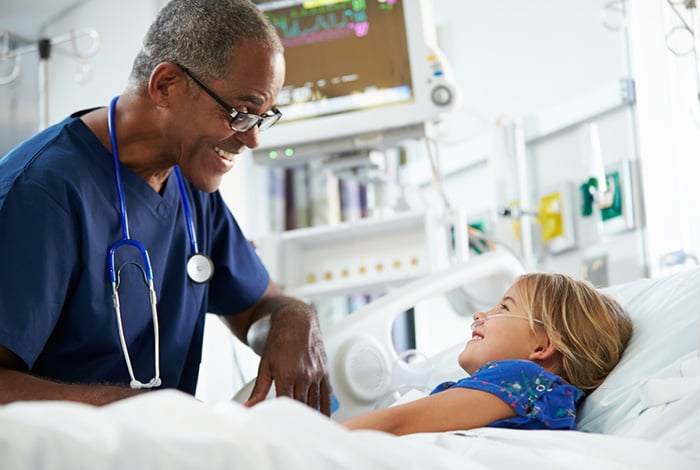 How long does it take to become a pediatric nurse?
How long it takes to become a pediatric nurse depends on what degree you earn. Getting a bachelor's degree takes 4-5 years, plus another couple years of experience, for a total of 6-7 years. A master's degree takes less time, about 2 years, so if you pursue that path, it will take about 4 years to officially become a pediatric nurse. If you're itching to put on your pediatric scrubs sooner than that, keep in mind that you can still look for general registered nursing positions right out of school, which will help you gain that pediatric experience. You cannot officially become a Certified Pediatric Nurse until you meet all the requirements.
How much does a pediatric nurse make?
While the Bureau of Labor Statistics (BLS) doesn't break out compensation statistics for specific specialties, it does report that the annual median pay for registered nurses was $71,730 per year, or $34.48 per hour. Many nurses who pursue specialties, including Certified Pediatric Nurses, often make more than a typical registered nurse because of their additional training. Keep in mind that salaries can vary widely by location and experience level.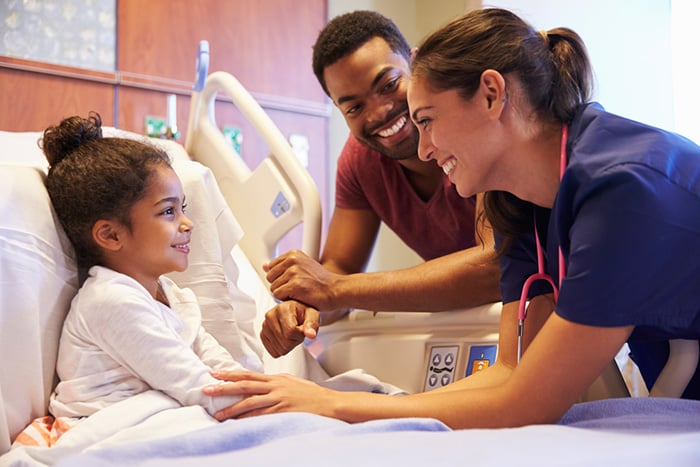 What skills do you need to become a pediatric nurse?
Pediatric nurses need a fantastic bedside manner in order to treat children and soothe their worried parents. Patience and compassion are key to success in this job, as is remaining calm under pressure. Critical health situations are much scarier when the patient is a small child. As with any other nursing position, critical thinking, attention to detail, organization, time management, and communication are all key skills pediatric nurses need to master in order to ensure the best patient outcomes.
Where do pediatric nurses work?
Pediatric nurses work in a variety of environments. Many of them work in pediatrician's offices, assisting physicians with providing preventative care. Others work in either children's hospitals or in designated units within general hospitals, such as the Pediatric Intensive Care Unit (PICU).
We hope this answered your questions about how to become a pediatric nurse and what pediatric nurses do. If you're in the market for pediatric scrubs, take a look at our pediatric scrubs collection for a wide range of colors and sizes.