The Complete Guide: What is An APRN?
APRNs — a.k.a. Advanced Practice Registered Nurses — are a step above registered nurses in terms of the nursing hierarchy. This advanced nursing role requires at least a master's degree and leads to many career opportunities when it comes to both earning power and leadership roles. Below, we answer all your most pressing questions about advanced practice registered nurses, including what is an APRN, how to become one, how much money they make, why RNS choose to become ARPNs, and more.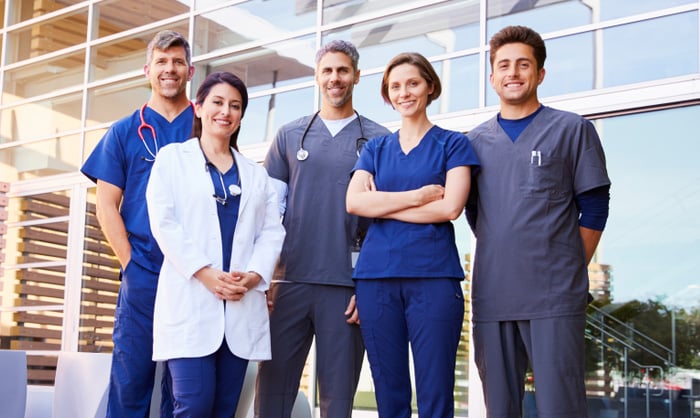 Grab your cotton scrubs and your slip-resistant shoes and learn how to become an APRN:
What does APRN stand for?
APRN stands for "Advanced Practice Registered Nurse." As the name suggests, APRNs are nurses who have completed additional experience and educational requirements. You may also sometimes see the term "advanced practice nurse" (APN) used, although this is less common than APRN.
What is an APRN?
APRNs are nurses who have usually completed either a master's degree or a Doctor of Nursing Practice (DNP). There are four main types of nurses that fall under the APRN umbrella:
Certified Nurse Practitioners
Certified Nurse Midwives
Certified Nurse Anesthetists
Clinical Nurse Specialists
While the typical duties for each type of APRN vary by speciality, all APRNs have more responsibility and autonomy than any other type of nurse, broadly speaking. For RNs looking to take the next step in their healthcare career, becoming an APRN could be an excellent move.
Is an APRN the same as a nurse practitioner?
A nurse practitioner is one of the four subtypes of APRN. While some people may use "APRN" and "practitioner" interchangeably, they aren't quite the same thing. When in doubt, always clarify whether someone is talking about all APRNs or nurse practitioners specifically.
What does an APRN do?
APRNs have the widest scope of practice of all types of nurses. In some states, they might even be able to diagnose conditions and prescribe medications, similar to doctors (although they don't have to swap their comfy stretch scrubs for a white coat). Here are some general duties that an APRN might do on a typical shift:
Recording patients' medical histories and symptoms
Performing physical exams
Creating patient care plans
Performing and ordering diagnostic tests
Analyzing test results
Operating medical equipment
Diagnosing various health problems
Prescribing medication or treatment
Evaluating patients' responses to care plans
Collaborating with doctors
Conducting research
Below, we delve more into the specific duties that each of the four main types of APRNs perform.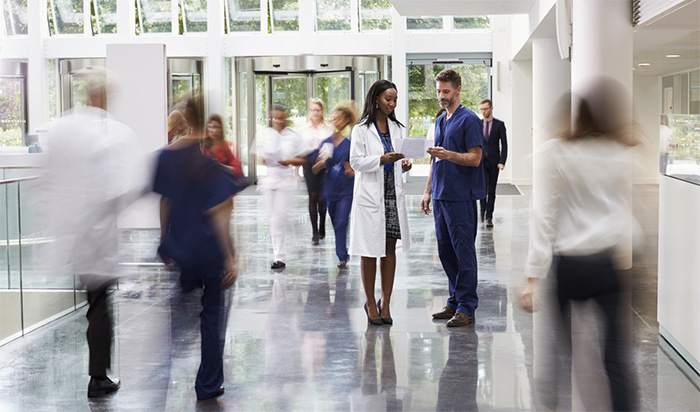 What does a nurse practitioner do?
Nurse practitioners serve as primary and speciality care providers, offering advanced nursing services. They assess patients, devise care plans for patients, and coach patients through treatments and lifestyle changes. Just like doctors, nurse practitioners tend to focus on a particular population of people. For example, a nurse practitioner might specialize in pediatric health or psychiatry. Think of nurse practitioners like supercharged registered nurses with more independence and responsibilities.
What does a nurse midwife do?
Nurse midwives help deliver babies, but they also do so much more than that. They provide many different types of care to women, including gynecological exams, family planning services, and prenatal care. Nurse midwives may act as primary care maternity providers throughout the pregnancy as well. During labor, they manage emergency situations, repair lacerations, and assist surgeons if a cesarean birth is required. Nurse midwives may also provide wellness care or sexual and reproductive care to their patients.
What does a nurse anesthetist do?
Certified Nurse Anesthetists (CRNAs) administer anesthesia and provide care before, during, and after procedures. They may work in various departments such as surgery, obstetrics, and diagnostics. Before the procedure, they talk with the patient about any other medications they might be taking that could interfere with the anesthesia, as well as any allergies or illnesses they may have. CNRAs may administer general anesthesia, which puts patients to sleep so they feel no pain during procedures. They also can administer regional or local anesthetics, which only numb certain areas of the body. Throughout the procedure, CRNAs monitor a patient's vital signs and adjust the anesthesia if necessary.
What does a clinical nurse specialist do?
Perhaps the broadest category of the four, clinical nurse specialists are graduate-level nurses who are certified in a variety of specialties. These specialities may be classified by population, care setting, disease, type of care, and type of health problem. Some specialities may also combine different categories: For example, a pediatric ICU specialty covers both a patient population (pediatric) and a care setting (the intensive care unit). There are many dozens of specialties available, so it's important to find a nursing master's program that offers the one you want to pursue.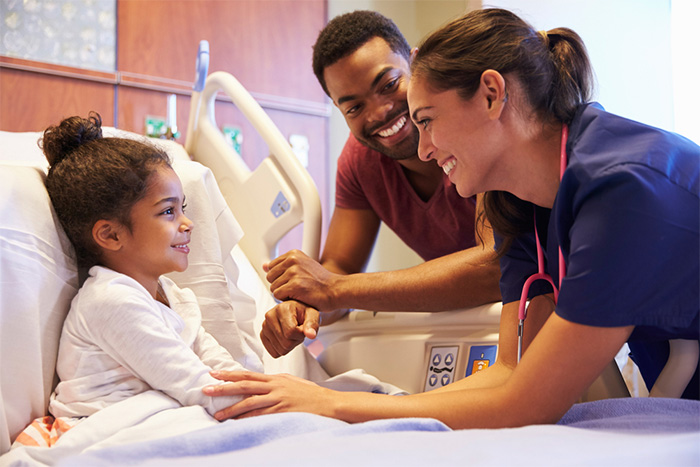 What are some common APRN specialties?
Clinical nurse specialists can choose from many types of specialities. This abbreviated list gives some of the most common examples:
Population

Pediatrics
Neonatal
Adult health
Women's Health
Geriatrics

Care setting

Emergency room
Critical care
Medical/Surgical Units
Home health
Health centers

Disease

Diabetes
Oncology
Infectious disease
Orthopedics
Neurology

Type of care

Psychiatry
Public health
Rehabilitation

Type of health problem
How to become an APRN?
To become an APRN, you must already have your RN license, and ideally some clinical experience or at least a strong background in science. Then, you must enroll in one of three advanced degree programs: Master of Science in Nursing (MSN), Doctor of Nursing Practice (DNP), or a Ph.D. in Nursing. After graduating from your chosen program, you must pass a national certification exam and obtain an APRN license. Check with your state's board of nursing for specific licensing and certification requirements. Certain APRN positions may also require additional certifications, such as cardiopulmonary resuscitation (CPR), basic life support (BLS), or advanced cardiac life support (ACLS) certification.
What are the APRN degree options?
There are three main degrees that you can earn to become an APRN. They are:
Master of Science in Nursing (MSN): These 2-3 year programs are the fastest way to become an APRN. Most MSN programs require a Bachelor of Science in Nursing (BSN), but there are some RN-to-MSN bridge programs. Look specifically for certified master's programs, which will fully prepare you to become an APRN. After earning their MSN, some nurses do opt to advance to further education and earn either a DNP or a Ph.D., though it isn't required to be an APRN.
Doctor of Nursing Practice (DNP): The DNP is one of two doctorate degrees available in nursing. As the name suggests, this degree focuses on nursing practice (as opposed to the Ph.D., which is more researched focused). You don't necessarily have to have an MSN before getting your DNP because there are BSN-to-DNP bridge programs available. The DNP is considered a terminal degree, meaning there is no higher degree available after it.
Ph.D. in Nursing: Also a terminal degree, the Ph.D. is more academic and focused on conducting research rather than the practical applications of nursing. Nurses pursuing their Ph.Ds often go into health policy roles or pursue faculty positions at nursing schools, where there is a looming shortage of qualified teachers.
What qualities do APRNs need to succeed?
APRNs need to be skilled at communicating with many different populations, from patients to doctors to fellow nurses. They also need to have sharp critical thinking skills, especially since they have more decision-making power than a regular RN. APRNs must also be detail oriented, and be able to see the big picture along with the specifics. APRNs also need leadership skills — due to their advanced experience and education, they are often placed in management roles over nurses and other healthcare workers. And finally, APRNs need compassion and fantastic interpersonal skills since they spend so much time with patients and their families. If all these qualities describe you, then you might make a great APRN.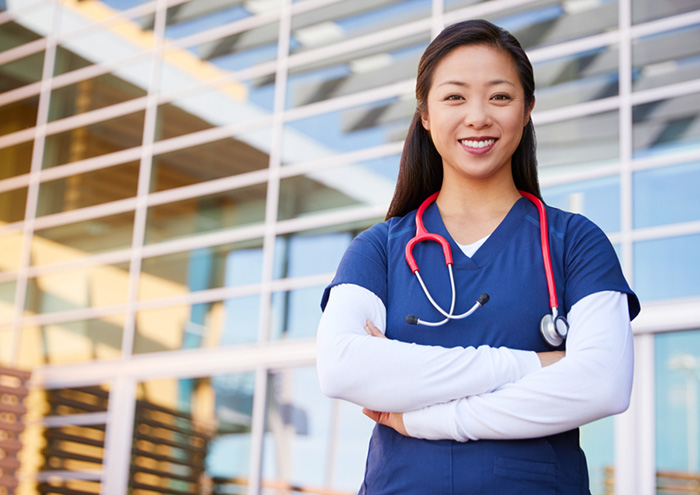 How much does an APRN make?
In 2018, the median annual salary for all APRNs was $113,930 per year, $54.78 per hour. This is much higher than the median annual salary for all workers, which was $38,640. APRNs also make more than many related healthcare occupations, including other nurses:
Licensed Practical and Licensed Vocational Nurses: $46,240 per year, or $22.23 per hour
EMTs and Paramedics: $34,320 per year, or $16.50 per hour
Registered Nurses: $71,730 per year, or $34.48 per hour
Physician's Assistants: $108,610 per year, or $52.22 per hour
What's the job outlook for APRNs?
In 2018, there were 240,700 openings for APRNs. By 2028, this number is expected to grow by 26%, much faster than the estimated growth rate of 5% for all occupations. This will translate into an additional 62,000 APRN jobs being added by 2028. As the population continues to age and more experienced healthcare workers retire, the need for APRNs will only grow.
What's the difference between an APRN vs RN?
While there are some similarities between the duties of an APRN and an RN, they are two very different nursing roles. RNs tend to perform more rote clinical tasks, such as taking medical histories, while APRNs can diagnose illnesses and prescribe medications in some states. In fact, some experienced APRNs play roles similar to that of doctors, especially in underserved rural areas. Many RNs decide to make the leap and become APRNs because they want the additional autonomy and responsibility.
Why should I become an APRN?
If you're on the fence about whether or not becoming an APRN is worth the extra time, money, and education, here are some reasons that might help sway you one way or another:
APRNs make more money than RNs and other related positions, and becoming one greatly increases your long-term earning power.
The job outlook for APRNs is very bright, and there will likely be many openings for many years to come.
Getting your masters degree and becoming an APRN is a good way to pursue more education in your chosen specialty.
Getting an APRN is a good next step if you feel like you're stagnating as an RN, or if you're looking for the next chapter in your career.
If you need a break from clinical work, attending a masters program is a good way to take a break while still filling any gaps in your résumé.
If you're looking to make a career change within nursing, becoming an APRN can help you make that switch.
APRNs have many of the same privileges as doctors without having to rack up medical school debt and then complete a residency.
Becoming an APRN allows you to keep working face-to-face with patients while expanding the scope of your practice.
Becoming an APRN requires a lot of hard work, but many RNs find the move to be worth it. If this ultimate guide didn't make up your mind yet, reach out to an advanced practice registered nurse and learn more about being an APRN.