How to Become a Sonographer
Sonography is a noninvasive, painless procedure that uses high-frequency sound waves to produce visual images of organs, tissues or blood flow. If you're contemplating a career in sonography, you've come to the right place. We answer all of your ultrasound career FAQs below.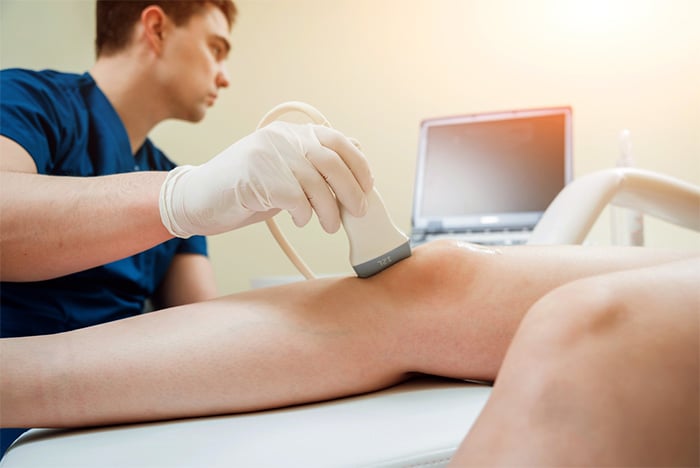 How do I become an ultrasound sonographer?
First, you must earn either a one-year certificate, a two-year associate's degree or a four-year bachelor's degree in sonography. Then, you must earn any certificates or licenses required by your state and/or employers.
What should I major in to become a sonographer?
Unlike some other fields, you can't start work as a sonographer without getting a degree in the field. You'll need to attend a program specifically designed to teach you diagnostic medical sonography (DMS). Some schools also allow you to earn your degree in certain specializations as well, such as echocardiography, cardiovascular sonography or diagnostic cardiovascular sonography.
How many years does it take to become a sonographer?
It takes a minimum of two years (around 24 months) to complete an associate's degree in sonography. Some people opt to get additional education and earn a bachelor's degree, which takes four years instead of two. If you've already done clinical work in the healthcare field and want to make a career transition, you might also be eligible to enter a one-year accelerated program.
Can I become a sonographer online?
Because of the hands-on clinical experience required, there are no sonography programs that can be entirely completed online. In some cases, you may be able to take certain classes online and then do the rest of the clinical work in-person at a facility. However, you must have clinical experience in order to get your license and certification. Sonography training is offered by technical schools, community colleges, universities, hospitals and the military.
Can you be a sonographer with an associate's degree?
Yes, you can–as long as you obtain your associate's degree in diagnostic medical sonography.
What is the best college for sonography?
According to Universities.com, the top five schools for sonography are George Washington University, Rochester Institute of Technology, Oregon Institute of Technology, West Coast Ultrasound Institute and Seattle University. However, you shouldn't make your decision based solely on rankings. Location, costs and scholarships are also important factors to consider.
Do sonographers wear scrubs?
Yes, sonographers wear nursing scrubs as well as slip-resistant shoes to work. These uniforms keep them comfortable and safe on the job.
What kind of hours do sonographers work?
Most full-time sonographers work around 40 hours a week, and they may also work overtime on especially busy days or weeks. Depending on what kind of facility they work at, they may work during the day or they might have evening or weekend shifts. Sometimes they are also on call and must be ready to report to work on short notice.
Do sonographers work 12-hour shifts?
A majority of sonographers work in hospitals, clocking in for three 12-hour shifts a week. This schedule is very similar to that of nurses and other healthcare professionals.
Is it hard to become a sonographer?
It's not easy to enter any job in the medical field, especially one that's patient-facing. However, becoming a sonographer is very doable if you apply yourself to it. Since it only takes two to four years of school and training, it's also faster to become a sonographer than many other medical professions.
What kind of math is needed to become an ultrasound technician?
Sonographers and ultrasound technicians need to have a good grasp of high school level math (algebra, calculus and geometry) before entering a degree program. In the program, they will also utilize some college-level algebra.
What's the difference between a sonographer and an ultrasound technician?
These two terms are used interchangeably and employers may use one or the other to refer to the same position.
Do ultrasound techs make more money than nurses?
According to the U.S. Bureau of Labor Statistics, the 2018 median pay was $67,080 per year for diagnostic medical sonographers, $71,730 per year for registered nurses and $46,240 per year for licensed practical nurses. Whether ultrasound techs make more than nurses depends on their experience, specializations, additional certifications and the type of facility at which they work. Some types of nurses may make more than ultrasound techs, while others may make less.
How much does a sonographer with an associate's degree make?
According to an ASRT survey, the average yearly income for sonographers with an associate's degree was $67,732. Sonographers with a bachelor's or master's degree earned a slightly higher average yearly income of $69,000.
Sonography can be a great career for those with a passion for diagnostics. We hope this guide answered your questions about how to become a sonographer.