4 Heavy-Duty Medical Bags for Doctors
While hospitals and other medical facilities do have a lot of supplies on hand, you'll still need to carry certain items with you, which is where a medical bag comes in. It can be tough to find a medical bag for doctors that balances your need for storage and portability while still looking professional. Below, we highlight four of our top medical bags that will make it easy to carry all the supplies with you that you need (or make a great gift for the doctor in your life).
This bag truly is the ultimate in medical bags for doctors and other medical practitioners, and it's easy to see why it's consistently one of our best-sellers. The many pockets are designed specifically to hold various clinical tools, making it super easy to carry and find all of your medical supplies. There's also a padded compartment that will keep your laptop safe. This space is also the ideal place to hold documents. The front completely unzips for easy access, while the top of the bag spreads open so you can reach into the interior. The bag comes with a shoulder strap for easy carrying and the bottom is non-skid so it stays put wherever you leave it. This item comes in tons of colors and patterns and can be customized with embroidery so everyone knows that it's yours.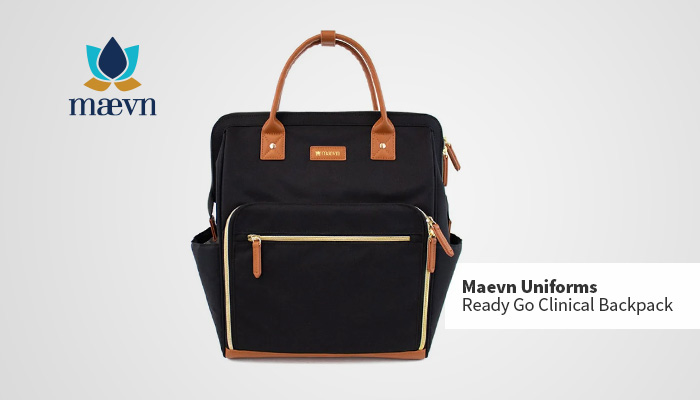 If you want a medical bag that doesn't scream "I work in a hospital," then you'll probably love this classy bag from Maevn Uniforms. In fact, it's so trendy you might be tempted to take it with you on other outings! The bag comes in three fashionable colors—black, navy and heathered grey—each with color contrast 100 percent vegan leather elements that add to the appeal of the design. In addition to the double handles at the top, the bag also features built-in adjustable padded shoulder straps and a pocket to stash them when not in use. The big front pocket contains mesh pockets and instrument loops, while the interior cavity features more zip and slip pockets for extra storage. This bag also features two external open pockets that are perfect for water bottles and other easy access items.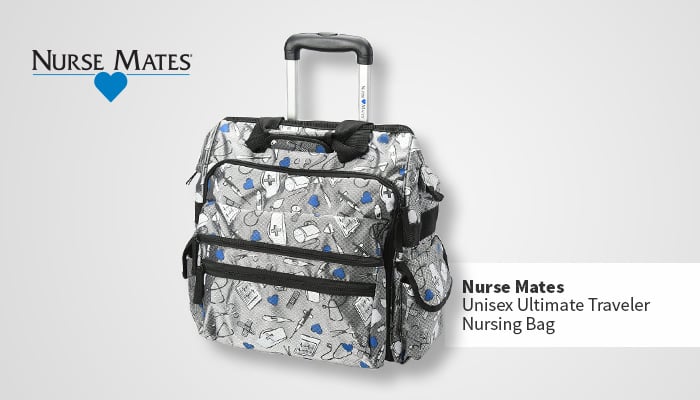 Whether you're constantly on the road or just trying to save your back, you might benefit from a rolling bag such as this one. It comes in three colors and features Nurse Mates' signature high-quality and thoughtful designs. The retractable handle has a push button and the flat base comes with wheels for easy rolling. The fabric upper is water-resistant and the padded base is non-skid for extra durability. Meanwhile, the top handles are wrapped for extra comfort so you can easily pick up the bag and carry it around if you don't want to roll it. The top features a zip closure with a hinged mouth for easy access and the front laptop pocket makes it simple to remove electronics before going through security. The entire bag is sized to comply with TSA regulations, making it a cinch to carry it onto your next plane ride.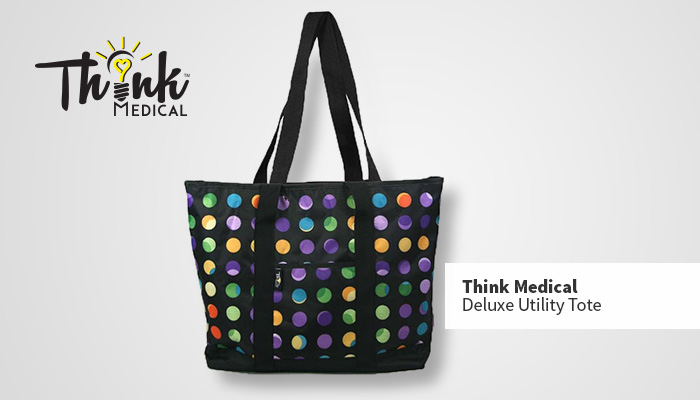 If you're looking for more of a true tote bag as opposed to a medical bag, then you might like this super affordable option from Think Medical. The printed polyester body comes in four fun prints to add a little excitement to your professional ensemble. The top zips closed to keep all your items secure, while an interior zip pocket provides additional storage. There's also an exterior slip pocket, which is perfect for holding cell phones and other devices that you need to access frequently and quickly. Two large handles make this bag easy to carry, while the flat base keeps it steady. If you find yourself needing a way to organize the inside of your utility tote (or any other medical bag for doctors), then we recommend grabbing yourself one of the Scrub Stuff In-Bag Organizers, which will provide many additional pockets and make it super easy to find all your clinical supplies.
Finding a new medical bag is made simple at allheart. Check out the rest of our medical bag and tote selection to discover your new favorite today!