Best Scrubs for Sweating: 8 Moisture- Wicking Scrubs
If you're searching for the best scrubs for sweating, you've come to the right place. Getting overheated in your scrubs is no fun, especially since you have to wear them for 12 hours or more at a time. Below, we round up some of our favorite moisture-wicking scrubs and offer tips to help you select the perfect fit.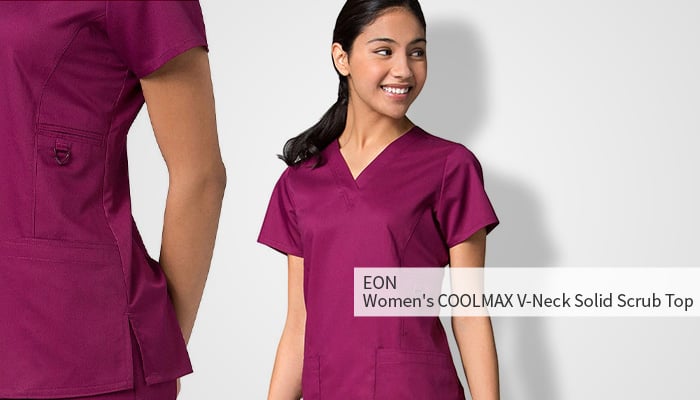 EON with COOLMAX®
This scrub line features COOLMAX® technology with moisture-wicking fabrication to keep you cool and dry during a long nursing shift. The scrubs are made from a unique fabric blend of 59% polyester, 22% rayon and 19% elasterell-p for the ultimate in flexibility and comfort. Mesh panels set into the side seams help to vent heat and reduce the chances that you'll start sweating in the first place. Unique details like a banded v-neckline, princess seaming and back shaping darts give these scrubs an athletic and flattering fit.
CROSS-FLEX by Carhartt
These Carhartt scrubs don't just stop sweat: The fabric features FastDry® technology for quick wicking, Stain Breaker® technology to release stains and Rugged Flex™ technology for ease of movement. Cross-Flex fabric is 94% polyester and 6% spandex to add extra stretch while remaining durable. Other features include patch pockets, badge loops, earbud holders, triple-needle stitching and other additions for functional wear.
W123 by WonderWink
This WonderWink line will keep you comfortable, cool and fashionable thanks to the missy relaxed fit and trendy colors, like hunter green and Caribbean blue. The scrubs are made from 100% polyester 4-way stretch and moisture-wicking microfiber, which is easy to care for and avoids fading and shrinkage. These tops also feature side vents at the hem for added cooling. Look out for fun features such as hidden cell phone pockets, instrument loops, sectional pockets and signature silicone d-rings at the pockets.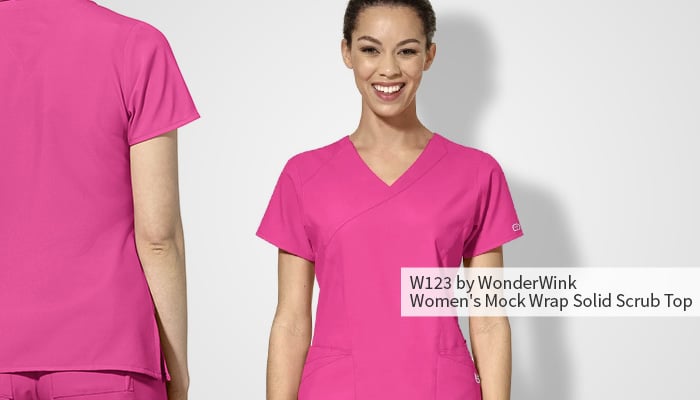 iMPACT by Grey's Anatomy™
No list is complete without including one of the most popular scrub lines ever. iMPACT by Grey's Anatomy™ is made of a 74% polyester, 23% rayon, 3% spandex fabric blend that is moisture-wicking. These scrubs also offer flawless fit, extreme comfort and soil release technology. Features include grommets with titanium tipped ties, zipper pockets, patch pockets, contrast trim and center back vents at the hem. Try these scrubs to find out why the Grey's Anatomytrade; brand is such an enduring favorite.
Barco One
If you're looking for a junior contoured fit, you should definitely check out Barco One's moisture-wicking scrubs. This line features super soft, recycled fabric with Arcgreen and Arclux technologies. The collection also features moisture-wicking and wrinkle-resistant scrubs made with Arcdry technology and soil-release components made with Arcrelease technology. The 4-way stretch fabric is made from 50% polyester, 43% recycled polyester and 7% spandex. As an added bonus, Barco One uses 5 recycled bottles to make each garment.
Dynamix by Dickies
This Dickies line also uses a junior fit for a more contoured, contemporary look. The textured, dobby fabric is made from a blend of 91% polyester and 9% spandex. This combination creates a lightweight, strong and durable material that wicks away moisture, offers 4-way stretch and resists wrinkles. These athletic style scrubs feature side vents at the hem, topstitching throughout, front and back princess seaming and many types of pockets.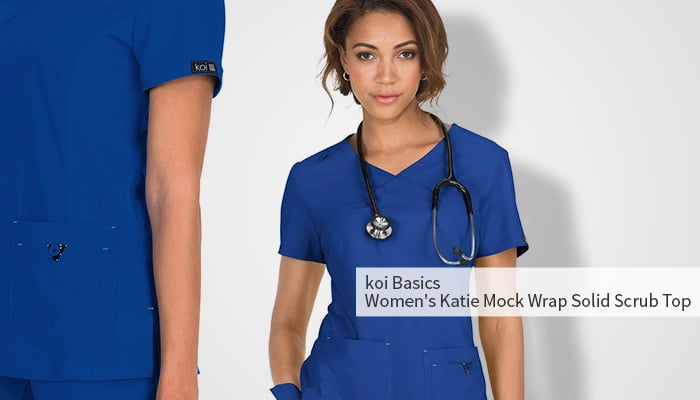 koi Basics
Despite the name, koi Basics is anything but. Made of 95% polyester and 5% spandex microfiber stretch fabric, these stretch scrubs provide advanced moisture-wicking while remaining easy to maintain. These scrubs combine timeless styles with trendy details and colors. They even incorporate a few menswear-inspired designs, like printed linings, to set them apart.
Therafirm Socks by Cherokee
We couldn't forget your feet when it comes to moisture-wicking technology. These Cherokee Therafirm compression socks will keep your feet cool and dry while stimulating your blood flow and reducing fatigue. The moisture-wicking yarns are made from 69% nylon, 9% Lycra and 22% polyester propylene. These socks also feature mesh ventilation for added breathability. Achilles protection prevents chafing while a Y-stitch in the heel improves fit and prevents slide. If socks aren't what you're looking for, Cherokee also makes calf sleeves, thigh-high stockings and other compression products.
Before you purchase your next set of moisture-wicking scrubs, you should learn how scrubs should fit and how to measure yourself to find the most flattering size. If you don't already know how to do that, our guide will walk you through the process of choosing the right fit, size and brand for your needs.