The Complete Guide: How to Become an RN
Nursing is a stable, well-paid career with an excellent job outlook — plus, nurses go home each day knowing that they've helped save lives. But for all its advantages, nursing can be an emotionally and physically draining career that leads to burnout. If you're wondering how to become an RN and whether or not you'd be a good fit for the profession, you've come to the right place. In our ultimate guide below, we answer all your FAQs about becoming an RN, from what a registered nurse does to how much money they make to what skills they need to succeed.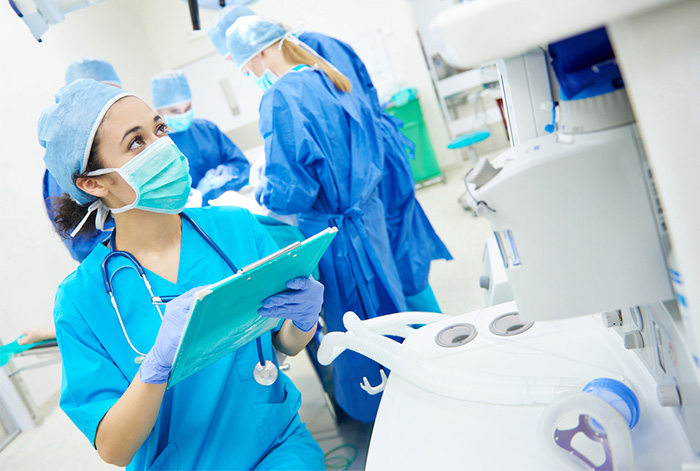 What does a registered nurse do?
Registered nurses act as patient advocates and support the best healthcare outcomes possible. They get a lot of facetime with patients and are often the ones to actually administer care. Some typical duties of a registered nurse are:
Evaluating patients' conditions
Recording medical history and symptoms
Observing patients and monitoring their conditions
Creating or modifying patient care plans
Operating medical equipment
Performing diagnostic tests and analyzing the results
Administering medications and treatments
Educating patients and their families on care routines
Consulting with doctors and other medical professionals
Providing emotional support for patients and their families
Some things that registered nurses can't do is diagnose conditions and prescribe medications, two actions only doctors can do. However, nurse practitioners (which are different from registered nurses) may be allowed to perform those actions in certain states due to their additional training and certifications.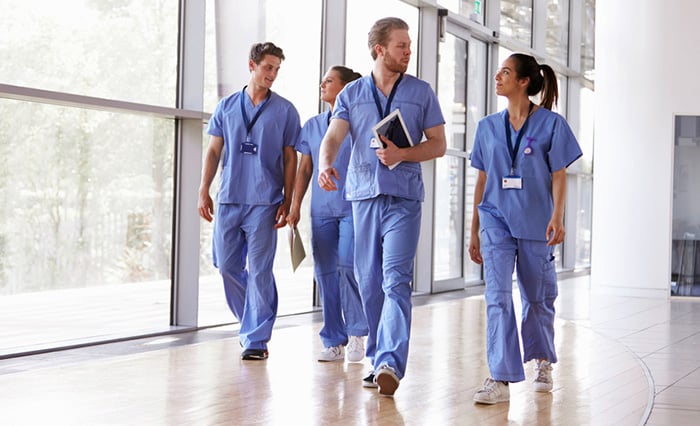 What education is needed to become an RN?
There are three types of degrees that aspiring RNs can use to launch their careers:
Associate's degree in nursing, which takes two years to complete
Bachelor's of Science in Nursing (BSN), which takes four years to complete
Master's of Science in Nursing, which takes two to three years to complete. This degree is mostly earned by career switchers who already have a bachelor's degree in another field
After graduating from the program, nurses must pass the NCLEX-RN exam in order to become officially certified and begin work (More on the NCLEX below). As you consider which program to pursue, keep in mind that some employers have a preference for applicants who've earned a BSN or an MSN, as opposed to an associate's degree. In fact, some nurses who begin work with only an associate's degree end up enrolling in school later on and completing an RN-to-BSN program to further increase their career opportunities.
What are some registered nurse programs?
There are many nursing programs available to suit a variety of needs. According to Nurse.org, the top bachelor's programs for nurses are Columbia University, New York University, Johns Hopkins University, University of Michigan - Ann Arbor, and Duke University. According to U.S. News and World Report, the top master's programs for nurses are Johns Hopkins, Duke University, University of North Carolina - Chapel Hill, University of Pennsylvania, and Emory University. As you weigh your nursing school decision, make sure you consider factors beyond the school's ranking, including what faculty teach there and how much tuition costs.
What is the NCLEX-RN®?
The NCLEX-RN exam — the common abbreviation for the National Council Licensure Examination — determines whether or not it's safe for nursing school graduates to begin work as an entry-level nurse. The NCLEX tests your critical thinking abilities to see how you analyze hypothetical patient situations and apply the knowledge you learned in school. Questions are distributed across four main categories: safe and effective care environments, health promotion and maintenance, psychosocial integrity, and physiological integrity. You must answer a minimum of 75 questions during the test. The test is graded pass/fail. If you don't pass, you'll be given a diagnostic report that highlights areas of weakness. You can then retake the NCLEX-RN 45 days after your initial test date.
What clinical supplies does a registered nurse need?
Registered nurses need many clinical supplies to make sure they can do their jobs to the fullest. Nurses will need several sets of nursing scrubs that adhere to their employer's dress code as well as a pair of slip-resistant shoes and a personal stethoscope. Other clinical supplies that nurses often work with include blood pressure cuffs, thermometers, nursing scissors and tape, a sharps container, gloves, and more. Nurses who make home visits will keep all these supplies in a handy nursing bag they can carry from patient to patient.
Who do registered nurses work with?
While registered nurses have a lot of autonomy, they also work closely with other members of the healthcare team. Nurses collaborate with doctors, physicians, and surgeons, as well as other specialists such as paramedics and therapists. As they gain more experience, they also work in supervising roles, managing licensed practical nurses, nursing assistants, and home health aides. Exactly who registered nurses work with depends on their specialties, where they work, and the size of the facility. A nurse working in the emergency department of a large hospital will interface with paramedics a lot, while a nurse at a senior care facility might oversee a team of nursing assistants.
Where do registered nurses work?
A little over half — about 60% — of registered nurses work in state, local, and private hospitals. The rest of them work in ambulatory healthcare services (think physicians' offices, home healthcare, and outpatient care centers), nursing and residential care facilities, government facilities, and educational services (for example, as a school or camp nurse). While most people think of the traditional nurse as working in a hospital, and most nurses do work at a hospital at some point, there are many other opportunities out there for RNs looking for a change of scene.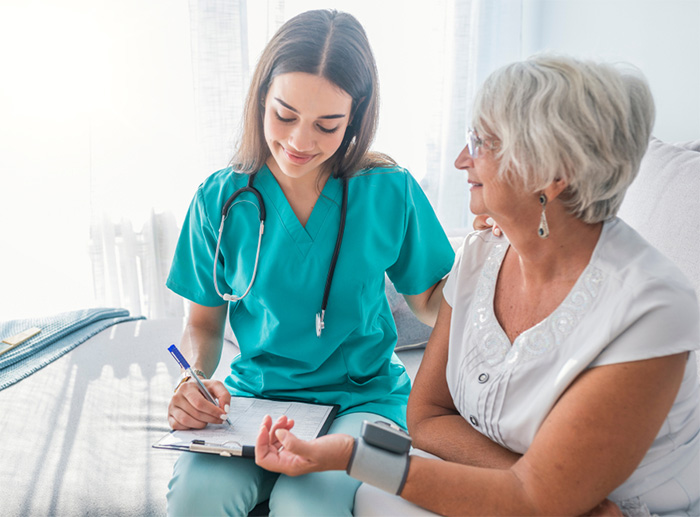 What skills do RNs need to succeed?
Being a registered nurse is a demanding profession that isn't a great fit for everyone. RNs operate independently much of the time, so they need good critical thinking and sound judgment to make the right call under stress. Nurses also need to be excellent communicators since they're working with people across the healthcare spectrum, from doctors to medical assistants to patients and their worried families. As the face of patient care, they must be compassionate and patient. Registered nurses also need to be detail oriented and well-organized to keep track of many competing priorities. Finally, they need both emotional resilience and physical stamina. Working with sick people can be quite draining, and spending 12-hour shifts on your feet takes a toll on your body. If you feel like you have all these attributes, you might make a fantastic nurse.
How much does an RN make?
According to the U.S. Bureau of Labor Statistics, the median annual salary for registered nurses in 2018 was $71,730 per year, or $34.48 per hour. This is much higher than the median annual wage for all workers, which was $38,640. The five states that pay registered nurses the most money are California, Hawaii, the District of Columbia, Massachusetts, and Oregon. There are currently about 3,059,800 registered nursing jobs in the United States. That number is expected to grow by 12% until 2028, much faster than the average of 5%. This will result in an additional 371,500 jobs being created over the next eight years.
What's the difference between an LPN and an RN?
Both licensed practical nurses (LPNs) and registered nurses (RNs) are nurses, but their education and on-the-job duties differ. After graduating high school or earning their GED, aspiring LPNS enroll in an LPN education program, which takes between nine and 18 months to complete depending on the program and the state. Then they pass a state licensing assessment and officially become a licensed practical nurse.
Because of the shorter training period, LPNs begin work sooner, but they also have less autonomy and make less money (the median annual salary for LPNS is $46,240, versus $71,730 for RNs). In fact, registered nurses often serve as supervisors for LPNs, as do doctors. While entry-level RNs may perform some of the same tasks as LPNs, as they gain more experience their duties will begin to diverge.
LPNs are also far more likely than RNs to work in environments outside of a hospital, including home health care facilities, nursing care facilities, community care facilities, physicians' offices, dialysis centers and blood banks, outpatient clinics, psychiatric hospitals and correctional facilities. To learn more about the differences between LPNs and RNs, check out our guide.
What's the difference between a medical assistant and a nurse?
While both medical assistants and nurses can work at physician offices, their jobs are very distinct and require very different training. Medical assistants help out with basic clinical and administrative tasks, such as scheduling appointments, taking down medical histories, measuring vital signs, and providing assistance during patient examinations.
After graduating high school or earning their GED, future medical assistants must attend a specialized training program, which can usually be completed in nine to 12 months. Some medical assistants also choose to pursue the optional AAMA Certified Medical Assistant exam, which can open the door to more career opportunities (some employers give preference to applicants with certifications).
Like LPNs, medical assistants earn less than registered nurses: the median annual salary for medical assistants is $33,610, versus $71,730 for RNs. Some medical assistants later choose to return to school to become a nurse or pursue another healthcare profession. To learn more about the differences between medical assistants and nurses, check out our guide.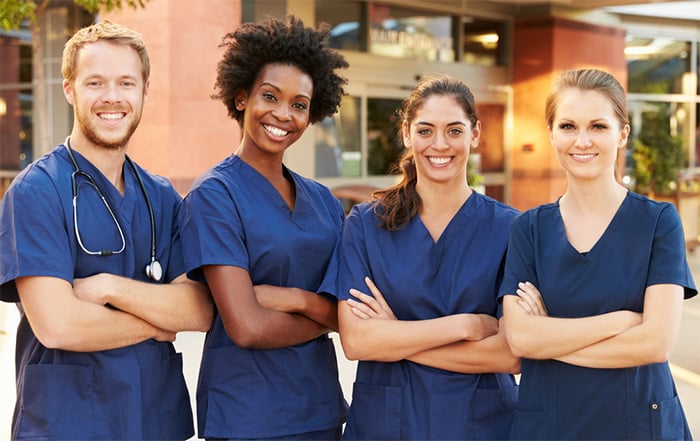 What's the career path of a registered nurse?
Registered nurses usually begin work as a Staff or Beside Nurse, providing care to patients in a hospital. From there, they may work their way up to become a Charge Nurse or a Shift Nurse. A Charge Nurse manages a shift of Staff Nurses and takes care of administrative tasks such as scheduling, in addition to performing the patient care duties of a Staff Nurse. The next step is to become a Nurse Manager or Nurse Supervisor, who manages an entire unit. Some nurses may continue to work their way up to become a Director of Nursing, who oversees an entire department, or a Chief Nursing Officer (CNO), who belongs to the C-suite of executives and reports directly to the CEO. At any point in this process, nurses may also choose to specialize in particular areas of care, opening up more opportunities.
What nursing specialities are available?
Many nurses eventually choose to pursue a speciality, which allows them to provide more expert care in a particular area (and often leads to higher salaries as well). There are literally dozens of specialties available for almost every conceivable type of nurse. We don't have room to list them all here, but here's a sampling to give a sense of the many specialties available: neonatal nursing, nurse midwifery, critical care, dialysis, health policy, informatics, anesthesia, pain management, psychiatry, trauma, pediatrics, geriatrics, and oncology.
In as little as two years, you could begin work as a registered nurse and launch a stable, fulfilling career. Whether you're a high schooler thinking about the future or an office worker looking to make a career change, there are nursing program options that can help you take the next step in your life. We hope this ultimate guide answers your questions about how to become an RN. If you still want to learn more, reach out to RNs that you know and offer to take them out to coffee so you can hear it straight from the source.