4 Lightweight Scrubs for Warm Weather
The weather is getting warmer, which means your wardrobe is changing, too. As you begin to pick up lighter tops and shorts for those hot summer days, you should also consider a new uniform for work. Lightweight scrubs in your favorite warm-weather materials are sure to make you feel stylish and comfortable. The following combine moisture-wicking scrub fabrics, athletic styles and high-performance designs to keep you cool for when the temperature is turned up.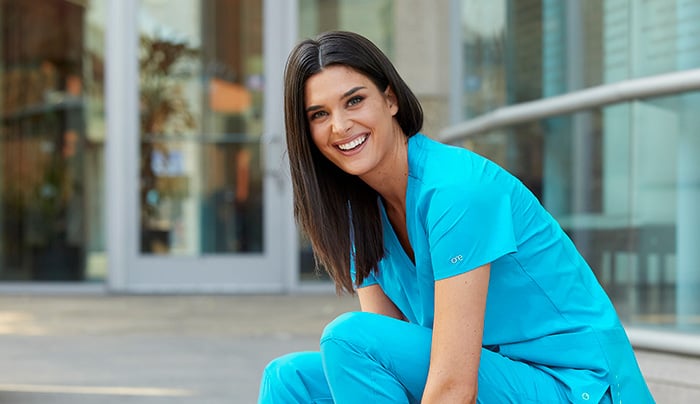 iMPACT by Grey's Anatomy™ Scrubs
Grey's Anatomy™ Scrubs are known for their fashionable styles and high-quality, lightweight fabrics. The iMPACT by Grey's Anatomy™ Scrubs collection is also popular with today's nurses because it includes modern features on their scrub tops, like contoured fits, slanted front yokes and stretch material. Choose a top with athletic details like side vents or a pop of color with contrast trim.
If you like jogger scrub pants, this collection features a variety of designs and colors. Cargo pockets and zipper pockets are great for storing small items, while accents like drawstrings, elasticized waistbands and contoured fits offer the perfect combination of comfortable and trendy. Choose from a variety of colors, sizes and inseams. In addition to scrub pants, this collection also features solid scrub tops and jackets. With these tops and pants, you are sure to stay focused and poised in the warmest environments.
Barco One
Barco One is a scrub brand that is gaining steam for its fashion and its purpose. Each of Barco One's scrub garments are made with recycled plastic water bottles. They also feature moisture-wicking material, a four-way stretch and its Quick Shed™ technology that repels animal hair from its surface. A perfect choice for veterinarians and veterinary technicians, Barco One scrubs are also popular among nurses in different fields of focus.
Some of their most well-known tops for summer include their V-neck solid scrub top, their textured solid scrub top and their women's V-neck perforated side panel tops in all of the most popular uniform colors. They also make lightweight print scrub tops, half zip V-neck raglan sleeve scrub tops and quarter length lab coats. Browse their men's styles, including their men's V-neck zip pocket top and men's solid scrub top. Pair your lightweight summer shirts with stretchy jogger scrub pants, athletic waist scrub pants and drawstring track pants.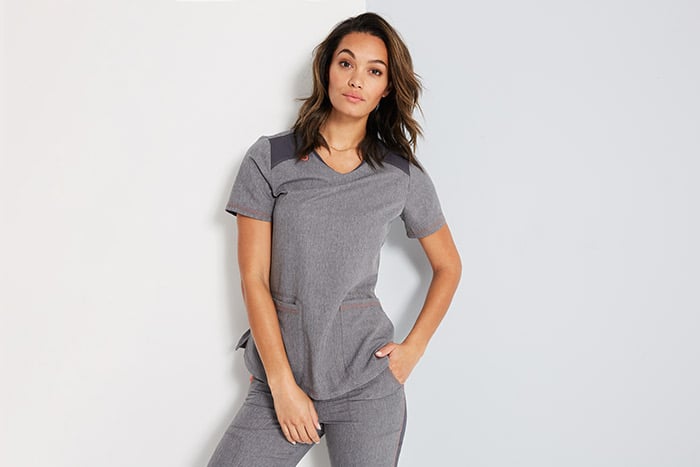 Dynamix by Dickies
Dynamix by Dickies scrubs were designed to take the durability and comfort of your favorite uniforms a step further. Some of their most beloved features include the four-way technology of their stretch scrubs, an easy-fit inseam and contemporary, athletic-style fashions that allow you to move easier while you work. In the summer, you are also sure to benefit from their warm-weather materials. Some of their best summer scrub top options include v-neck styles in both solids and prints with sporty details like contrast trim. Another option for women is the mock-wrap silhouette, which is both slimming and stylish.
Pair your lightweight tops with tapered leg drawstring joggers or zip fly cargo scrub pants. They also have mesh waistband pants, convertible leg pants and comfortable flare leg pants. Wearing materials like polyester and spandex will help to allow your skin to breathe and make your whole body feel lighter on the hospital floor.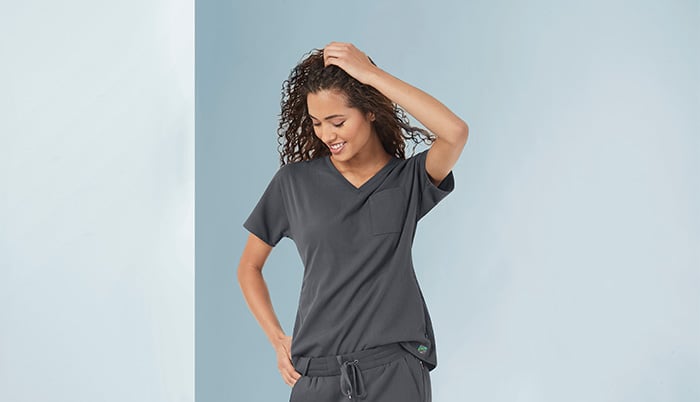 Aero by WonderWink
Athletic, moisture-wicking clothing makes everyone feel more comfortable in the summer months. This is why the Aero collection of scrubs by WonderWink is so popular when it gets warm outside. The quality and the timeless style of the WonderWink brand is elevated with this collection of professional scrub pants, tops and jackets, all inspired by athleisure fashion.
By shopping Aero by WonderWink, you will find many different styles for both men and women. Discover flex-back solid scrub tops, cargo style pants and jogger pants in a variety of bold and classic scrub colors. Mix and match your favorite v-neck tops while you feel weightless in Aero's chic and slimming bottoms. No matter which style you choose, you are sure to stand out and feel great.
Stay Cool in Warmer Weather
Every nurse needs to stay cool, comfortable and focused throughout their shift. The right clothing can help to set the tone for the entire day. Whether you are traveling to work, in the middle of a challenging shift or headed home for the weekend, each of these popular summertime scrub brands will help you to wick moisture, cool your body down and keep you energized, no matter where your shift takes you.