Medical Assistants vs. Nurses: What's the Difference?
Visit your physician's office, and you're likely to interact with both a medical assistant and a nurse during your visit. While both of these health professions may require scrubs and slip-resistant shoes, they are distinct roles that demand different training and encompass different tasks. Below, we explain the difference between medical assistants and nurses and explain how to enter each of these professions.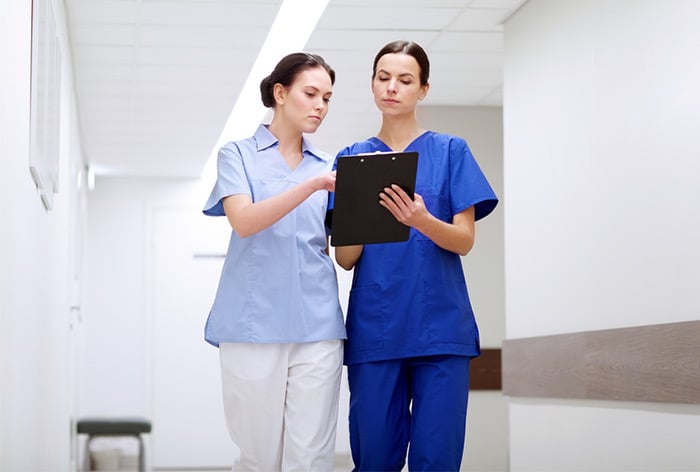 What is a medical assistant?
Medical assistants perform both clinical and administrative tasks under the supervision of a physician. Just over half of them work in physician's offices, while others find work in hospitals, clinics, and outpatient care centers. Some typical duties that a medical assistant might perform include:
Scheduling patient appointments
Recording information in medical histories
Measuring patient vital signs
Providing assistance during patient examinations
Preparing blood samples for laboratory tests
Giving patients injections or medications (if permitted by state law)
Medical assistants may choose to specialize in either the clinical or administrative side of the practice. Some medical assistants also specialize further, for example, becoming an optometric assistant or a podiatric medical assistant.
How to become a medical assistant
Aspiring medical assistants who want a certification need to attend a specialized program. Applicants must have earned a high school diploma or GED in order to apply. A full-time program can usually be completed in 9-12 months, approximately one academic year. Some community colleges also offer qualifying associate's degrees, which can be completed in 18-24 months.
While there's no state or federal requirement that requires medical assistants to pass the AAMA Certified Medical Assistant exam before they begin work, a medical assistant may encounter limited job opportunities if they do not have the certification. Some employers give priority to applicants with certifications or other additional credentials, so it can be worth it to get the certification.
What does a nurse do?
Nurses provide patient care. Most nurses work in hospitals, while others work in ambulatory healthcare services, nursing and residential care facilities, government organizations, and educational services. Nurses take care of a plethora of healthcare tasks, including:
Evaluating patients' conditions
Recording medical history and symptoms
Observing patients and monitoring their conditions
Creating or modifying patient care plans
Operating medical equipment
Performing diagnostic tests and analyzing the results
Administering medications and treatments, like IM injections
Educating patients and their families on care routines, such as giving a bed bath
Consulting with doctors and other medical professionals
Providing emotional support for patients and their families
As a general rule, registered nurses have more autonomy and responsibility than licensed practical nurses. Nurses may also choose to specialize in a wide range of areas, from cardiovascular disease to public health.
How to become a nurse
The path is slightly different for registered nurses and licensed practical nurses. Registered nurses earn one of several degrees: a Bachelor of Science degree in nursing (BSN), an associate's degree in nursing (ADN), or a diploma from an approved nursing program. Registered nurses must be licensed. Career switchers who already have a bachelor's degree in another field might also earn a Master's of Science in nursing (MSN).
Licensed practical nurses take specialized education programs that usually last one year and receive a certificate or diploma at the end. Many technical schools and community colleges offer these programs, and they may even be found at some high schools or hospitals.
To become officially licensed, nurses must graduate from an approved nursing program and pass the National Council Licensure Examination (NCLEX-RN). Each state might also require additional requirements.
What's the difference between a medical assistant and a nurse?
While medical assistants and nurses work in similar healthcare settings, they have very different duties. Medical assisting requires less schooling and fewer certifications, making it easier and more accessible to become job-ready. Because of their additional training, nurses (especially registered nurses) have far more responsibilities and independence than medical assistants. Nurses also interface with patients more often and have to complete far less administrative work, especially in larger offices or departments. Nurses also work more closely with physicians, consulting with them about patients and care plans. Some medical assistants may choose to return to school to become a nurse or pursue another healthcare profession.
If you're debating whether to become a medical assistant or a nurse, keep these FAQs in mind as you weigh your decision.