8 Stylish Scrubs to Choose From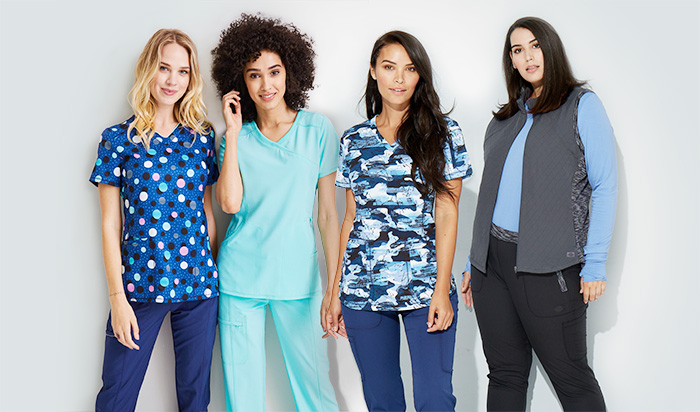 Just because you're required to wear scrubs to work doesn't mean that you have to feel frumpy while you're on the clock. Below, we rounded up eight of our favorite fashion-forward brands to help you find trendy scrubs that look as good as the rest of your clothes. (And if you're wondering how should scrubs fit, don't forget to check out our guide to choosing flattering scrubs!)
Landau
Landau has been making quality scrubs for nearly 50 years. What started in 1938 as a garment business that sold workman's uniforms to service station and garage employees has evolved into one of our favorite scrubs brands. As the first manufacturer to introduce prints into their collections, Landau has a reputation for innovation and new designs. Today, Landau scrubs deliver fantastic durability and dye consistency. They come in a wide range of colors, sizes, and fabric, including stretch scrubs.
Cherokee
Whether you're looking for a versatile set of solid-colored scrubs or a bright print from the popular Tooniforms line, Cherokee has you covered. Cherokee has been making comfortable, fashionable workwear uniforms since 1972, and the brand switches up their collections every season. Cherokee has many scrub collections to choose from, including Cherokee Workwear, iflex, Cherokee Workwear, Infinity, and more.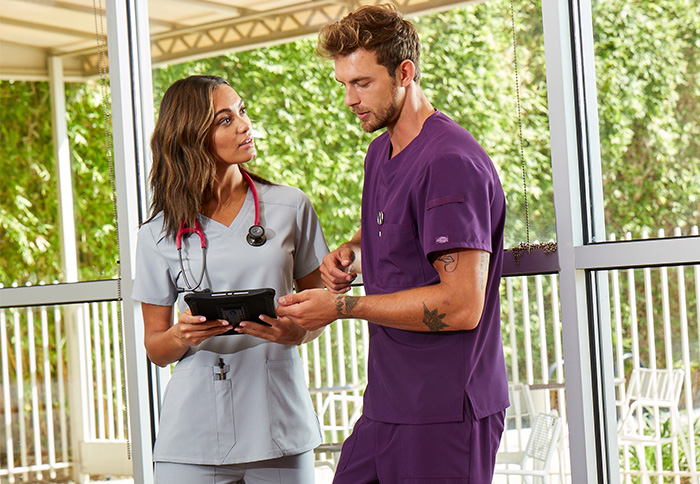 Dickies
Over the course of its nearly 100-year long history, Dickies has evolved from an overall manufacturer to the largest workwear manufacturer in the world. Dickies offers many different collections to choose from, including EDS (Every Day Scrubs) Signature, EDS Essentials, Essence, Gen Flex, Xtreme Stretch, Dynamix, and Advance. While each line offers various combinations of features, they're all comfortable and durable and will last for a long time.
Grey's Anatomy
Grey's Anatomy scrubs are manufactured by long-standing scrub brand Barco Uniforms, but worth mentioning on their own for their wild popularity. Launched in 2007, this collection is made from four-way stretch fabric and offers sophisticated designs. They also offer performance-enhancing features such as moisture-wicking fabrics. Barco is constantly updating the Grey's Anatomy line. In fact, they launched the new Edge collection just last year.
Koi
Koi's tagline is "designing happiness," and after trying on their stylish scrubs, we have to agree with their mission. One of the only independently owned, woman-run companies in the industry, Koi scrubs makes numerous collections, including Koi Basics, Koi Classic, Koi Stretch, Koi Lite (a more athletic fabric and fit), designer collaborations like Betsey Johnson and a full collection for men. These scrubs come in many colors and prints, including ombre fades and floral patterns, to help you keep up with all the latest fashion trends.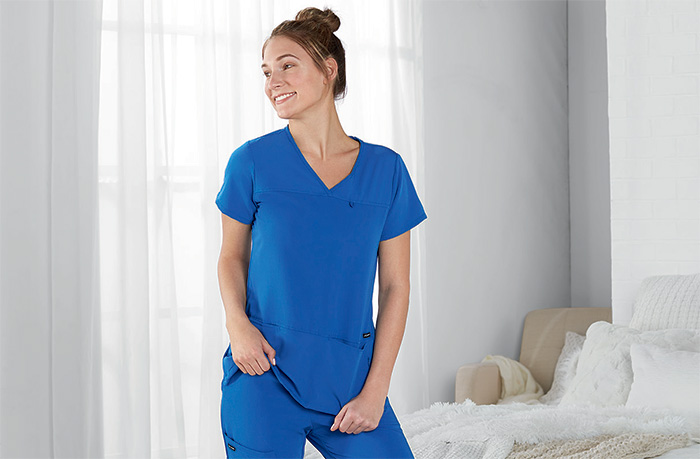 Jockey
And you thought Jockey only made underwear! This company makes scrubs that are just as comfortable as your underwear. The brand offers four main collections of stretch scrubs: Classic Fit, Modern Fit, Performance Rx and Men's scrubs. Every line is made with varying percentages of spandex for optimal flexibility and comfort during a long shift. They've also recently released a limited-edition scrub collection for the more nostalgic buyer, throwing it back to cool old school looks and celebrating the brand's 35 years of history.
Med Couture
If you're looking for a classic-yet-trendy look, Med Couture is an excellent brand to explore. The Med Couture Original line provides classic cotton scrubs in flattering silhouettes. We also love the yoga-inspired Activate line, which is made from a four-way "energy stretch" fabric. Their newest collections, Energy and Touch, combine trendy contemporary designs with high-quality fabrics for the best of both worlds. If you're in need of labware, be sure to check out the Med Couture Boutique Labs collection as well.
Healing Hands
Healing Hands scrubs walk the line between the medical and the athletics, making for sporty, stylish scrubs that fit right in at work or at the gym. Created by a 35-year-old sportswear manufacturer, Healing Hands incorporates novel fabrics into its scrubs due to its proximity to the Garment District in New York City. Shop its wash-and-wear collections, Purple Label, HH365, and the Premier line.
These eight brands prove that stylish cotton scrubs aren't an oxymoron. Don't forget to measure yourself and choose the right size before you buy — scrubs that are too loose or too tight don't look good on anyone.